World-Class Trading Technology for Cryptocurrency Markets
Deliver unique and powerful tools that boost your brand and give your traders a leg up in the crypto asset marketplace
SCHEDULE A DEMO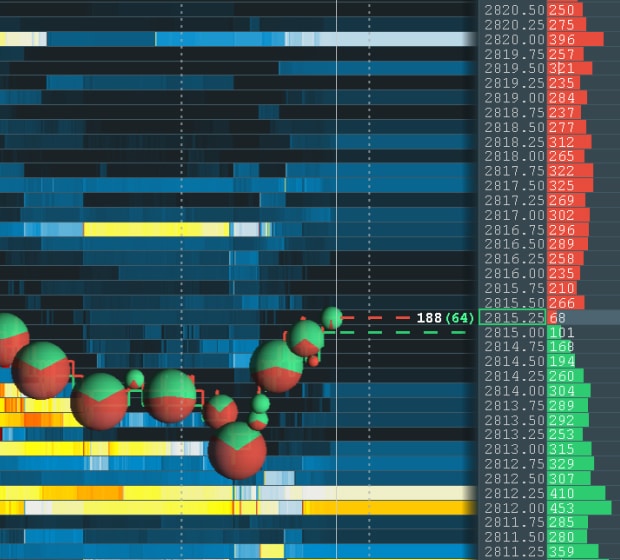 Unmatched View of Crypto Market Liquidity
Bookmap is an analysis and trading platform that displays the entire market liquidity and order flow for cryptocurrencies and crypto derivatives. It provides a unique, in-depth data visualization of the current orderbook using real-time market data and a historical view of the order book and market liquidity using a configurable heatmap.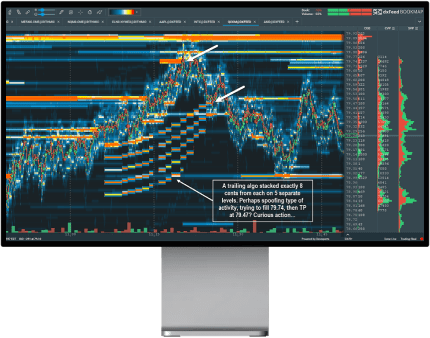 Benefits for Traders and Investors
Additional market insights not provided by standard price charts and real-time order book displays. Traders can clearly see who is winning the battle between buyers and sellers with high-performance 3D visualizations
Easily identifying key liquidity levels and patterns, increasing the understanding of the current market state and informing better risk management
See the total market liquidity across multiple exchanges with the customizable consolidated order book feature
Master order flow with advanced education and live trading events led by expert traders
Added clarity for what is happening in the market that can help make better trading decisions and employ more informed trading strategies
Complete suite of trading execution and order management tools to trade directly from the heatmap or order book
Replay recorded market activity to study market events and debrief trading sessions to improve trading performance
Benefits for Crypto Exchange Partners
Unique data visualization tool set that drives web traffic and user engagement
Increased trading volumes, resulting in more exchange fee revenue
Competitor differentiation from other crypto exchanges
New product offering suited to active trader segment
Sophisticated tool set that gives your customers an edge over other traders in the market, increasing brand loyalty
Flexible Options for Offering Bookmap to Your Clients
Bookmap Desktop
Option #1
Option #2
Option #3
What
Your exchange is made available alongside other crypto exchanges to thousands of Bookmap users
Get a dedicated version of the Bookmap platform featuring your exchange as the only connectivity option for traders to view and trade crypto assets
A white-labeled version of Bookmap with your exchange's branding and customized feature set that is tailored specifically for your clientele
Who
- End-users choose their preferred subscription package and pay to Bookmap at standard rates
- Bookmap is paid partner or affiliate fees for client trading activity
Options include:
- Creating a specially priced package - Discounted bulk user pricing that allows your clients to get Bookmap for free
Bookmap licenses the white-label platform for you to distribute to VIP clients or your entire client base at no cost to the end user
How
- Execute a marketing and connectivity agreement
- Bookmap creates an adapter to connect to your exchange for market data and trading
- Your exchange and Bookmap conduct agreed upon marketing activities, which can include social media announcements, emails to clients & leads, and more
- Execute a partnership agreement
- Bookmap creates an adapter to connect to your exchange for market data and trading
- Bookmap hosts a series of dedicated webinars to highlight how trading on your markets using Bookmap works
- Market the solution to your clients and leads to upgrade current traders and onboard new clients
- Execute a white-label agreement
- Bookmap creates an adapter to connect to your exchange for market data and trading
- Bookmap provides self-service support materials that you can provide to clients
Bookmap Web New
No development costs
Simple, cut and paste embed code
Get affiliate revenue for any traffic that purchases a Bookmap paid subscription
Get a web-based version of Bookmap that delivers the powerful core features of the platform without the bells and whistles that advanced users can find in the desktop version. The perfect low barrier-to-entry product to showcase your exchange's products with a unique set of visualization tools that drive repeat website traffic and high user engagement.