The API demo-strategy examples are a great way of learning and show how powerful the API is. In the QuotesDelta strategy the indicator plots an orange line in the bottom panel which has a continuously changing value, but from the code it seems that it should plot as a constant value. So I obviously am misunderstanding something within the code and am writing to get clarification on how the QuotesDelta strategy works as follows:
The QuotesDelta onDepth method has the calculation (on line 56) delta = size – prevsize. The diagram below shows my interpretation of how the size value trickles on down through the methods and then returned to prevsize. If this diagram is correct, then size would equal prevsize and delta will always be 0.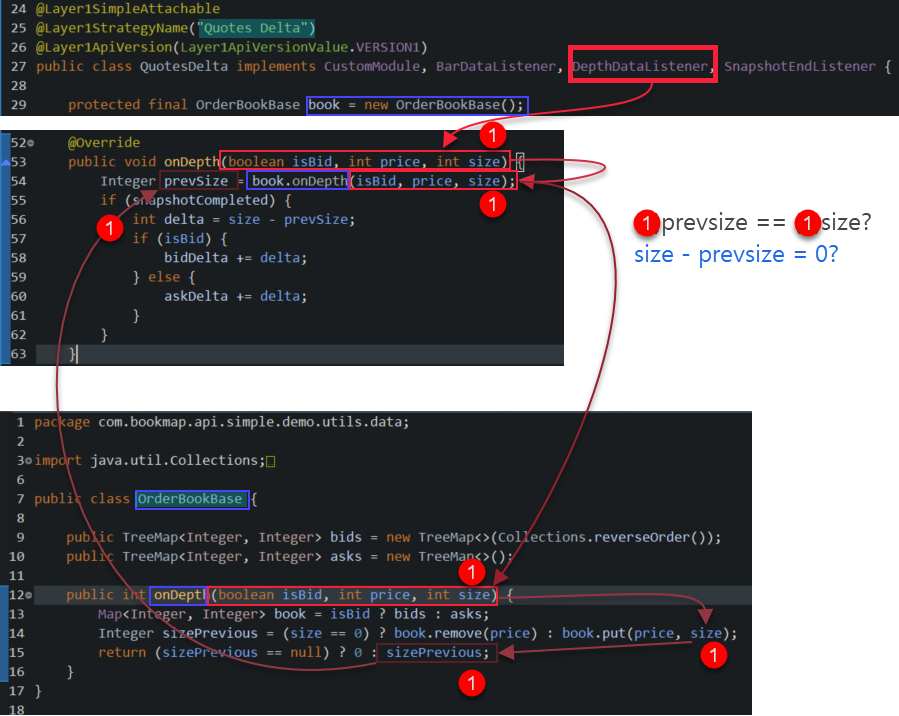 My question: on line-14 of OrderBookBase class: should sizePrevious = book.put(price,size) ?
Clarifying this may be the key to what I am misunderstanding.
It seems to me that to get the
previous
TreeMap value, line-14 should be: Integer sizePrevious = book.get(price);
Any help will be much appreciated.