Get better trading insights with
Market Liquidity visualization
GET BOOKMAP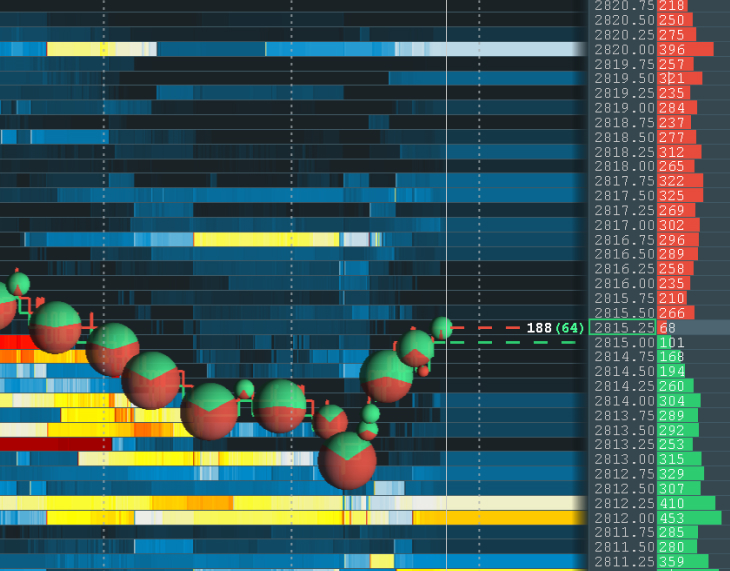 With Bookmap, TradeStation users can:
Get complete visualization of real-time Full Depth Market Data. You see the entire market data available
Watch the Order Book & the traded volume evolution with unparalleled clarity
Use different tools to analyze the market activity in real-time or offline, including Volume Profiles, Volume Dots, Cumulative Volume Delta, Large Lot Tracker (LLT) and more
WHAT IS BOOKMAP?
Bookmap is an innovative trading platform that displays the entire market liquidity and order flow.
Bookmap provides full transparency of the actions and intentions of market participants. Traders can view the evolution and changes of the market liquidity with no delays or aggregated information.
HOW IT WORKS
Bookmap supports trading that is routed via your TradeStation account.
You can use Bookmap as a standalone platform connected to dxFeed US equity data feed and place your orders directly on Bookmap. The orders are executed through your TradeStation account.
All you need to connect Bookmap to TradeStation is your TradeStation account credentials. Take into account that for trading you have to be subscribed to Bookmap Global+.
WHY BOOKMAP?

In-depth Data Visualization
With Bookmap's heatmap and volume dots features, you can easily keep track of ebbs and flow of market supply and demand like with no other platform.
Heatmap
Watch the historical order book and the dynamics of market liquidity. Spot patterns of exhaustion/absorption, track icebergs and algo. Detect order book flipping and many more.

Chart trading
Place, modify and cancel orders with one-click trading directly from the chart or the DOM column.

Unique analytical indicators
Validate your trading decisions with Imbalance Indicator, Large Lot Tracker, Advanced Volume Delta and more.
GET BOOKMAP