2022 Nano Bitcoin Futures Trading Competition
Competition Period

Start: 11:59pm EST on Sunday, September 11, 2022

End: 11:59pm EST on Friday, September 16, 2022
Prizes

First Place: $3,000 and a subscription to Bookmap's Global Plus Lifetime package

Second Place: A subscription to Bookmap's Global Plus Lifetime package

Third Place: A subscription to Bookmap's Global Plus Annual package
Competition Rules

This trading competition is free of charge and open to all.

The number of participants is limited to 250. Only 1 entry per competition participant is permitted. Bookmap reserves the right to disqualify participants.

The competition runs from 11:59pm EST on September 11, 2022, to 11:59pm EST on September 16, 2022.

The first prize winner is the participant who has the highest PNL at the end of the competition period. Second and third prize winners are those that have the second and third highest PNL. In the case of a tie for the first prize, the cash portion of the prize will be split evenly between the tie holders.

If any winner is already a Bookmap subscriber to the awarded prizes he/she can get a credit for any Bookmap products, upgrades or add-ons instead.

Bookmap reserves the right to modify the competition rules and details at any time and at its sole discretion.
Competition Details
The competition will be done on a demo account.
All competition participants start with a virtual beginning balance of $50,000.
Participants are restricted to a limit of 100 contracts per position. This is not a daily total. A participant could be could be long or short up to a maximum of 100 contracts, close that, and repeat as many times per day as they want or their account balance will allow.
Trading will be on BITU2. The symbols for the related BTC contracts are BTC PERP and BTC Spot in Multibook.
Rankings are posted on a leaderboard run by Tradovate.
For the competition period, Bookmap has created a new package enabling the following, free of charge to all competition participants (this is the recommended setup):

Multibook for BTC-USDT Spot (a synthetic instrument that is combined from multiple spot instruments traded on the largest exchanges)
Multibook for BTC-USDT Perp (a synthetic instrument that is combined from multiple perpetual futures traded on the largest exchanges)
The Cross BBO add-on (allows you to see the spread of BITU2 over Multibook)
The Liquidation Indicator add-on (overlay liquidation over a Bookmap chart)
Run up to 5 Bookmap charts at the same time.

Participants opting to trade via Bookmap must run Bookmap in trading mode.
Competition FAQ
General
What are the trading hours?

Trading hours are the market hours of Coinbase Derivatives Exchange. It has trading hours for Nano Bitcoin Futures of 23 hours a day, 5 days a week (5pm-4pm CT Sunday to Friday, with trading halt from 4pm to 5pm CT Monday to Thursday).
How often is the leaderboard updated?

The leaderboard is updated every few minutes.
I understand there is a short delay, but why don't I see my results on the leaderboard?

This could be as a result of one or both of these reasons:
You are not connected to the account CHBBNFDFXX
You are not running Bookmap in trading mode.
Registration and Setup
How can I register?

If you are an existing Tradovate user
Step 1: go to bookmap.com/tradovate
Step 2: either complete the form if you currently don't have Bookmap or send an email with your registered email address
Step 3: open Bookmap, input your tradovate credentials and start trading.
Important Note: when you are at Step 3 and you are configuring Tradovate in Bookmap, please make sure that the "Login via OAuth" and the "Test/demo account" checkboxes are enabled.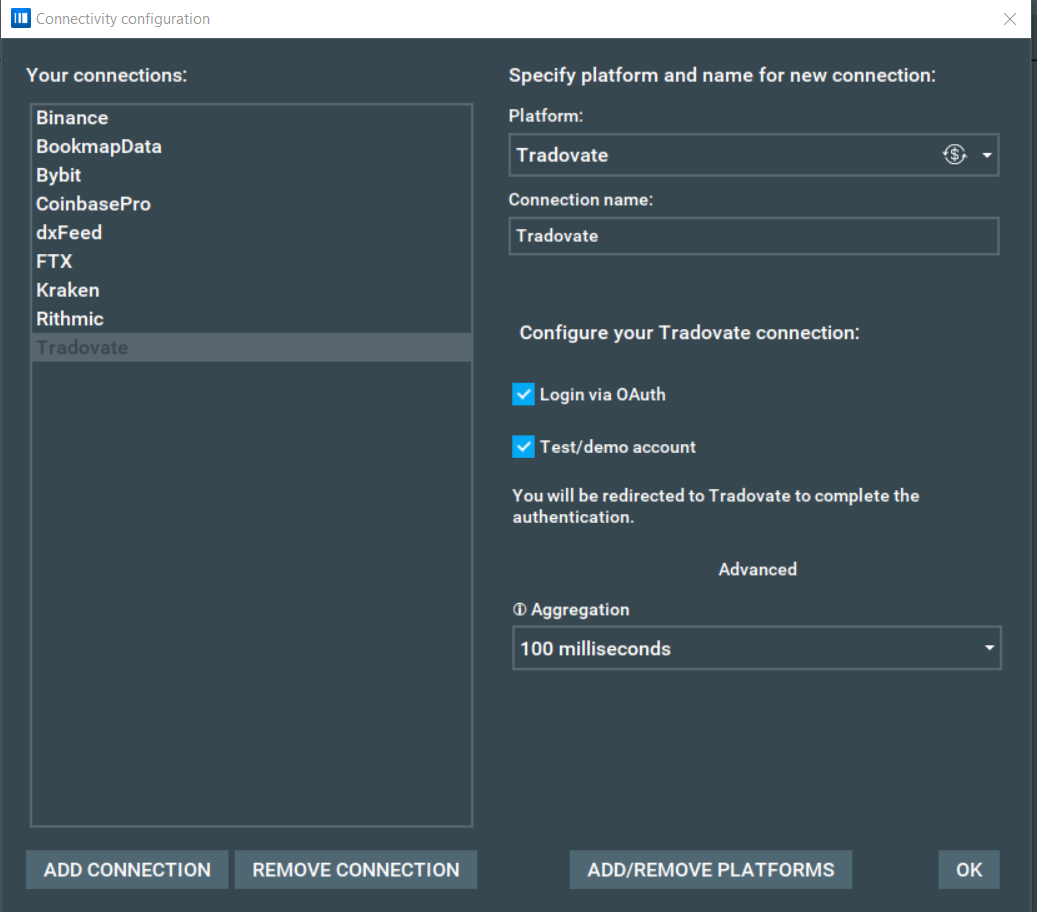 If you are not registered with Tradovate
Step 1: Open a DEMO account and then visit bookmap.com/tradovate once you have your credentials
Step 2: as above for existing Tradovate users
Step 3: as above for existing Tradovate users.
What is the latest time I can register?

11:50pm EST on Sunday September 11.
Which account should I connect to?

CHBBNFDFXX
Is the trading on a live or a demo account?

For this competition, trading can be on both.
Can I trade both via the Tradovate trading platform and also via Bookmap?

Yes.
I'm a Bookmap user, can I trade with the existing package that I have?

Yes, just make sure to email us before 11:59pm EST on Sunday, September 11.
Trading
Is cross trading posible?

Cross trading is not available for this competition.
Which instruments can I view with Bookmap that can assist me to get insights on BIT?

Please see this Bookmap Knowledge Base page on Multibook.
Why don't I see the PNL on the Bookmap chart?

Your Bookmap Trading Control Panel tracks trades by sessions. If you close your Bookmap and restart, it could be possible you don't see previous posit

You can trade from Bookmap into your Tradovate account, but check your PNL in your Tradovate account. Bookmap and Tradovate have not fully integrated account functionality at this time.