Introduction to Multibook
What is Multibook?

Multibook is an exclusive data feed from Bookmap that combines instruments from different exchanges into a range of synthetic instruments.

This allows you to visualize aggregated trading activity, combine order book data, and see more market volume than ever before, all conveniently from one chart.

Multibook is available for both Bookmap Web and Bookmap Desktop.

Watch this video for a brief overview of Multibook.
Why Use Multibook?

Multibook is ideally suited to crypto instruments. There are currently over 300 crypto exchanges. If you're only analyzing data from one exchange, you're not seeing the whole picture.

Multibook lets you:
Visualize aggregated trading activity
Consolidate multiple order books into one
See a more complete picture of the overall market
Spot market aggressors in real-time, across different exchanges
View massive amounts of data conveniently from one chart
Gain confidence in specific support and resistance levels
How Does Multibook Work?

The following charts show BTC-USD from five different exchanges, over the same 10 minute period. Note how the BTC-USD synthetic Multibook instrument combines these five charts into one.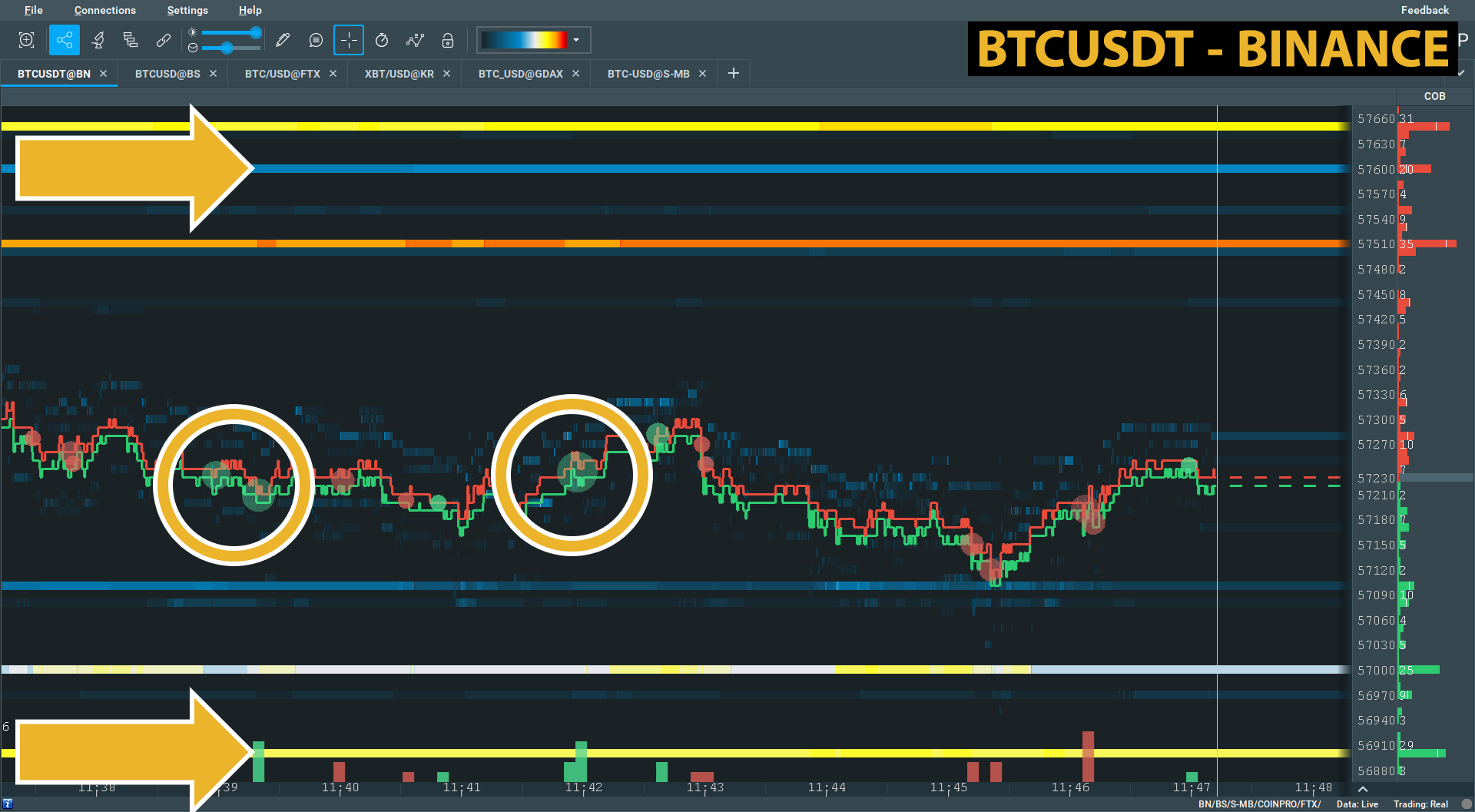 The Binance order book shows resting liquidity at 57660 and 56910. Plus, aggressive market buyers at 57210.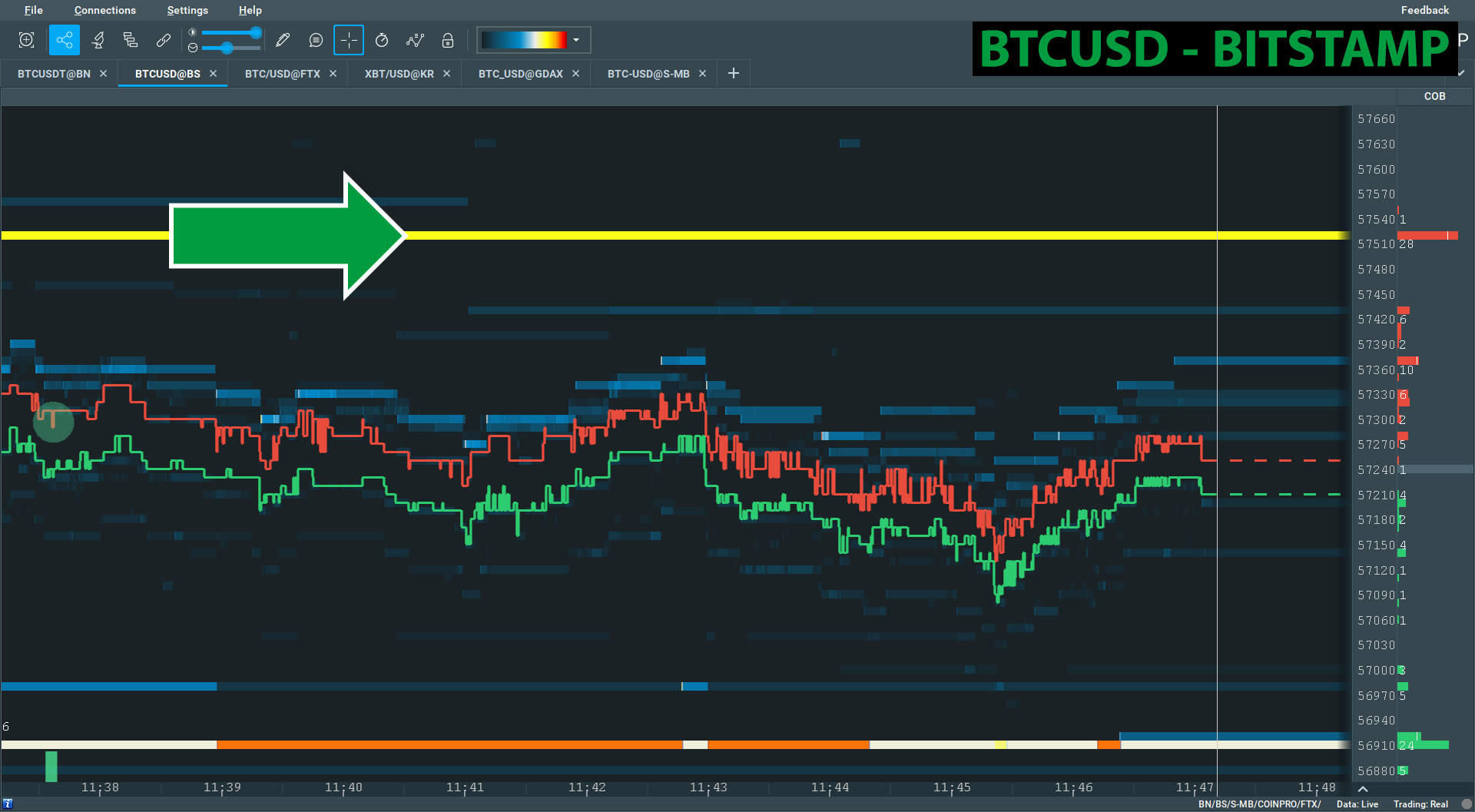 Bitstamp shows a much thinner order book, but a clear area of intent at 57510.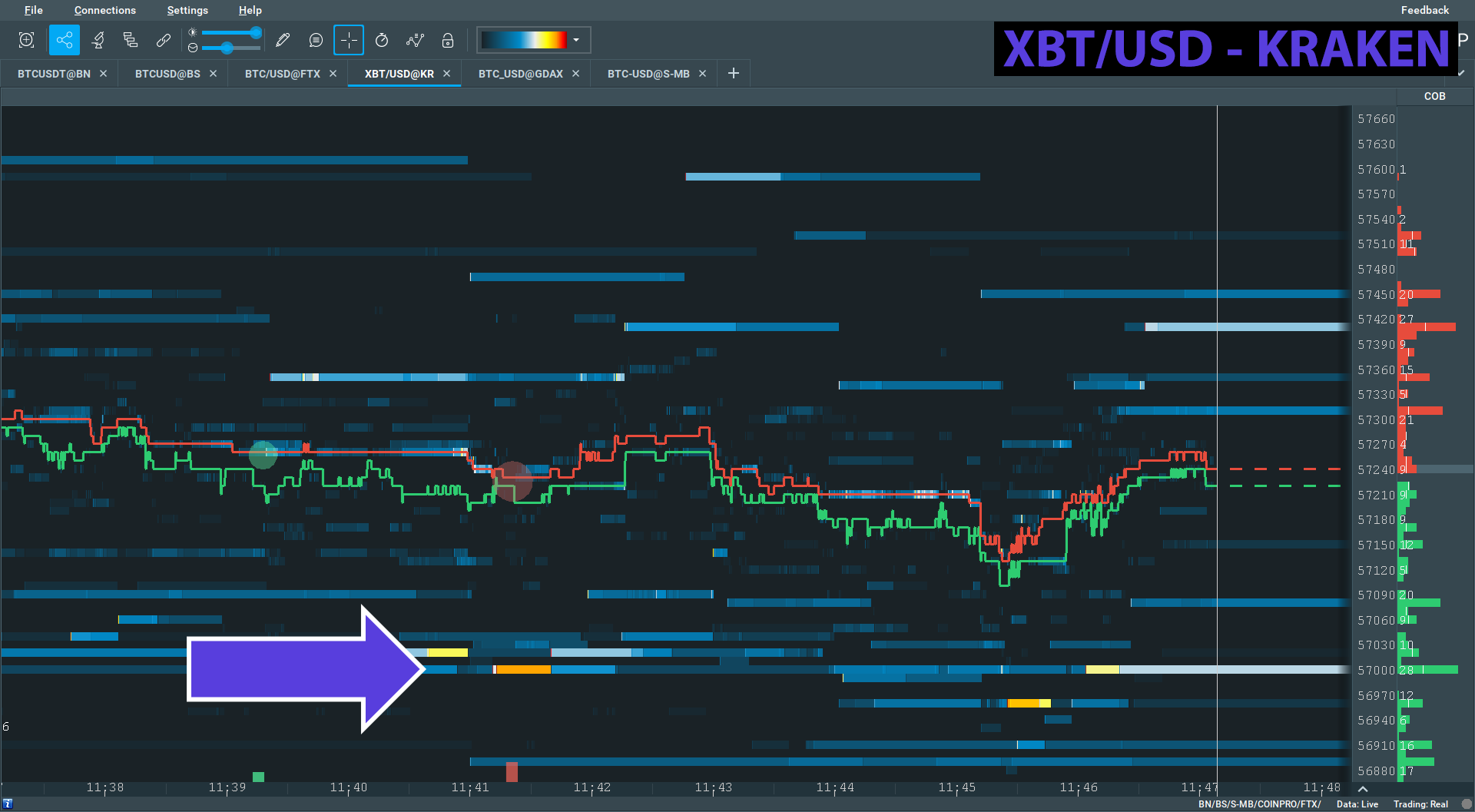 Kraken also shows resting buy orders at 57000.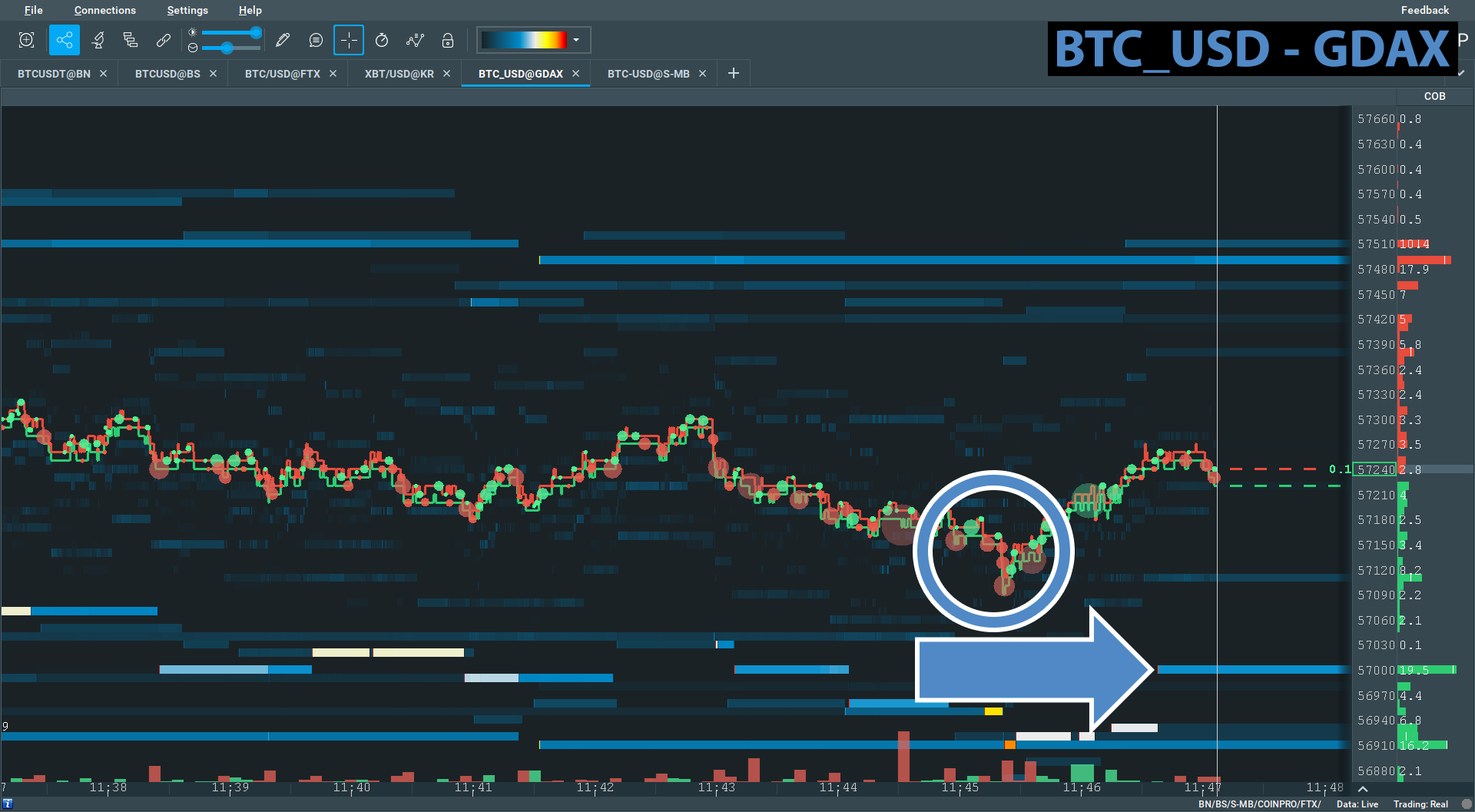 GDAX shows resting buy orders at 57000 and aggressive sellers at 57120.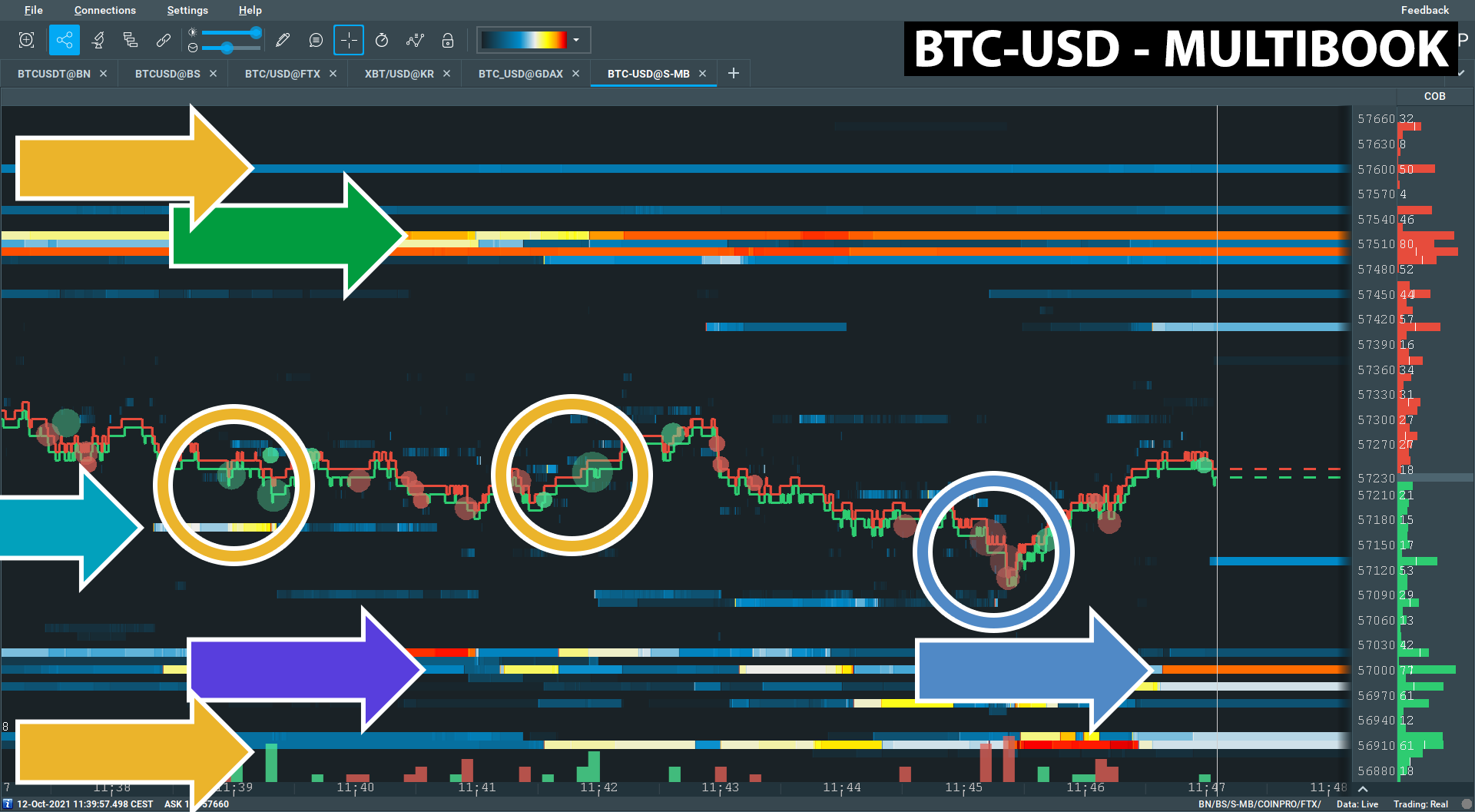 Individually, each exchange is missing key parts of the order flow. But, by combining each instrument into one Bookmap chart, Multibook shows you the whole picture.
In addition, the Multibook COB is much thicker, allowing you to understand and follow price action much more effectively.
Visit our content database to view more examples of Multibook in action.