Beating the Crypto Market Maker Algos With "Hyper Scalping": An Interview With Cryptointel
This article is based on a text-based interview with Cryptointel. 
Conducted by Owain Higham.
How long have you been trading and how did you get into it?
I have been trading for about 2 years, starting with crypto and then studying the correlation with macroeconomics and direction of the US stock market, as well as the direction of the entire market, especially driven by the DXY (U.S. Dollar Index).
What is your general trading style?
When I started to study many market analysis techniques, I realized that technical analysis doesn't work in many ways. For me it was the junk food of analysis for trapping retail and providing liquidity for the market makers.
After several months I tried to subscribe to many tools over the internet that could give me a different perspective of the market such as the heatmap (order book), liquidation map, Time Price Opportunity (TPO), high/low volume node areas, along with the interrelationships with  market psychology, etc.
In conclusion, I am trying to create a new way of trade by combining all that information. I conduct the most logically possible profitable and low risk trades with something I call the "hyper scalping" technique. All information that has been processed will give a high forecast and probability for the following price action in the BTC/ETH market.
When we open up a chart, we know that the price of BTC is driven by stable coins such as USDT, BUSD, so we can directly analyze that on a BTC/USD chart. But altcoin analysis should be different.
Many people know that altcoins in the market are driven by BTC, but why? Because each altcoin consists of BTC as an internal ingredient. But in actual fact, altcoins are driven by 2 parameters: first the price of BTCUSD, second the ALT/BTC pair price. That's what many people forget; they only analyze the altcoin correlation with the BTCUSD price without analyzing its correlation to its relative BTC pair. 
With combining all the information on board and analyzing each crypto asset independently, I can conduct my hyper scalping technique with low risk and a high probability of winning. Usually the moves of BTC/USD pair will come after the DJI (Dow Jones Industrial Average) move and inflow/outflow btc into/to the exchanger is supporting it. 
Below is a footprint of my trading style and PnL Analysis of my futures market trading results: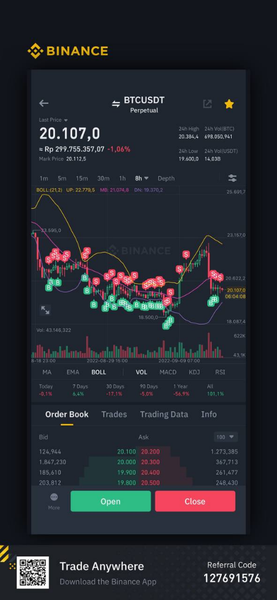 Img 1: Cryptointel's footprint.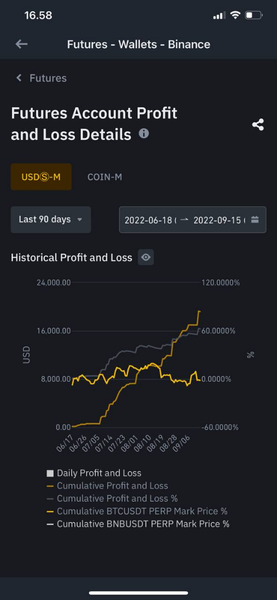 Img 2: Cryptointel's historical PnL.
How do you use Bookmap in your trading?
I always use Bookmap to seek available liquidity in the market direction, because the price will react to the direction that has more liquidity as it always follows the direction of the Dow Jones Industry and S&P 500.
Bookmap also shows the buy and sell walls all across the market, which always helps me to get the best entry in any trade. With these tools I can get a clear understanding of market liquidity at a real-time, microsecond level by using the right connection to the most liquid exchange in the entire crypto market.
Img 3:
BTCUSDT Spot Binance, 15 September 2022, 11:15am GMT
"Long Term Liquidity of more than 1H can attract the price like a magnet. Short Term Liquidity of below 15 minute can cause the price to stop or bounce." – Cryptointel
Do you believe there is more price manipulation in the crypto market than traditional markets such as the Dow Jones?
Basically almost all markets can be manipulated by huge institutions or market makers with stop hunts and pumps and dumps, etc. All of these practices become perfectly legal and are worse in the crypto market. 
Something that I found very interesting in the crypto market is a "spoofer engine", developed by a particular famous crypto exchange. It can drive BTC or altcoin price in any direction, causing pumps and dumps, guiding or holding price, etc. On the other hand, market makers can just start printing more stablecoin to inject liquidity into the market. But as long as I am using all the apps that support my trade I can better visualize the price action that will happen next in the crypto market.
Bookmap is the most effective way of detecting this "spoofer engine" with visualization in real-time to provide complete information in the trading decision-making process.
Some things I always pay attention to before trading include: high/low volume areas, value area high/low, the heatmap and liquidity map, macroeconomic conditions such as inflation, the DXY (U.S. Dollar Index) chart, the fed, etc., market session time (Asia, Europe, US, or a crossover time), the US Stock Price (I use some chart indices that also move during the weekend), in and out flow BTC data from/to exchanges, whale positioning vs retail positioning, and simple TA (technical analysis).
Why does the Dow Jones lead market moves for BTC/ETH in your strategy?
The price action in DJI leads all markets, price action only works in the lower time frame. I am using a maximum 15m and a minimum of 1 minute. 
BTC especially will follow the price action, as long as the inflow/outflow to and from crypto exchanges supports the price action and there is no "spoofer engine" detected.
If the DJI is going upward and huge BTC outflow is detected (outflow from exchange wallets to private wallets), then BTC will pump soon. It also works in the opposite direction.
Receive updates about new articles
Follow us on social media