Crypto Market Outlook, April 2021
---



APRIL, 26th


---




Last week was looking to be quite a brutal week for BTC, the cryptocurrency closing down nearly -13% against the USD. For ETH, it wasn't as bad. In fact, ETHUSD closed up over +3.50% on the week. But both cryptocurrencies are on a run at the start of this new week, so let's take to the Bookmap heatmap to see how far this market momentum could potentially push each pair.
BTCUSD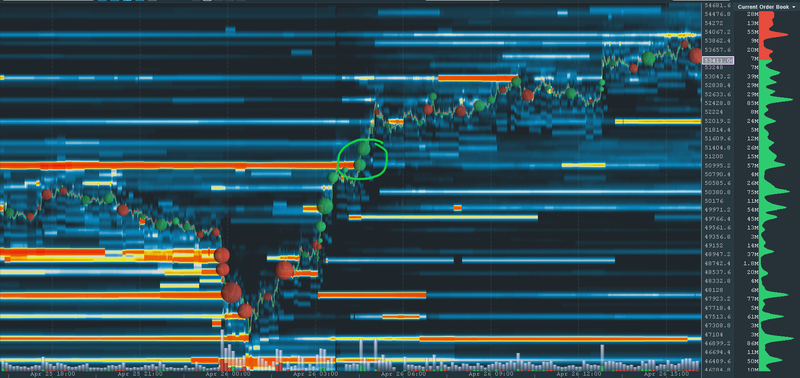 The order book on BTCUSD is relatively thin after last week's strong moves. Bids absorbed the huge selling from 48000-47100 and then very confidently took out 51000 offers early on Monday morning. Now the only real liquidity level worth mentioning is 52000, but even their bids are light and just recently posted.
The trading pair should see support all the way down to the breakout level of 51k. There doesn't seem to be much resistance on the upside until perhaps 57.6k, which is more of a swing level and not a market liquidity zone yet.
ETHUSD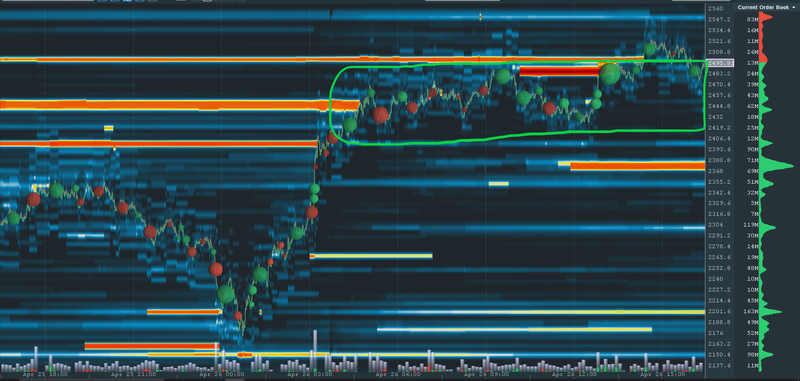 ETH is also looking strong. The entire zone from 2400 to 2500 looks like it could provide a lot of support, judging by the way prices keep making higher highs here.
Layers of bids at sitting at 2380 and the last ATH is only a little bit higher at 2645, so if the pair can keep its momentum, there isn't much resistance to stop it from driving higher.
---



APRIL, 19th


---




There were once again even more new all-time highs in crypto last week, however, the crypto market crashed and suffered a heavy correction over Sunday, BTCUSD falling over -35% peak to trough on the day. ETHUSD followed suit, but both trading pairs are now retracing the price drop.
BTCUSD
BTC fell through a support zone around $59.5k-$60k over the weekend, which is where the large Bitcoin price drop was triggered. We'll have to wait and see if this level now flips to resistance on any retest.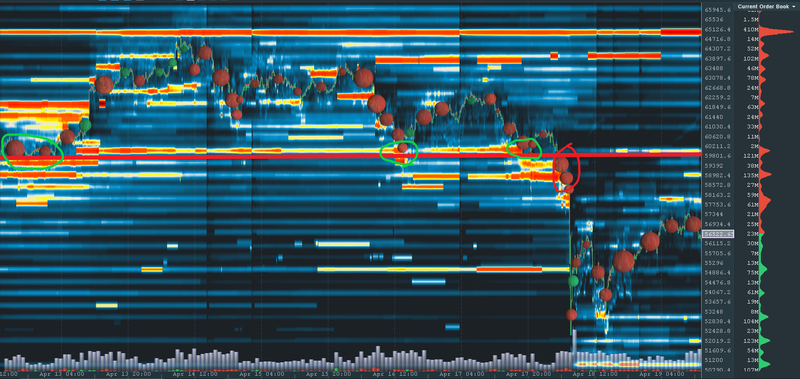 The swing low just above $52k will be decisive. If the level breaks, then it could be the start of panic in the market as the $50k area is another swing low which is a psychological level with lots of stops underneath.
ETHUSD
This pair also fell through a support zone at 2,300 where the sharp down move was initiated. This could be a resistance area now. If not, there isn't much resistance through 2,550 and further ATHs since the larger offers have pulled.
Some relatively large bids sit just above the swing low printed by the weekend move at 2,000. This will be the battle zone for bears that want to follow through and try to turn this into a longer-term trend.
---



APRIL, 12th


---
BTCUSD is approaching its all-time high, while ETHUSD has already been printing new highs.
BTCUSD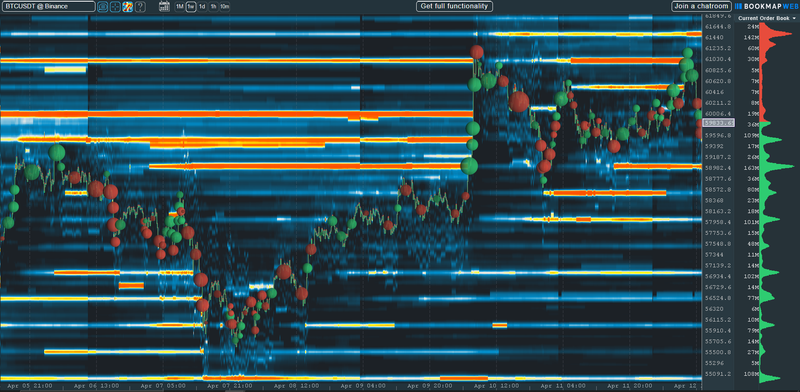 The pair plowed through layers of large offers from $59k – $60k over the weekend, but momentum was stalled by offers at $61k and bitcoin prices dropped. A second attempt to break higher has failed at the opening of the week, again by large offers that reloaded at the level.
Bids at waiting at $59,000. Lower, the bids at the swing low of $58,500 pulled today, and there are likely to be many stops resting underneath.
ETHUSD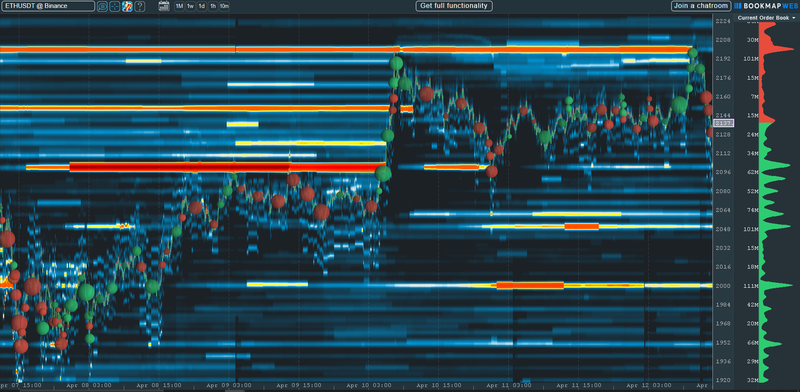 A similar story here, except this trading pair, actually peeped above the ATH before being stopped by large offers at 2,200. They held prices back but were fully consumed. If more offers don't enter the book, there is not much resistance overhead.
2,100 is a flipped zone, which needs to hold as support to keep the medium-term trend bullish. The next big level to the downside is a swing low at 1,950.
---



APRIL, 4th


---
ETHUSD broke all-time highs past $2,100 last week. BTCUSD lacked the momentum and traded a few thousand dollars shy of its ATH around $62,000.
ETHUSD

Market data chart analysis is often challenging when the asset in question is making ATHs. Luckily, we have the Bookmap heatmap.
Large offers are just above the high at 2100, and more are forming at 2130. Support in the form of bids is at 2000 and 1950.
BTCUSD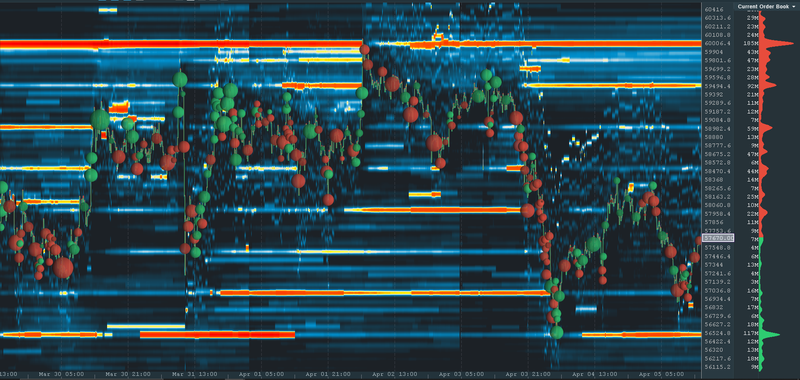 Last week saw the hard push for $60k absorbed by the large offers there, which have seen reformed at the level. There are also some offers protecting the level a little lower at 59500.
The momentum is to the downside at the moment, and the next target of bids is 56500.
Receive updates about new articles
Follow us on social media