Crypto Market Outlook, August 2021
2 August 2021
Last week was a nice week for the two main cryptocurrency pairs. BTCUSD closed up +12.6%, and ETHUSD a meatier +16%. Both broke long-term swing highs that had been forming over the previous months, BTCUSD finally clearing 40,000 and and ETHUSD reaching as high as 2,700.
BTCUSD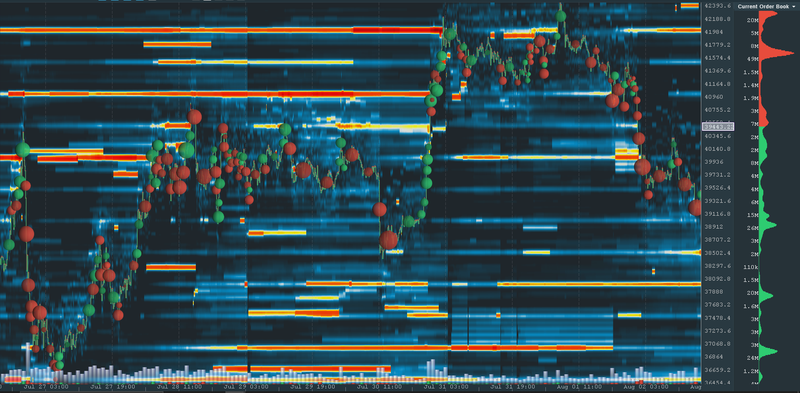 As we can see above, BTCUSD managed to clear the 42k offers on the second attempt. But falling but under 40k is not a good sign for the pair.
Currently Bids are forming at 38,500, older Bids at 38,000. Offers are light above until 42,000.
ETHUSD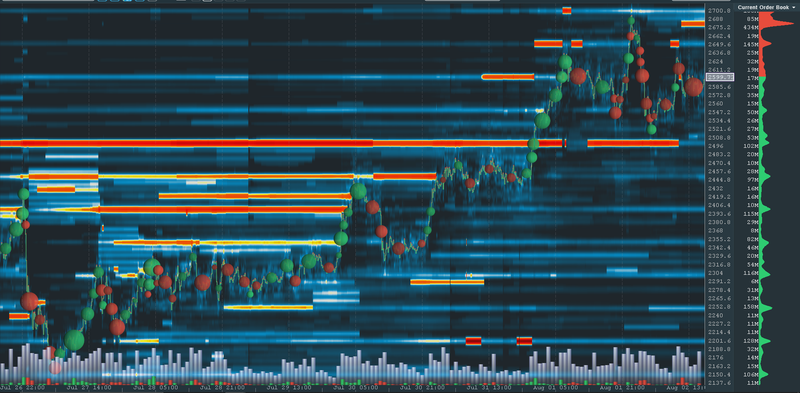 The huge Offers at 2,500 on ETHUSD flipped to huge Bids at the same level, but have pulled recently. Offers forming at 2,680.
This pair hasn't given back as much of its recent gains and looks quite strong. If buying momentum can keep the pair above 2,500 despite lacking the support in Bids, the uptrend should be intact.
9 August 2021
The cryptocurrency market is on a rip higher, ETHUSD up nearly +18% the week earlier, BTCUSD just under +10%. Both pairs have cleared their swings to make higher highs on the long-term charts.
BTCUSD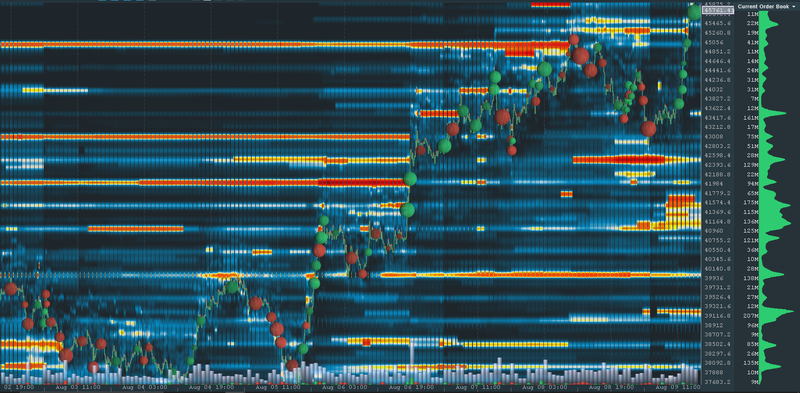 Having broke through the huge Offers at 42k, the pair retraced and found support three times around 42.5-43k. The Bids at 42.5k began to pull just as huge buyers took the pair to make a new high through 45k.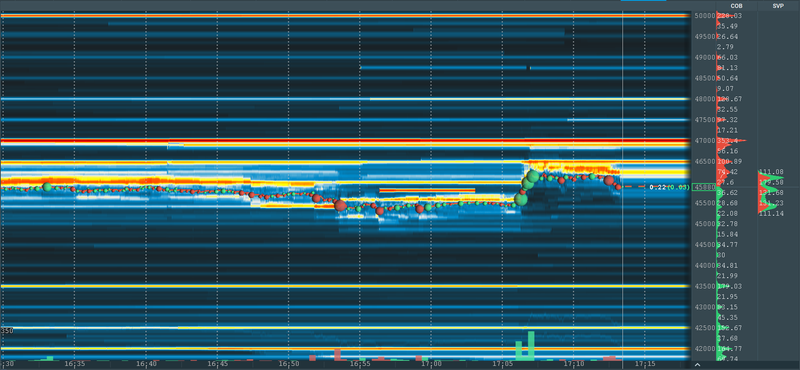 Multibook shows the next large Offers level at 47k. Bids light below until 43.5k, 42k.
ETHUSD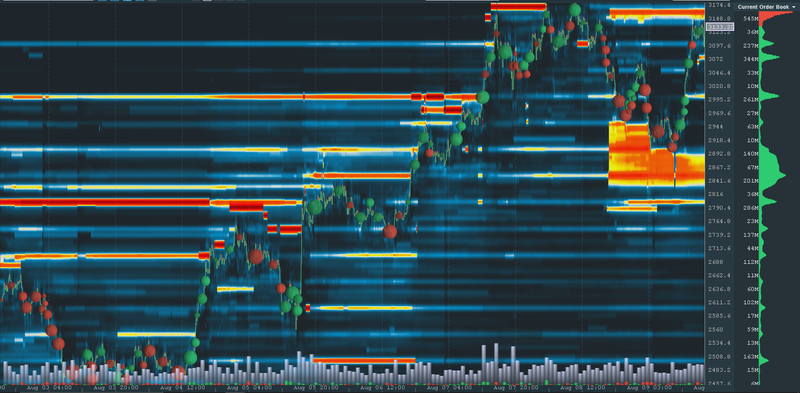 ETHUSD saw extremely thick layers of Bids through 2,950-2,850 after breaking higher. 3,160 is huge resistance above, next large (but slightly smaller) Offers level waiting at 3,200.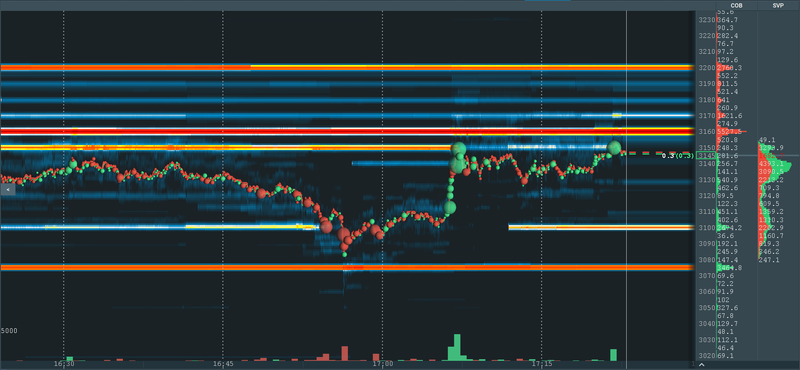 Lights bids at forming at 3,100, larger at 3,075.
16 August 2021
Last week saw a continuation of the uptrend, BTCUSD up +7.3% and ETHUSD +9.8% respectively. Both pairs are probably due for a breather and are currently retracing at the start of this week.
BTCUSD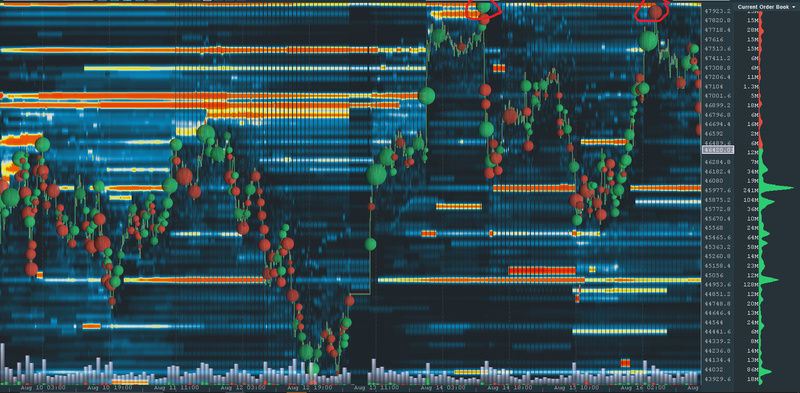 This pair ran into some large Offers which absorbed the aggressive buyers over the weekend. The pair then immediately fell off over $1,000. On a second attempt, the pair again failed to break the higher and printed a lower high. This is a sign of momentum weakening.
Large Bids are forming at 46,000, much lighter at 45,000. If aggressive sellers manage to take the pair below 45,500, it will be breaking a swing low and potentially triggering lots of Sell Stops and a larger downtrend.
ETHUSD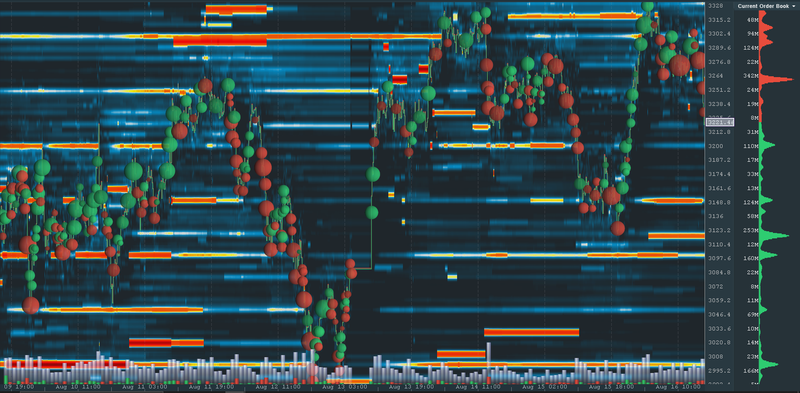 Naturally a similar pattern on ETHUSD. 3,230 ended up being high after at first taking out the large Offers, but aggressive buyers failing to follow through.
Bids at 3,150 are actually pulling and now quite light. They are larger at 3,120, but also pulling at 3,100.
23 August 2021
Last week was comfortable for BTCUSD, the pair closing up +4.82%, whereas ETHUSD struggled a little, down -2.11%. Both pairs are printing higher highs to keep off the week, and it looks to be all a question of whether or not the momentum can follow through.
BTCUSD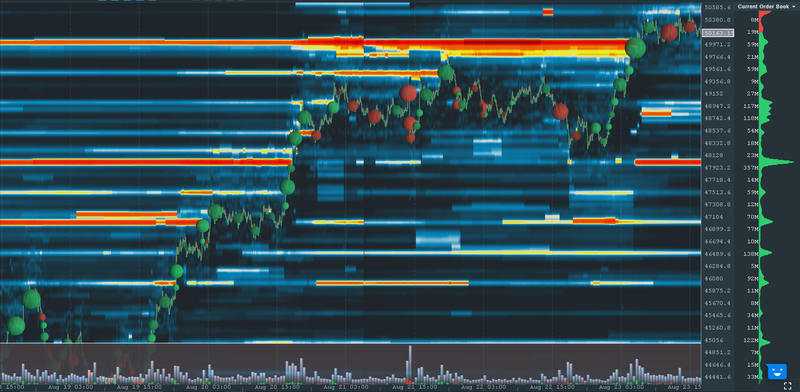 Aggressive buyers easily took out the 48,000 Offers, sending the pair as high as 49,500 before buying absorption stopped the momentum. After pulling back to 48,300, huge buyers managed to take the large 50k Offers and now it seems to be supporting prices.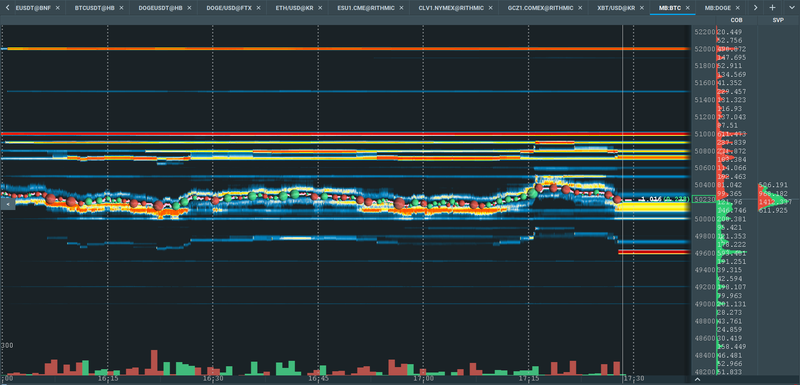 Large Bids are forming at 49,600. 50,800 – 51,000 has large Offers in the book. Also higher at 52k.
ETHUSD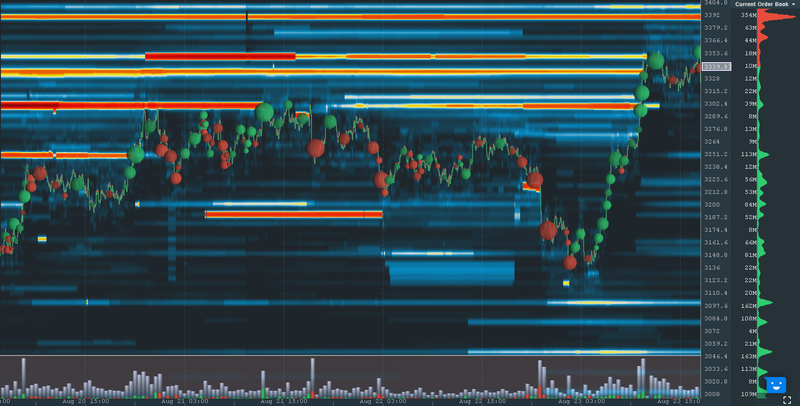 After breaking 3,300 Offers and printing a weekly higher high, the pair is stalling as it tries to follow through with a new high. 3,390 is the next large Offers level, after that 3,500.
Bids are light from a more macro viewpoint. However, holding the 3,315 swing low will be important for the bulls.
30 August 2021
The recent +1 month crypto bull run exhausted last week, BTCUSD closing down nearly -1%, ETHUSD -0.5%. Can the aggressive buyers follow through this week and continue the trend, or could it be the beginning of a reversal?
BTCUSD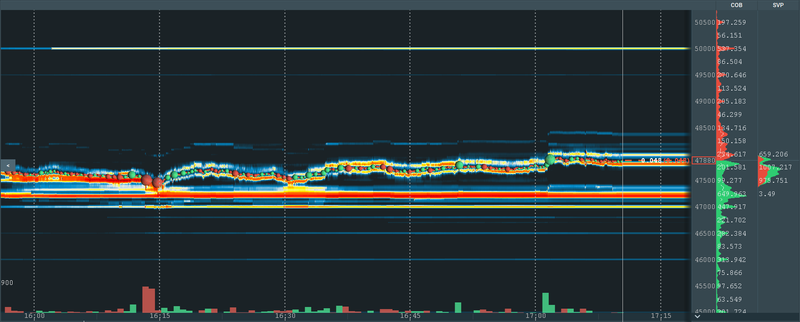 The pair is dropping into Bids, having recently absorbing selling at 47500. The next level of large Bids is at 47200, lighter at 47000.
Offers are light above, 50,000 the only level worth mentioning.
ETHUSD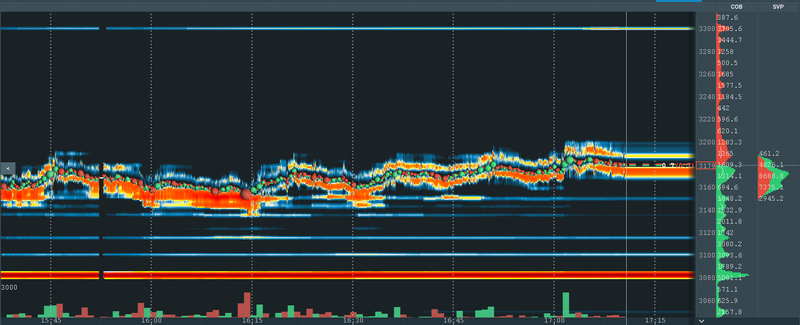 Offers are forming at 3300, but otherwise light to the upside. Bids are very large at 3080. This is also a long-term swing low, which if breaks could spell trouble for the bulls.
Receive updates about new articles
Follow us on social media