Crypto Market Outlook, February 2021
---



FEBRUARY, 23rd


---
BTCUSD
As the US markets open this morning to kick off the week, BTCUSD is already falling out of bed. So far down about -15% in the previous 24 hours, the pair just broke through heavy support at the previous swing's ATH around $50k, hitting as low as $47k before bouncing back from the level.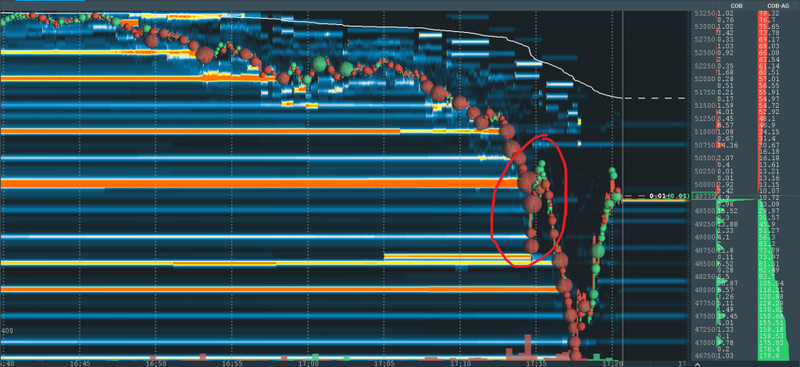 As we can see at a higher level, this area could prove to be supported, with the $52.5k range potentially decisive in terms of whether it will keep pressure on the cryptocurrency as resistance, or will revert back to support.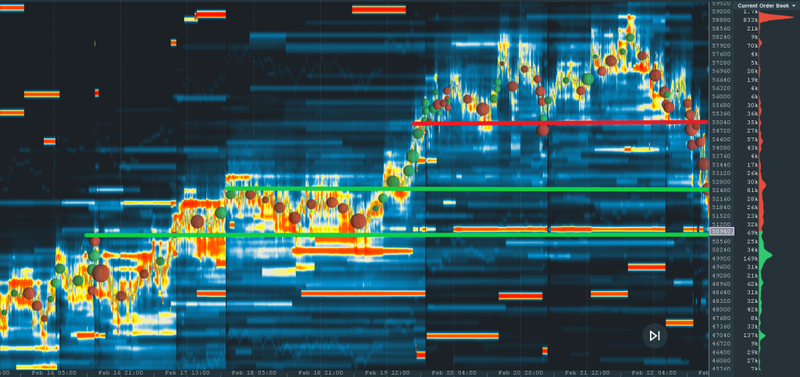 The level higher up at $55k could also be an important battle zone for traders if prices ever manage to back it back there this week.
ETHUSD
Ethereum naturally followed suit on this sharp down move and retrace, smashing through bids at $1.65k and $1.6k, before trading just shy of a cluster of bids at $1.5k and snapping back almost as quickly as it fell.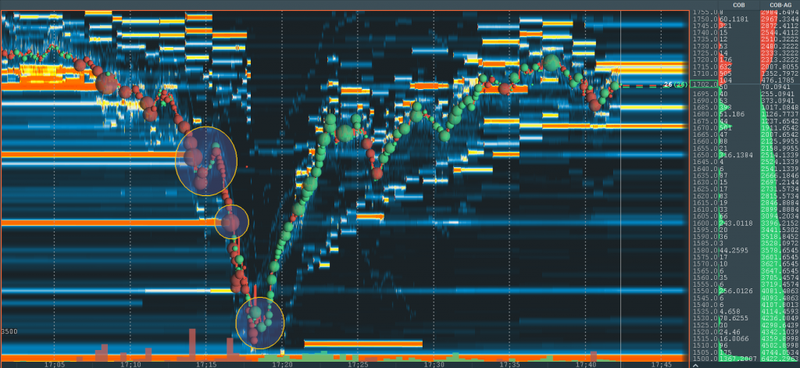 At a higher level, it looks as if the area around $1.86k could be the one to watch. If the pair continues to drop, $1.7k is a big support, with a lot of stops likely resting beneath.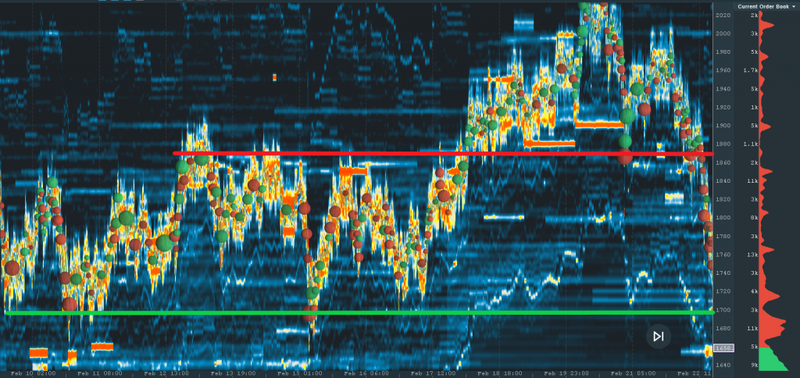 ---



FEBRUARY, 15th


---





All-time highs once again in the crypto markets last week, ETHUSD hitting around $1.88k before dropping off and BTCUSD printing just shy of $50k.
ETHUSD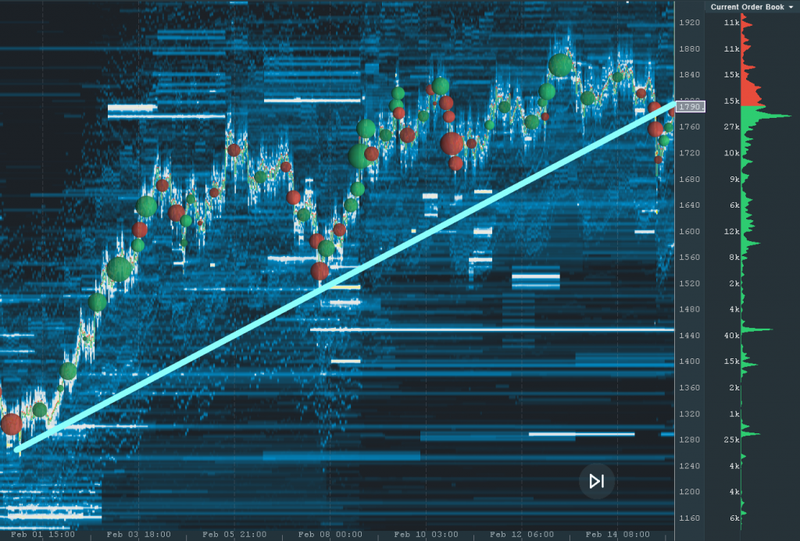 In the early hours of Monday, ETH broke down through an ascending trendline at the 1,800 level vs the US dollar. The third attempt at testing the trendline failed, and now the level seems to have turned into resistance.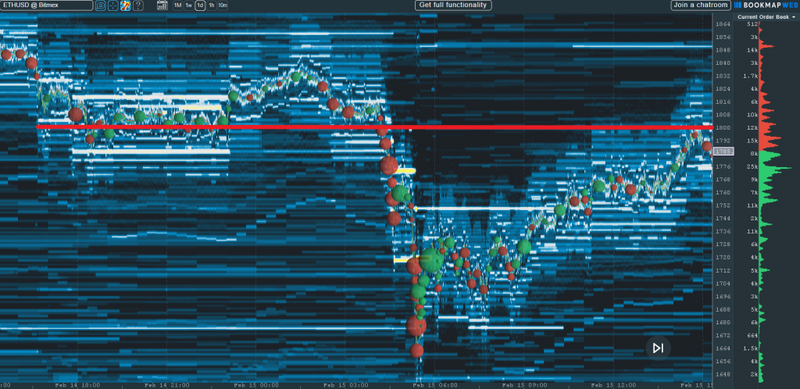 BTCUSD
The pair still in a pretty firm uptrend and finds support whenever prices retrace. However, each new upswing seems to be lacking momentum, and the last ATH on the attempt at taking $50k was met with heavy selling.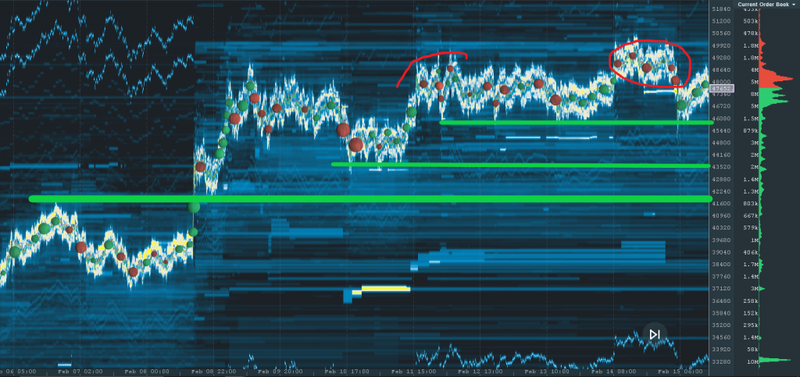 Sellers had a brief poke through $46k today but the level remains strong support. If buyers can follow through over the next few days, prices could easily penetrate $50k and beyond into uncharted territory.
However, if the current support levels are retested and fail, the large stops likely to be lurking underneath could propel the pair downwards.
$44k and especially $42k (the previous ATH that was broken by last week's news about Tesla buying BTC) are the big levels to watch.
---



FEBRUARY, 8th


---





There was a pretty uniform uptrend in bitcoin price news last week. The first day was a bit choppy, but Tuesday saw the start of the movement.
Tue, February 2nd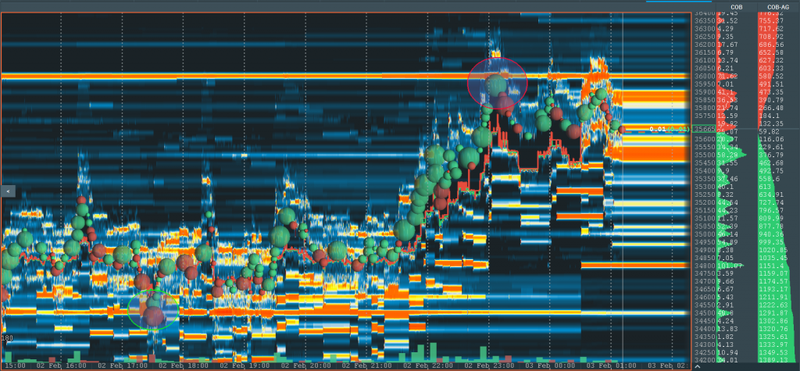 BTCUSD found support even in the face of large selling @ $34.5k and ticked higher, climbing as far as $36k before the move was curbed by large offers.
Wed, February 3rd
The next day, both BTCUSD and ETHUSD marched higher. 
BTCUSD took out $37k then $37.5k, as aggressive buying in ETHUSD took $1.6k and $1.65k.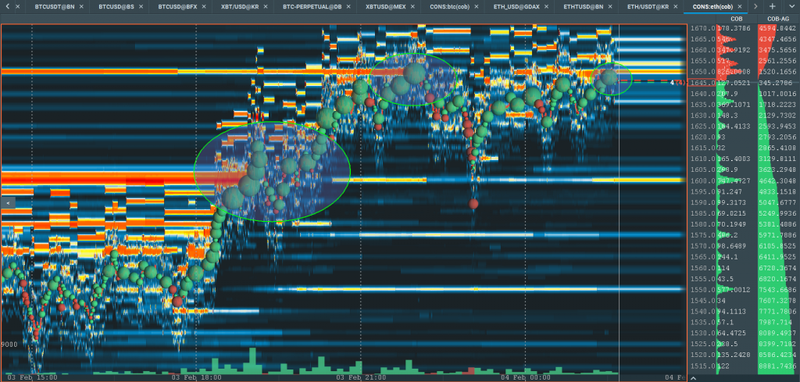 Large offers at the latter level absorbed ETHUSD buying and reappeared on a second attempt, keeping cryptocurrency prices capped for some period.
Thu, February 4th
BTCUSD saw some really bullish moves at the start of Thursday: a flurry of aggressive market orders smashing through layers of large offers from $38.25k-$38.7k.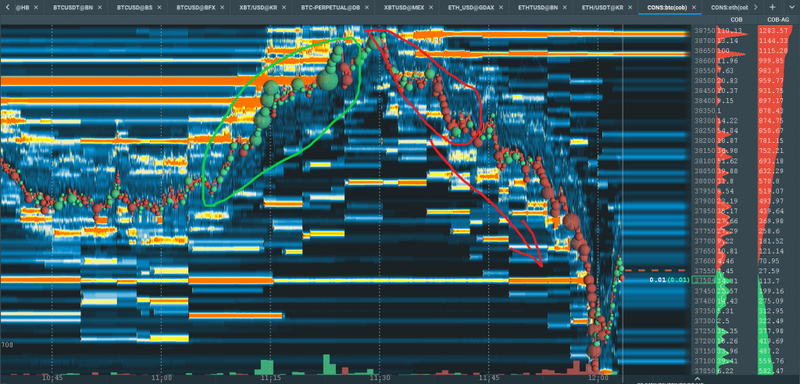 But buying exhausted afterward, even with little resistance above. As prices fell back, offers reappeared, sales accumulated, and lots of stops were liquidated under $37.5k.
Fri, February 5th
Friday ended the week with a bang, smashing through $38.5k/$39k with only a brief pause before taking $39.5k.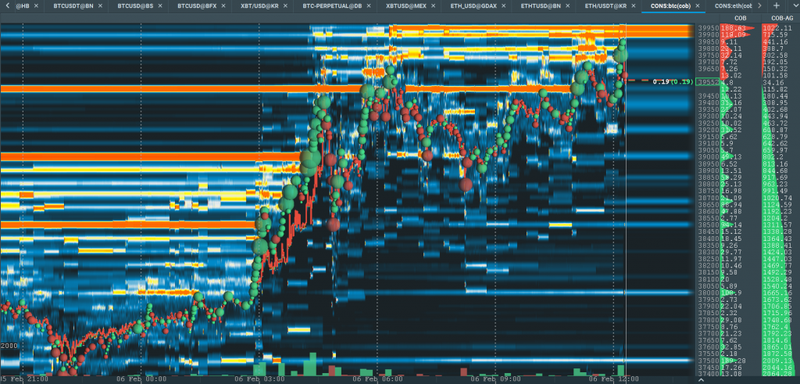 There was a lot of attractive market liquidity resting higher and the market took most of it out over the weekend, hitting a high of $41k.
Mon, February 8th
ETHUSD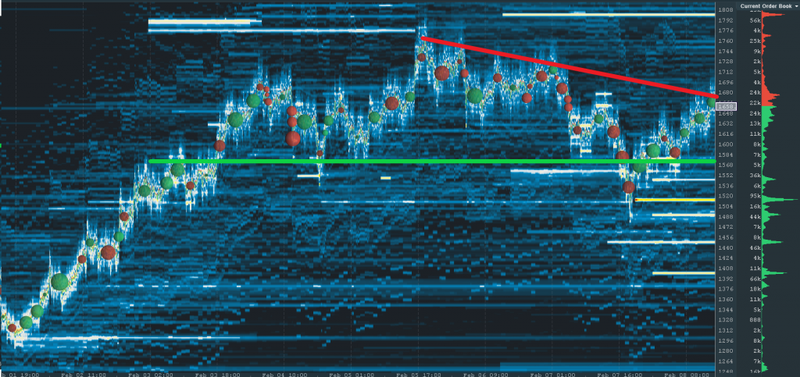 ETHUSD has just risen into a multi-day, downward-sloping trend line. If it doesn't hold and buyers can push through, more ATHs could be on the cards as we approach large offers @ $1.8k.
The level around $1.58k seems it could provide some support if prices fall from here, with especially large bids sitting just above Sunday's swing low @ $1.5k.
BTCUSD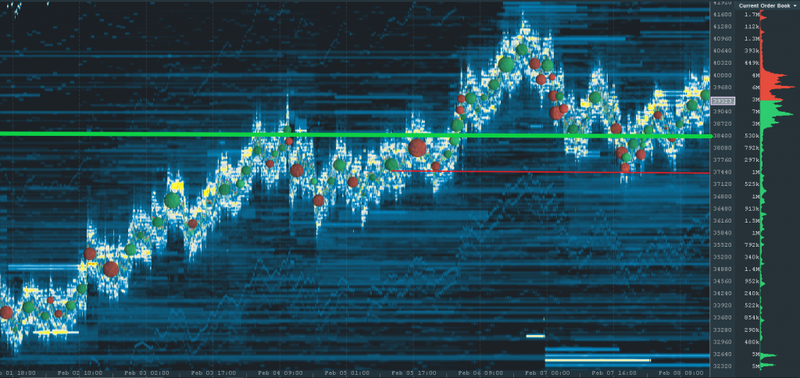 If the pair can continue last week's momentum and take out last week's swing high, there isn't much resistance stopping it from printing another ATH above $42k.
The level at $38.4k seems to be resistance-turned-support, which should temporarily hold any exhaustion of buying.
But if the level flips again and sellers come in, stops starting at $37.4k, and moving progressively lower under each swing could be under threat.
---



FEBRUARY, 1st


---





Financial markets saw some crazy moves last week. Bitcoin was very volatile, dropping to almost $29k vs. the USD at its trough and hitting $34k at its peak, basically ending back where it started.
But all the buzz in the crypto market news was about Gamestop stock, the price of which surged from $100 to over $400 at its peak. Some large hedge funds were heavily short, betting on the bankruptcy of the company. Instead, they went bankrupt themselves.   
Reddit Warriors
In the past few days, the subreddit known as r/wallstreetbets has almost doubled its ''Degenerates'' — the term the About section uses to describe its community of over 7 million traders.
Discovering the concept of a gamma squeeze with Hetz stock late last year, this time they wanted to squeeze the shorts of large hedge funds that were reportedly heavily committed to a down move.
Stop Run. Gamestop Run
It worked. The stock price rose as armies of retail traders piled in, causing hedge funds to bail on their positions and pushing the price up even further. In the aftermath, the hedge funds had collectively lost billions.
Anonymous bitcoin advocate and creator of the Stock-to-Flow model PlanB tweeted, suggesting that this kind of frenzy could spill over into bitcoin. Just hours later, Robinhood — the broker that most of the traders of r/wallstreetbets use to trade temporarily disabled the purchasing of Gamestop shares. The next day, a person familiar with being targeted by short-sellers — Elon Musk —  replaced his bio with the Bitcoin hashtag.
BTCUSD rallied nearly 20% at its peak. It broke through a long-term level around $35k, shifting from resistance to support and back again in the past month. 
But the move eventually reversed and closed flat on the day, under the confluence of that resistance and a downward trend line that has been forming. 
The New Smart Money
Another popular Bitcoin personality known as "The Pomp" argues that retail has been consistently right about markets: Tesla, Hertz, and especially BTC. Will they be right going forward? We'll have to wait and see.
$29k is a big level on the BTCUSD pair. It has been hit multiple times, and the price has always rapidly bounced off. The level is hot, and that likely means there are large sell stops underneath. If the market manages to penetrate the bids protecting this level, large liquidations could potentially spark the retest of $20k.
But if the pair can hold above its trendline/bearish wedge on the longer-term chart, perhaps even testing the highs that $38.6k spike, then all eyes will be on the last ATH @ $42k.
---



JANUARY, 23rd


---
Tuesday 19th 
The Monday before was Martin Luther King Day and since US markets were closed, nothing much happened. Thankfully Tuesday was a lot more exciting! Cryptocurrency pair ETHUSD broke its all-time high of $1,419 on Coinbase but only managed to rise a few dollars above that level before falling. The retest a few hours later failed to make a higher high as large offers @ $1,450 intimidated the market, pushing it back down to $1,330.  

BTCUSD followed suit and traded downwards all day, aiming for large bids and stops under $35k. 

Wednesday, 20th 
BTCUSD continued its downtrend the next day, finally taking out large bids at $34k after multiple attempts. But smaller bids @ $33.5k supported the market and it traded back into the $34k-$35k range.  

Thursday, 21st 
This was BTCUSD's biggest down day since the March pandemic-induced crash. After smashing through support at $32k, the market rebounded for a few hours after-sales have exhausted under $31.5k.  

On the retest, large bids at $31.4k pulled to avoid getting hit. That paved way for the market to easily take out $31k and then eventually $30.5k, the trading pair closing down over -13% on the day.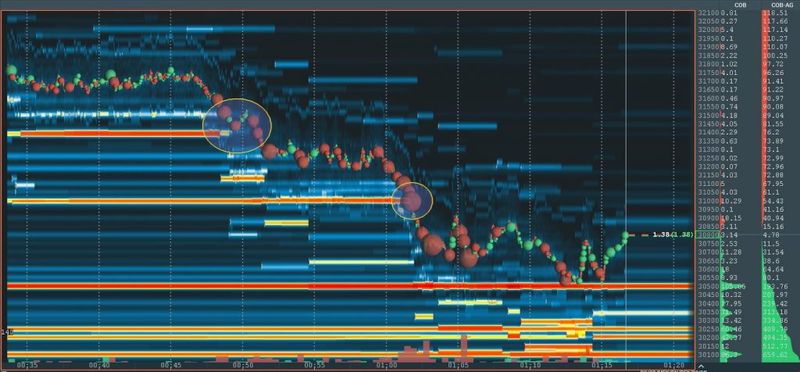 Friday, 22nd 
The final day of the week saw BTCUSD retracing and covering quite a bit of ground lost the days preceding. 

The January 11 swing low around $30k acted as support and prices pulled back, taking large offers out at $33k and $33.5k. But another large wall of offers at $34k kept a lid on the market.   
Buyers lacked the drive to even test the offers which were also at a confluence of support-turned-resistance after the break down on Thursday.

Now we are faced with the ultimate question: does this retrace form into higher highs over the weekend, or does the bitcoin price drop continue into next week? 
Monday, 25th  
It looks like the $30k level on BTCUSD was significant support after all. Propping the pair up, prices never managed to go back and test the level.  

Now that Monday has rolled around, prices decided to instead test the $34k support-turned-resistance, breaking through layers of large offers and printing a significant longer-term higher high to start the week.  
The next few days will tell if this level can turn back into support and prop up the start of a new uptrend.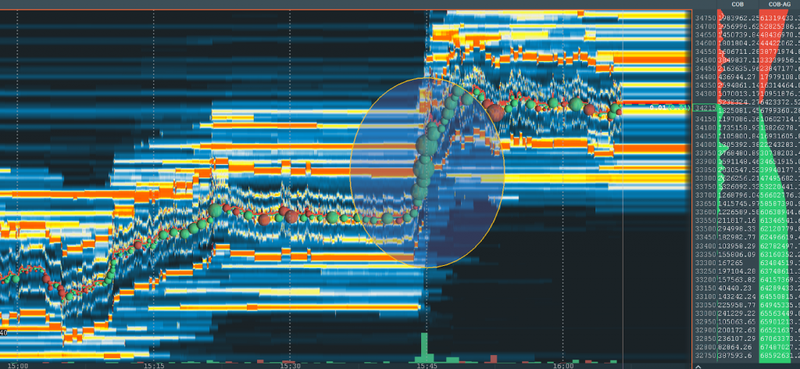 Receive updates about new articles
Follow us on social media