Crypto Market Outlook, May 2021
---
MAY, 31
---
Last week saw the crypto market recovering, BTC up a couple of percentage points, and ETHUSD nearly +13%. Both moves were dwarfed by the previous week's collapse, however. Now it's all about whether or not the digital assets market can keep this upward momentum, or if this is just a dead cat bounce.
BTCUSD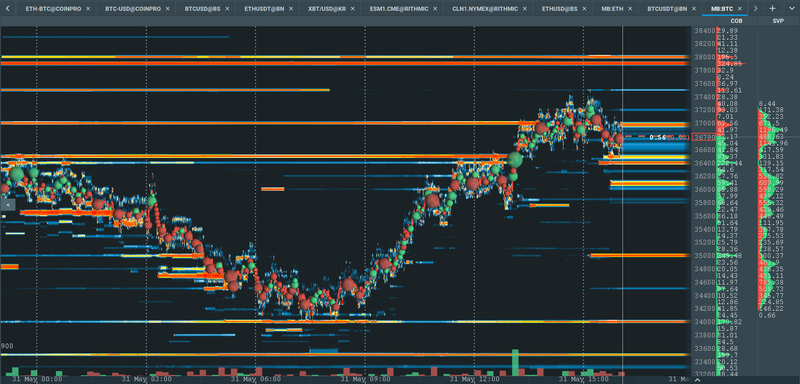 The strong upward trajectory for BTC as Monday kicks off the week, large buying taking out 36500, 37000 Offers. The next big level to the upside is 37900-3800. To the downside, Bids sit at 34000 and 33500. If we really zoom out and look at the order book, the largest levels at to the downside.
Looking at cross-exchange liquidity with Bookmap Multibook shows over 4,000 BTC sitting at 20000, which is nearly 10x larger than the biggest Offers level to the upside. In the right context, this could drag prices down over time.
ETHUSD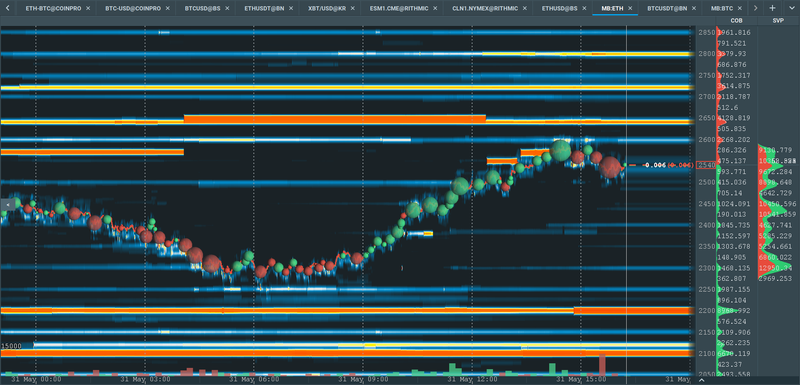 Somewhat obviously moving up at a similar pace, buying on ETHUSD was absorbed by some relatively new offers at 2570. Offers still sitting at 2640, albeit not as large as before the rally.
Bids fatten up at 2200. Slightly smaller at 2100.
---
MAY, 24th
---
It was a pretty nerve-racking previous week for the cryptocurrency market, BTCUSD closing down -25% and ETHUSD down -41%, the latter giving back gains after its recent outperformance.
Billions of dollars of leveraged longs were liquidated, which is probably healthy for the market in the long term. The question is, will the pain continue, or is it now ripe for recovery?
BTCUSD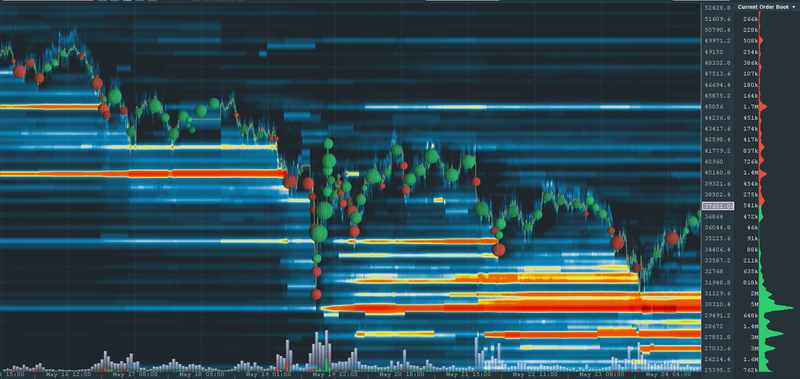 As can be seen on the Bookmap heatmap, the trading pair plummeted and touched almost as low as $30k. As this week came into view though, sellers were unable to penetrate lows and layers of bids around 32,000 absorbed the pressure.
Keep an eye on 40,000 in the coming days, as a break of this swing high could be the start of a bull market move.
ETHUSD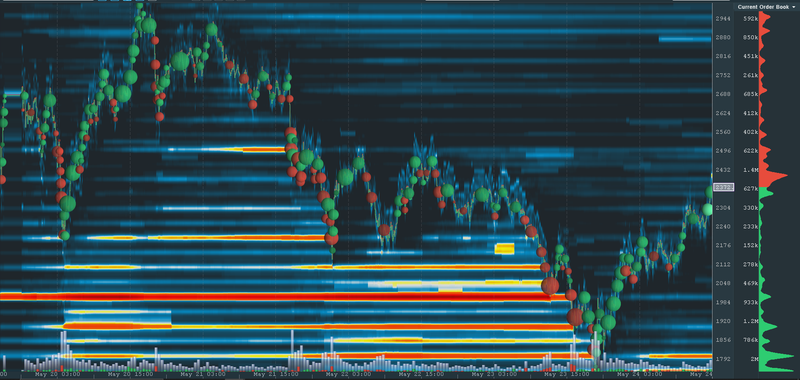 Similar moves here, 1800 absorbing the large selling. On the way back up, 2100 seems to have become some sort of light support. 2500 is a swing to keep on the radar, a successful break the start of a potentially larger reversal of this move.
Bids reloading at 1800.
---
MAY, 17th
---
It was a crushing previous week for the crypto market after the recent parabolic moves. BTCUSD closed down -20% on the week, ETHUSD was down just over -8%. If both pairs break and hold under significant swing lows this week, it could be the beginning of a longer-term bear market.
BTCUSD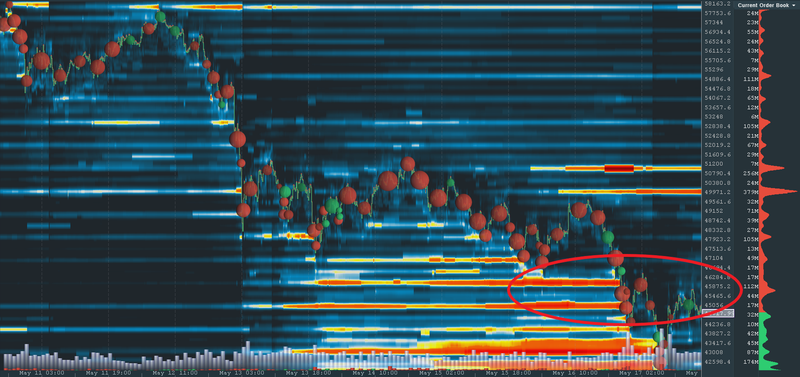 As we can see, BTCUSD broke a significant swing low and traded into multiple layers of large bids. These bitcoin prices are the lowest BTCUSD has traded for 12 weeks. The relatively large zone between 45000-46000 is being retested at the start of this week and maybe an area where buyers exhaust if fear keeps a hold on the digital assets market.
51 000 and 52 000 have posted huge offers, but it's a quite long distance from where current bitcoin prices are trading. On the downside, it's mostly about market momentum and where more large sell market orders will keep transacting or not.
ETHUSD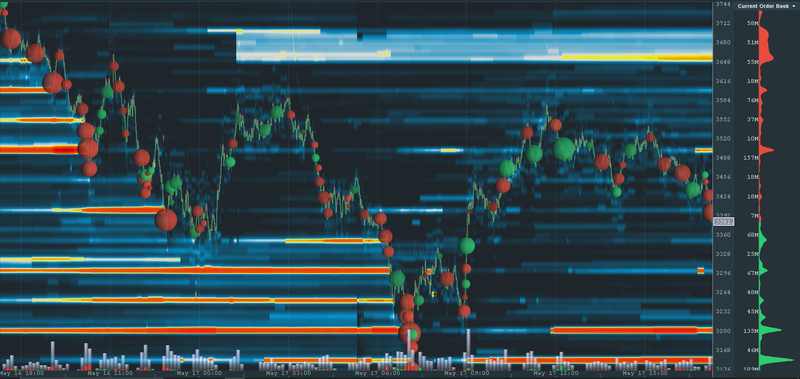 This trading pair suffered a bit less, but the move was still relatively brutal. Trading as low as 3150, the bids there managed to absorb the frenzied selling. Large bids have reloaded there and at 3 200.
To the upside, offers are forming at 3 500 and much higher at 3 650. It's worth keeping an eye on the swing high at 3 540 since it was a lower high. If this level breaks, it may be a sign the downward momentum is pausing.
---
MAY, 11th
---
ETH continued to outperform BTC last week, ETHUSD closing up +33% and BTCUSD closing up about ten times less.
BTCUSD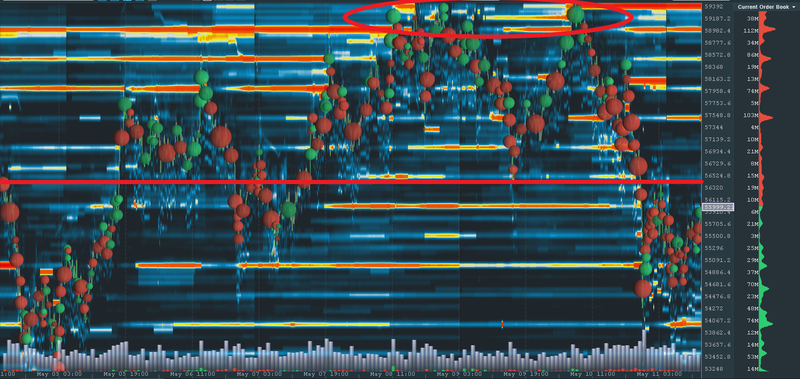 The 59 400 successfully capped prices over the weekend, even after multiple attempts by buyers at breaking the level. The pair then fell heavily through the 55 500 swing, hitting as low as 54 300 before bouncing back.
The 56 400 level may flip to resistance, as the area has proven to be an important zone over the previous week. Further offers are forming at 57 500 and the previously failed swing high at 59 400. Bids are at 54 000.
ETHUSD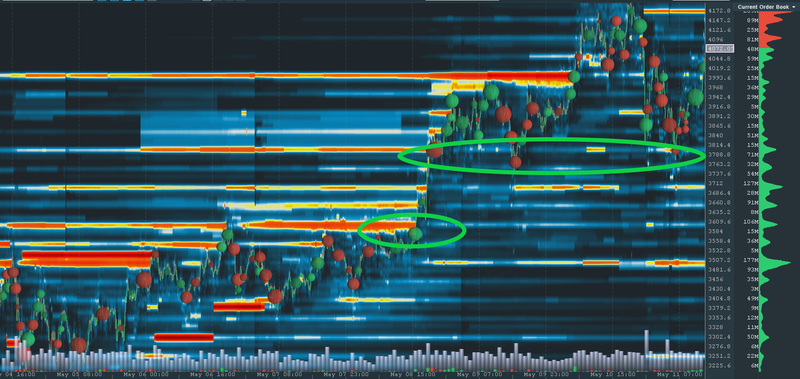 Since blowing through 3 600, the trading pair hasn't looked back. The 3 800 level has also flipped to support since breaking, and now there isn't much resistance until further all-time highs past 4 200. This 400 dollar range will decide whether this bullish market trend continues over these next few days.
---
MAY, 3rd
---
New ATHs for ETH and a +15% up-week for BTC, last week was pretty positive for the cryptocurrency market. Let's see what prospects Bookmap heatmap holds for these crypto trading pairs this week.
BTCUSD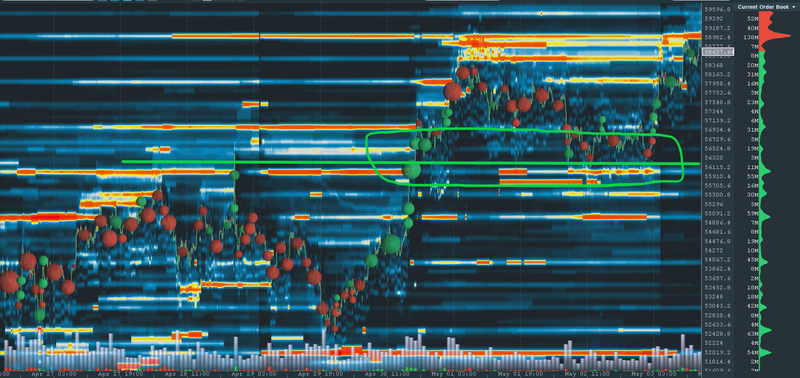 This trading pair broke through a swing high late on Friday, the level becoming support over the weekend. 56 000 should remain support if the attempt at breaking the new swing high at 58 000 currently fails. From there the next big support level is down at the 52 handle.
There isn't much resistance to the upside until the previous ATH at just under 65 000 (differs by cryptocurrency exchange). It's all about momentum from here, so if the buyers can keep pushing, the sky's the limit.
ETHUSD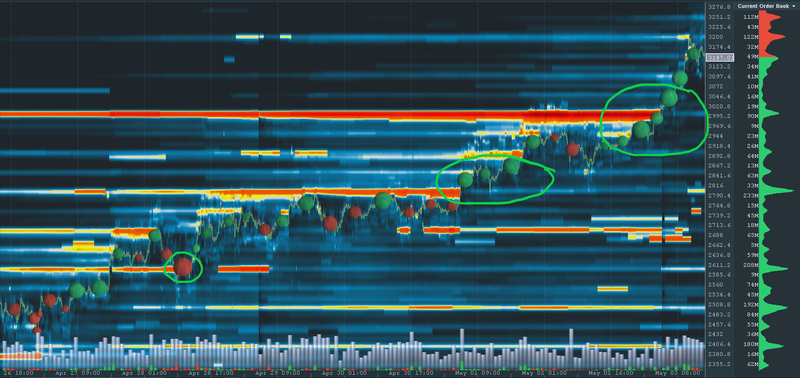 Ether is trading in new territory now, so support and resistance need to be based on the heatmap and round numbers.
With prices stepping higher, sellers were absorbed at 2 600 mid-week. Offers at 2 800 looked to be capping prices, but strong buying plowed through and the momentum continued through the fat layer of offers at 3000. This latter level will likely be supported on any retest, with 2800 awaiting if prices manage to drop that far.
As with BTC, the upside for ETHUSD is all about momentum and the developing picture on Bookmap heatmap.
Receive updates about new articles
Follow us on social media