News, Updates & Announcements
Review on FinancesOnline
    dxFeed Bookmap Becomes a 2-Time Winner of a Data Visualization Software Title from a Leading Platform for Software Reviews  
     It's always nice to receive praiseful reviews and useful feedback from our customers. But even more pleasant to get awards from FinancesOnline, an independent source for B2B, SaaS and financial solutions.
    Therefore, we are incredibly proud that the Bookmap trading platform in partnership with the dxFeed data provider has received two awards under FinancesOnline's data visualization software category: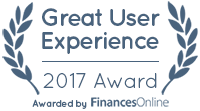 Great User Experience Award is granted to products that offer especially good user experience, so much so that we were listed as one of the top data analytics software on the market. FinancesOnline evaluated the fresh and attractive interface of Bookmap, its advanced features as well as estimated the simplicity of using for productive work process.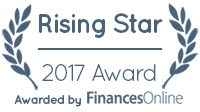 Rising Star Award is granted to products that have recently entered the market but are already becoming very popular. This award was the result of the hard work of all the teams of developers, designers, analysts and of course strong cooperation with professional traders.
    In addition to the two awards, FinancesOnline also underscored in their review that our dxFeed Bookmap pricing brings great value for money compared to the competition. FinancesOnline writes, "This innovative data visualization platform delivers market data to individual traders at friendly prices. In contrast, retail vendors charge significantly more."
    Recall that the Bookmap trading platform provides a unique visualization of the DOM activities as well as a clear view of the market with the dxFeed data provider. The extensive list of features and proprietary indicators, like Iceberg Tracker or Volume Dots and Volume Imbalance, allows you to catch the smallest changes in the orders of Larger Traders and assess their dominance in the market.
Receive updates about new articles
Follow us on social media