The Tether Case: Needle in a Haystack or Bitcoin Bubble Pop?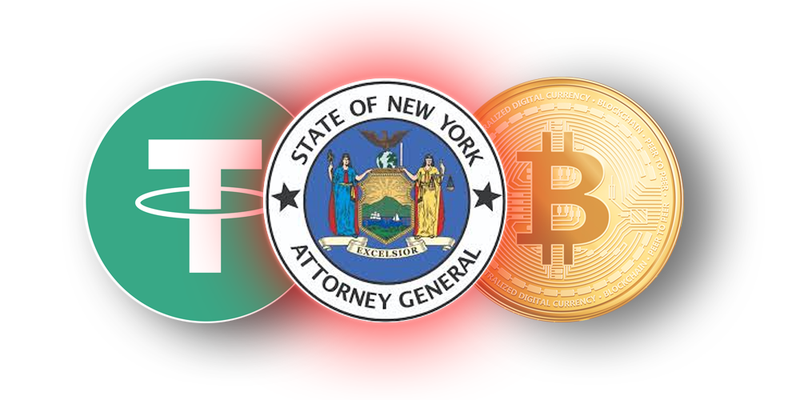 January 15th, 2021 could prove to be a date for the history books of bitcoin, since it was a vital deadline in the New York General Attorney v. iFinex case.
The case is important…
…Because the CEO of broker Bitfinex (child company of iFinex) is also CEO of Tether Limited, the company that creates tether—a stablecoin they claim is backed by the U.S dollar.
Tether is used by many traders to quickly move in and out of bitcoin and other cryptocurrencies, beating fiat in terms of speed and cost. Time is of the essence when it comes to the flow of capital, especially in the volatile universe of cryptocurrencies. Since most traditional banking institutions remain wary of cryptocurrencies and the digital asset exchanges that trade them, a digital asset with the ease of trading bitcoin but with the stability of the world reserve currency is very valuable. This demand makes tether the third biggest cryptocurrency on the market, as measured by market cap.
But tether and its relationship with bitcoin have long been shrouded in controversy. A paper published in late 2018 asked Is Bitcoin Really Untethered? The researchers found that there is in fact some evidence that tether reserves and bitcoin prices are correlated, especially when prices rebound after market downturns.
Tethered Connections
The last time Tether Limited lawyers were in court in April 2019, they admitted that each tether isn't actually backed by U.S dollars 1-for-1, but in fact by only $0.74 in cash and cash equivalents.
If an un-backed tether is being used by Tether Limited to prop up the bitcoin price via their indirectly associated broker Bitfinex, it could spell trouble for the cryptocurrency market. After all, the original philosophy of bitcoin is very much anti-central bank and quantitative easing, exhibited by the article headline about a bank bailout in the UK imprinted on the genesis block. If true, the allegations presented against iFinex could lead to an existential crisis within the ideology of crypto-anarchism.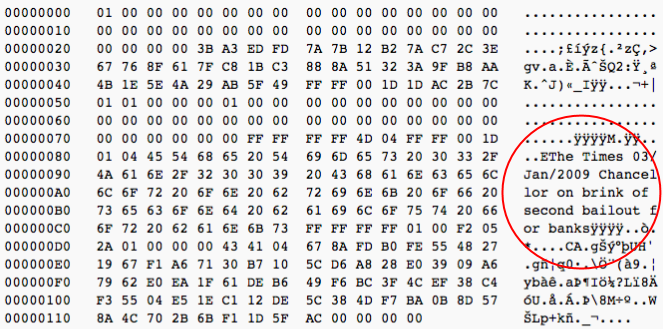 Message on the Bitcoin blockchain
Hopefully, the passing of the deadline will shed some light on the alleged $850 million shadow banking links. But information is still likely to be slow to release since it could take some time to go through the millions of loan documents New York Attorney General Letitia James has received.
Don't Worry, BTC Happy
Bitcoin 'Hodlers' dismiss concerns about market manipulation. Their argument is that even actual proof of illegal activity would have very little impact on crypto market prices since tether is just a measly 3% of BTC's $379B market cap. And since the injunction against Tether Limited has meant the company hasn't been allowed to loan funds to Bitfinex for the period up until the deadline, bulls can argue that the recent runup can't have been thanks to fake stablecoin liquidity.
Cryptocurrencies and bitcoin, in particular, have been in a very strong uptrend for the past 3 months, any correction made quickly obsolete by the printing of yet another all-time high. A site that measures the difference between buy and sell market orders on Bitfinex shows that over this period traders are over 90% long.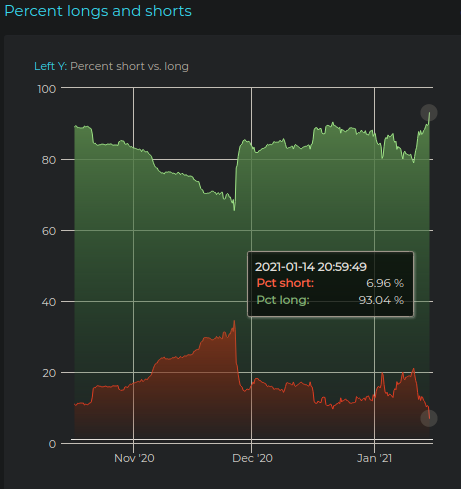 Extreme (potentially overextended) sentiment.
It's not just price. Some bitcoin sentiment indicators that also measure social media trends are showing extreme levels of greed.
But when it comes to financial markets, it's not necessarily the numbers that count—it's the market reaction, and all these factors increase the risk of an unwind in the crypto market.
Market Risks & Outlook
When the pandemic hit global markets hard in March of last year, BTCUSD crashed over -50% across a 2-day period. As with many financial market assets, this was exaggerated due to panic sell market orders feeding back on margin calls.
The moves were epic. One of the largest crypto futures exchanges Bitmex saw over $700M liquidated in a single day. Their servers went down and some traders were posting charts on Twitter that showed the perpetual futures contract had printed zero. That turned out to be a bug—price never traded there. But perhaps that's only because the server was down and nobody could transact for multiple hours. Some market commentators believe that if their servers had stayed online and the price collapse was bigger and faster than their auto-liquidation engine could handle, the exchange (along with all the traders) would have been plunged into bankruptcy.
It's hard to deny things are still looking positive for BTCUSD from a technical perspective. The sharp break of the $40k level was met with a swift recovery and is now being retested. If buyers can push through, even more ATHs are not out of the question.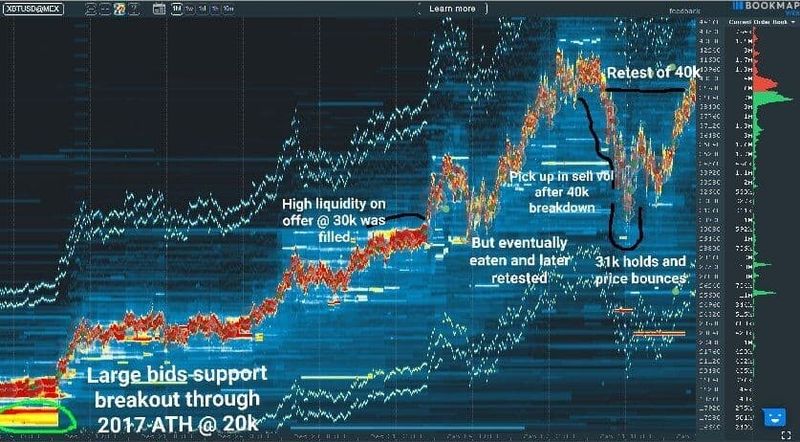 BTC/USD Price Action from 12/20-01/21 – A failure to break higher could lead to a retest of the $37k or even $31k swing lows.
After what 2020 proved is possible and current market sentiment and positioning at extreme levels coming into a still-developing potential risk event, cryptocurrency traders should keep an eye on the commitment of traders at these key market structure levels, aided by Bookmap heatmap and volume.
Receive updates about new articles
Follow us on social media