Trading Depth Interview #17: Yagub Rahimov, Working Hard toward Miracle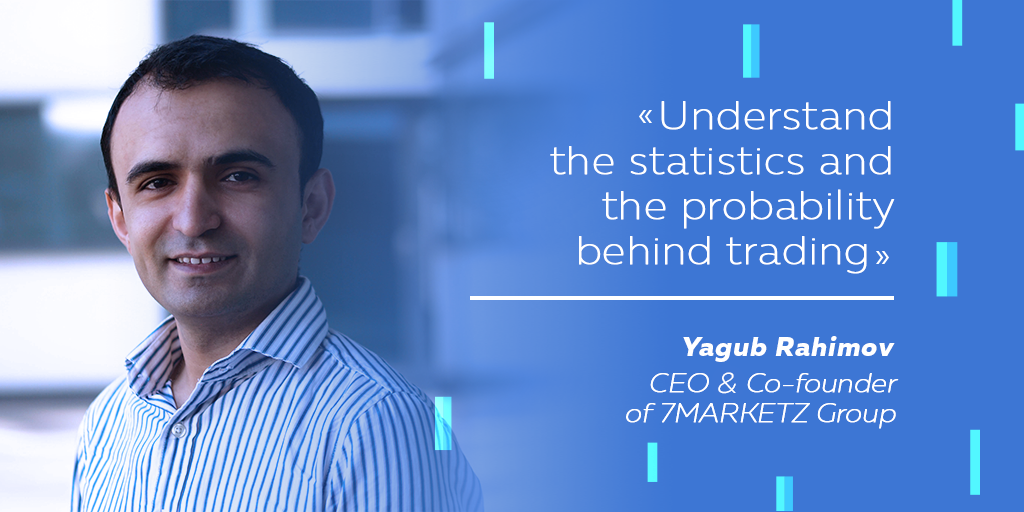 Trading isn't a hobby and often isn't even a business. For our next hero, it has been a life-changing journey that took him from zero to where he is now. We invite you to plunge into the hard-to-believe-and-yet-true story behind the humble genius of Yagub Rahimov.
Yagub, could you please tell what your primary business is?
    I'm the founder and the CEO of the 7MARKETZ group. It initially started as a marketing agency in the Netherlands in 2009, when I was a student. From then on, we have expanded as a holding entity. Currently, we operate majorly in fintech and blockchain ecosystems in multiple dimensions.
    From the marketing side, we are one of the largest groups on both sides. For the forex market, we are one of the largest media holdings. On the blockchain side, we are one of the most in-demand marketing service providers. Besides, we own equity in multiple crypto exchanges, and we also own various publishing platforms, including AtoZMarkets.com, which is one of the top publishing platforms for both forex and blockchain worlds.
    I personally come from a trading background. When I was 16 living in the US, I started trading out of curiosity, and money-making was my initial desire. However, I later saw it was not that easy, and I had to learn a lot. By the time I was 19, I became a professional and made my first $1,000,000+ in commodities trading.
How did that feel to earn a million in such a young age?
    Let me tell you the back story. I was 16, a minor, which meant I could not trade because the law does not allow that. However, I still wanted to trade but the broker did not accept me. So I pretended as if I were my dad. I used his identity, including his salary card. At that time, one of the largest online brokers had an option to open up an account with $100, and I did that, using my dad's card. I didn't even know what I was doing and did not understand anything, but I had a stroke of amateur luck.
    Eventually, I turned this $100 into $600+ which got me really excited. The first thing I withdrew $100 back to my dad's card, but literally, 5 minutes after I did that, I lost all the $500 that I had made. So, two days later, I was asking for my dad's card again. After repeating, I lost all the money I had made again. Then I did it for the third time… and lost again. That is when I almost gave up trying and decided actually to start studying trading.
    Consequently, I ended up getting acquainted with the famous Fibonacci theory and got addicted to it. I wanted to find a way to create the Holy Grail out of it. I did not want to believe you can just draw a line from left to right or high to low and expect a miracle to happen. For me, it was something stupid. I wanted to understand the statistics and the probability behind it. Somewhere in 2008-2009, I ended up developing something called "True Fibonacci waves". I already have a book called Forex NOT for Dummies, but it's not published yet. This book will include the whole chapter about True Fibonacci waves.
I wanted to understand the statistics and the probability behind it.
    Overall, I applied this theory in trading in 2008, and I started to make some money on it. At that time, I was studying and working, so I would have to do trading at night. Once I ended up in Georgia, and one rich US businessman was hosting a boot camp for young entrepreneurs. All you had to do was to have a business plan, and you would literally land anywhere between $5,000 to $30,000. When my turn came, I said that I'm a trader and I want him to invest $25,000 in trading. I assured the investor that I would make $1,000,000 out of it.
He laughed at me and said that nobody makes money in trading.
    It took all my courage to give him my papers with all the records so that he could have a look. He saw that I was making a 200-300% return every month and asked why did I even need him. So I explained that I was making this return on $200-$300, which in a way enslaved me. I wanted to put $25,000 in trading and become a professional, and that wasn't much. He could keep most of the profit. I just wanted 30% of it. My trading style would no longer involve such a high risk anymore!
    He said he would consider the offer and took my documents. Two months later I got a final message from him with an account of one of the brokers with $25,000 in it. This happened in 2008, during the financial crisis, so I started to trade gold majorly. I made a million out of this $25,000 in four and a half months, and I started to become arrogant, which led to stupid decisions.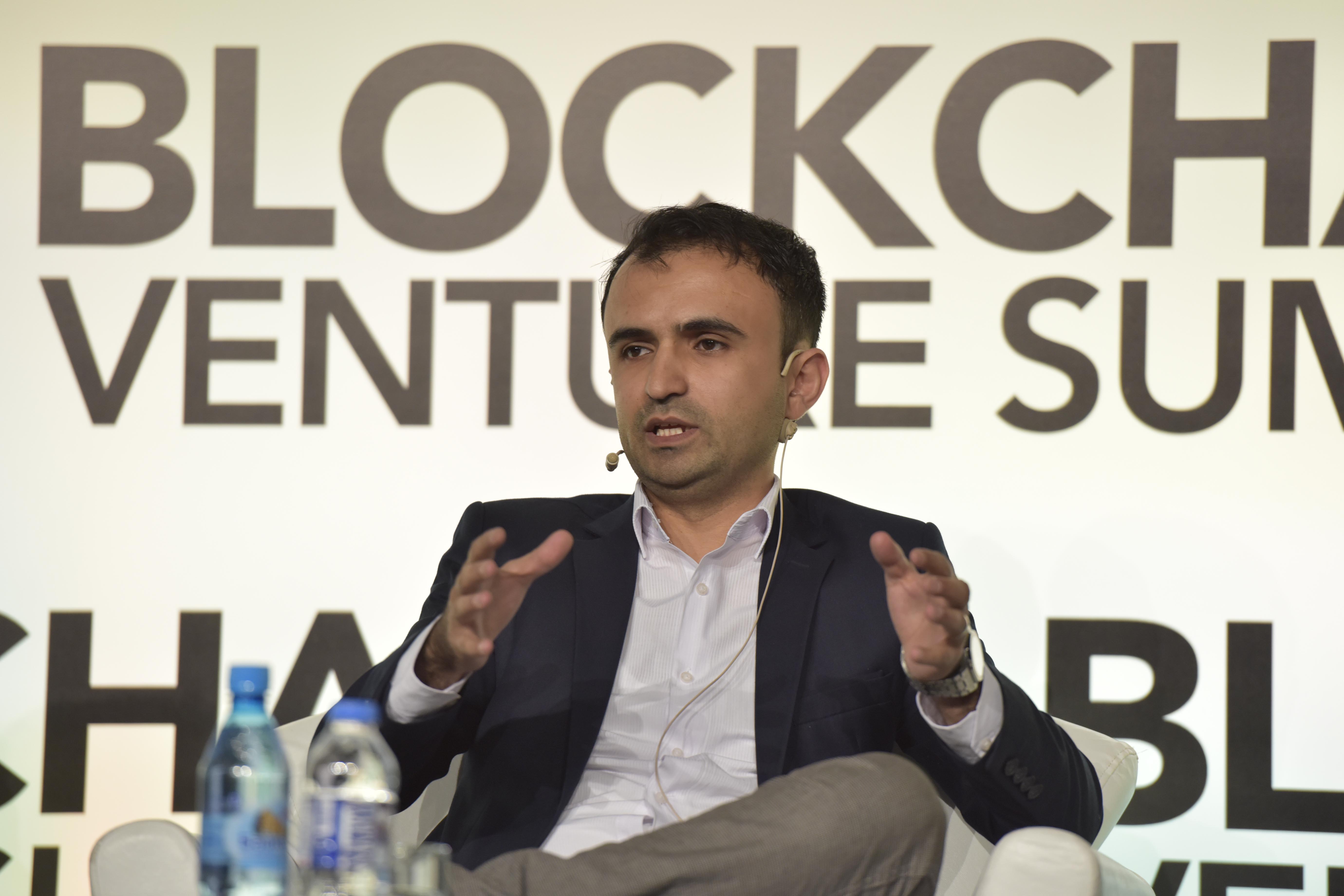 Yagub speaks at one of the numerous conferences he visited as a guest
    I remember my first big stupid mistake that turned into a $250,000 loss. The second one was another $100,000 loss. I wrote to my investor and said: "I believe I came to my target and I would like to stop trading." But he wanted me to continue. The more I tried, the more mistakes I made. GREED WAS MY BIG ENEMY! So, I went back to my investor and said that I was having psychological issues and that I did not want to trade anymore. I just wanted to withdraw my money and stop, but I did not get any money from his account. At that point, my peak in trading was at $1.9 million, but after all the major losses I had $1,184,000 left, precisely.
    Fast forward, I'm out of money living on 2 euros a week or less. Not a day, a week! I was literally starving. Besides, my mom was having health issues due to doctor's negligence. Nothing was working out for me. That was 2009… and that is when I decided to end up suiciding. But I failed. A few cuts remain on my face as a reminder of the accident. But I am not ashamed of it. If you don't hit the "rock bottom", you cannot jump higher. The next day I received a message from this guy, saying that he wants to meet me in Berlin. Funny enough, I was already in Europe, in the Netherlands. He sent me money to buy a ticket to Berlin, and eventually gave me my part of our deal. I handed most of it to save my mother's life and started trading again with the money that left.
That whole experience made me believe in courage and hard work.
That's quite unbelievable. Thank you for sharing this. Did that experience motivate you to start a company?
    Starting a company was an initial idea, but we did not intend to create something big that would change the world. 2009 was a pivotal year overall: I bought my first bitcoin, and my classmates and I had an idea that we should create a digital marketing company a few months later, too. Initially, our goal was something small. We reached out to some of the top insurance companies and created something with them, which worked out great.
    During my studies, I also wrote my thesis on affiliate models and how to use them in the forex market. It was based on a lot of research, talking to stock brokers, forex brokers, banks, trading desks, etc. Eventually, I sold this thesis to 10-15 brokers for $3,000, $10,000, and sometimes $15,000. It seemed that any time I raised the price, they were willing to accept it.
    After I graduated in 2013, one of the brokers in Cyprus headhunted me. In a short span of time I became their Chief Business Development Officer. I was focused on adding value to the broker that I was working with, the top level traders that I was meeting and the new ones that were coming along with a dream. So I pushed for Forex trading academy with our broker. The academy kicked off with my very own webinars. I gave 500-600 webinars in two years, 60-70 conferences, training boot camps in different parts of the world, and while I was still trading.
    However my peak with the broker came already in 2014; after the 2015 Swiss Black Swan event, I decided to leave the broker I was working with and truly focus on our agency. From there on, we started to grow. At the end of 2015, we acquired AtoZMarkets.com (at that time AtoZforex.com), and we began to give utterly free forex trading signals. Honest, educational content and 100% unbiased news as well as analysis.
It just went crazy.
I guess it drew a lot of people.
    In 2015, forex trading was much more popular than it is today. During that time, between 250,000 to a million people were visiting our website on monthly basis. It was a decent website, but it wasn't fancy. We added only precious information to it because we had all the industry insights. Overall, we started to apply the things that people would not see and shared the real information there, which helped us grow rapidly.
    Today, we are moving to an entirely new platform, AtoZMarkets.com. We rebranded it six months ago from AtoZForex to AtoZMarkets. We plan to reach the goal of 3-4 million visitors.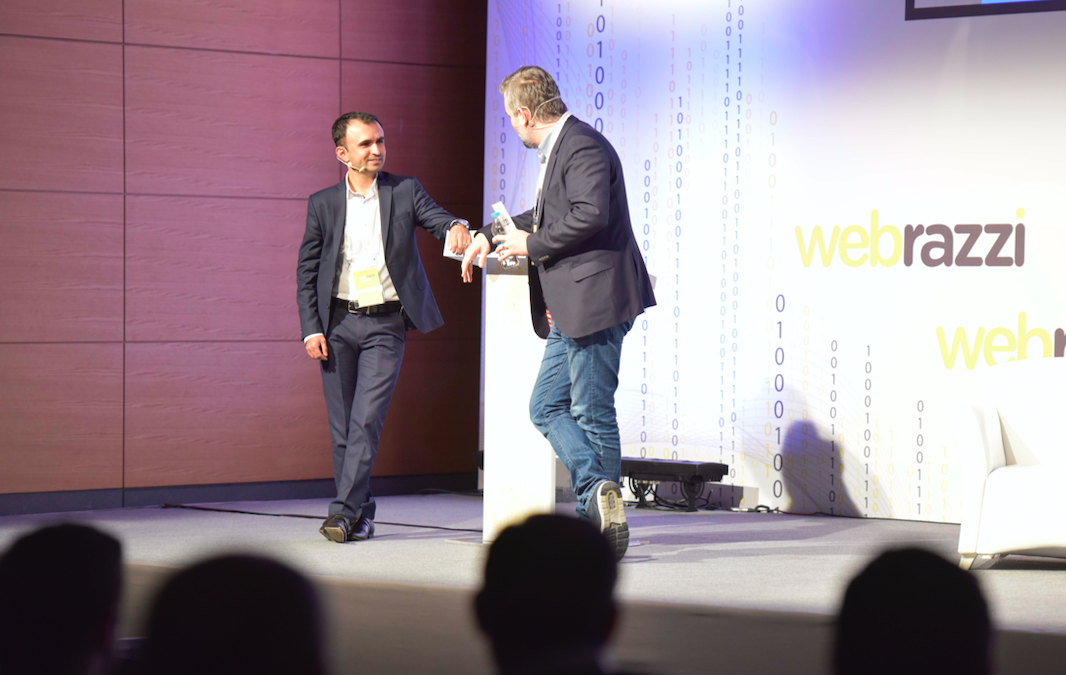 How is your platform different from other free resources out there?
    First of all, we do not ever become anyone's affiliate, no matter what broker it is, or what service provider. The second thing is that we don't have active recruitment for anyone. We trade for ourselves only with our own money. My only goal is to make money for myself.
    What also makes us different is that we have three main strategies. One is intraday, focusing on Japanese yen pairs, EURUSD and USDJPY pairs. The next strategy is the "relatively high-risk strategy" for the fact that volatility could go higher or lower, depending on the time. For all of our strategies, we use 1 to 1.58 risk-reward ratio. The win-loss ratio is 74%, meaning that out of 100 of our trades only 26 likely to end up in a loss.
This is quite good.
    The next step is daily trades with weekly outlook. It means that trading is done on a daily chart but looking to hold it for a week or so. The third strategy is swing trading, and that is done on a weekly timeframe. We try to take advantage of both small and large timeframes, and that is why the win-loss ratio is one of our favorite ones. We do not try to predict the market; we try to go with it. We do not use a robot for trading either. It's 99% manual, based on the Fibonacci waves with two moving variables inside.
What do you think of money in general?
    I'm actually not good in treating money in a way. For me, family and friends come before money, and because of it, I had made a lot of mistakes when it came to good opportunities from the money side. For example, I believed in some projects in 2017-2018 and invested in some of them. At the investment stage, they were great projects, but I never sold because I still believe in these projects. At the same time, when I'm doing something for money, I will analyze everything to the core, but if I'm doing something for the sake of a vision or a dream, then I don't care much about money.
    However, it was different at the beginning because I didn't have much money. That is why I believe the definition of money changes for people based on their net worth. The difference between wealthy people and poor people is that wealthy people earn money and make that money work for them, whereas poor people work for that money.
Could you tell about your blockchain involvement and your journey to today?
    We didn't just end up in the blockchain/crypto world in 2017 like many people did. I've been there as a supporter pretty much since the inception. In 2009, I accidentally was introduced to Bitcoin by Dough Casey and his team, so I call myself an accidental Bitcoin investor. Having this experience gave us insight and exposure to better understand how the crypto market works. Meanwhile, our experience as a company with blockchain market goes back to 2013 when we were involved with one of the early exchanges.
    Unfortunately our first every exchange that we tried to create and push to the market end up belly up, due to lack of liquidity in 2014. I remember my first crypto event participation in 2014 where there were less than 100 people. Many famous faces nowadays. In a way, most of those people that I met in 2014 are now the big founders of something on the blockchain. Overall, we never wanted to create our own coin. With regard to other our operations, we are still in the insurance market.
Again, we were in the right place at the right time.
    When nobody thought of applying digitalization to the insurance market, we were trying to create digital footprints. Same thing with brokers. We created affiliate methods for some of them, and some of those brokers are now leaders in Forex affiliate world. We have also been involved with the investment clubs, hedge funds, family offices, all standing at a different level.
You simply need to add value before you can think of adding value to your pocket!
    Ultimately, we always try to understand what our potential partner or client needs. Without understanding their needs, we are not interested in collaborating with anyone.
Did you understand the blockchain technology in the beginning or was it a long learning curve?
    When I heard about bitcoin mining in 2009, I thought it was an actual metal that you had to mine from the ground. I had no clue. The only thing I found online at that time was the Bitcoin white paper, but I didn't understand much out of it. I was just hooked by its libertarian values connection. My primary learning curve started only in 2012. Interestingly, between 2009-2011 I was scammed while trying to invest in bitcoin because I didn't truly understand the true nature of cryptocurrency. So after being scammed, I was actually against bitcoin for some time. Therefore, I don't blame those who call crypto a bubble nowadays: some of them ended up buying bitcoin at $20,000 because some so-called "influencer" on TV or a Youtube video said it was a great time to buy.
    I also often ask people how they define a crash, or recession. For me, the recession must happen on an annual basis. As for now, I believe that bitcoin or any other mainstream crypto isn't crashing or collapsing. It's just correction. From my perspective—the true Fibonacci waves—everything must correct by 88%. That number is, however, at $2,800 zone.
Do you have any advice for those who want to trade forex? What would be your general tip for the newcomers?
    Choose the right broker or exchange depending on the market you are entering. In Forex, make sure you don't end up with a pure market-maker, and always double check your prices. Besides, if something sounds too good to be true, probably, it is too good to be true!
Is it dedication and hard work that makes you successful in trading, or is it something else?
    Commitment. You don't have to be out there and try all the trading instruments you see. Pick 2-3 of them (up to 7 all together) and be committed to them. If you do a proper analysis, your risk of making a loss would be much lower. Moreover, I've never met a scalper making consistent money on a year to year basis. So be committed to your pairs, to your strategy and control your fingers! And lastly, NEVER WPH while trading. WPH stands for "Wish, Pray or Hope." If you are wishing, praying or hoping, it means you have not done your homework properly.
Are there any books that changed your life or gave you an advantage in trading?
    I have a lot of them, but the most important one was The Candlestick Course by Steve Nison. I basically combine a lot of things I learned from this book with my True Fibonacci waves. For example, combining the price action formation with candlesticks and creating a wave out of these formations for the Fibonacci analysis.
Where to follow Yagub:
Site: https://7marketz.com
Twitter: https://twitter.com/yrahimov
YouTube: AtoZMarkets
LinkedIn: https://www.linkedin.com/in/yrahimov/
Key takeaways:
Understand the statistics and the probability behind trading

Just like any other technical tool, Fibonacci is not a magic tool; it has parameters and rules

If something sounds too good to be true, probably, it is too good to be true

Do not try to predict the market; try to go with it

Wealthy people earn money and make that money work for them, whereas poor people work for that money

Commitment makes you successful in trading. Pick 2-3 of instruments and be committed to them

If you do a proper analysis, your risk of making a loss would be much lower

NEVER WPH while trading. WPH stands for Wish Pray or Hope. If you are wishing, praying or hoping, it means you have not done your homework properly
This is part of the Trading Depth project, a series of inspiring interviews with successful traders. For more interviews with traders follow our Twitter and Facebook.
Receive updates about new articles
Follow us on social media