Trading Depth Interview #16: Andre Nastasi – From Real Estate to Day Trading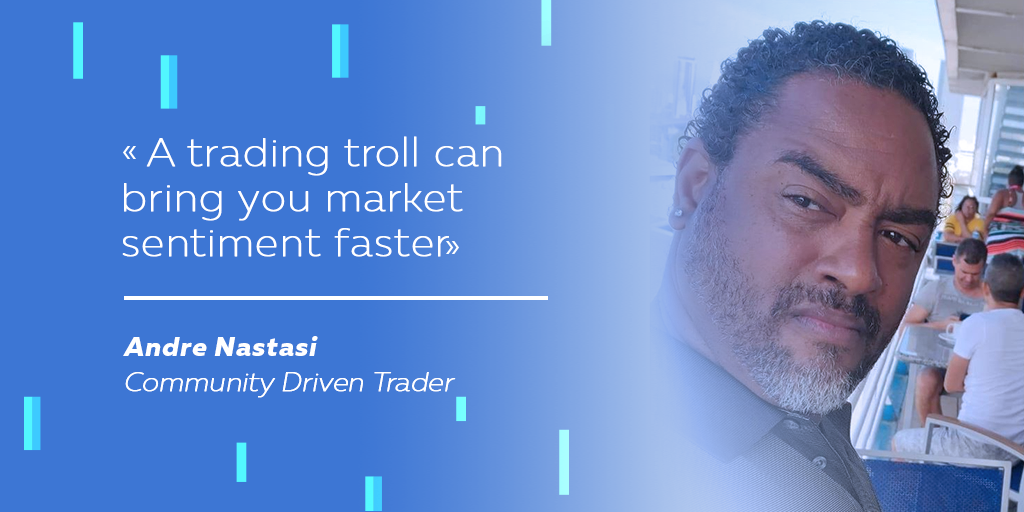 Welcome back to our brand new Trading Depth Interview. This time we head to sunny Florida to talk with an unstoppable explorer of business opportunities — Andre Nastasi.
How did you decide to start trading?
    I've been into the trading world since 2005, but I've known about it all my adult life. I think I finally understood the concept of the whole market when I was 16-17 years old.
    That was the 80s, and I started following Donald Trump because he was involved in real estate and casino business, making a lot of international deals. He had a book called The Art of the Deal, and this book really changed the way I looked at things overall and businesswise. When I was 18, my mother got into real estate business, buying and selling properties. Her doing that got me interested in Trump and his real estate business, and when I started flipping houses at that age, I did not even like the stock market.
    That is why I did the real estate business between 18 and 23. It was successful and I thought I liked it, but after three years of doing it, I realized that I actually don't like doing carpentry work. I liked finding the houses; I liked the financial part of it. But I hated that unless I paid someone else, I had to do the physical work — the repair work. I realized I was spending all my days in home improvement stores like Home Depot, buying doors, sinks, windows, etc.
    So I got tired of the repair work. From there, I got into the US car business, the jewelry store business, and trying different things. After that, I ended up meeting a guy who was into the [stock] market and I noticed that he was making money there. I saw him putting big money in stocks, in something that was not tangible, not real estate, and profited from that. That was what initially got my attention.
    At that time, I really knew nothing about trading or the market, but I got fascinated with it. However, this guy didn't have time to teach me, and I went on my own educational journey to learn how the stock market works. I started reading Wall Street Journal, Economic Times, Forbes, Fortune, etc. That is how I learned about NASDAQ, ETFs, and all the sectors that make the market.
When did you start trading the real money?
    The market crashed in 2008, and that was the time when I started keeping the copies of the Wall Street Journal. In 2009, when the market bottomed, I did not have any money, but in 2010 I decided to use my knowledge from studying and start to trade the stock physically. In April 2011 I got $5,000 on the tax return, and I decided to go live. I got a Scottrade (now part of TD Ameritrade — Bookmap note) account and an E-Trade account.
The reason I did two accounts was to split the money and make sure that if I make a mistake at one account, I would not repeat it at the second one and will only lose half of the money.
    The first stock I ever made money out of was GENE, and I didn't even know about volume indicators, etc. That is when I realized that everything I have read in the newspapers has nothing to do with the technical trade.
    Overall, I did fine until August 2011. That was a bad month. I was losing every day. I lost all the profit I made in previous months, which was $4,000. That is why I decided to take a break. Then I started doing demo trading with Thinkorswim by TD Ameritrade. I did that for a few months to save money before I went back live.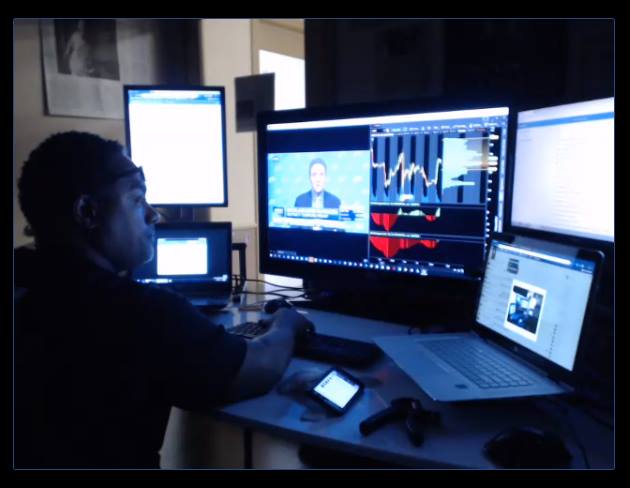 Andre at work
What did you learn at that time when you lost $4,000?
    I learned that I went live too soon and that I needed to learn more about the technical part of trading.
What happened after that? In the period from 2011 till today.
    I got back live in October of 2011, and I've been live ever since. The only thing that has changed since then is that I do a lot less day trading. What made me slow down is the crypto craze of 2017. However, I acquired the skill of patience with trading and investing while trying to understand the crypto world.
    I decided to keep a small amount in the trade and put them on standby. I had a portfolio with 30-40 stocks in it with a small amount of money that I could manage and watch over time. What people need to learn is that if your account could go to zero and it would bother you, you are too heavy in positions. It means you are doing trading totally wrong. That is what I learned in 2017.
How was your crypto game? Did you benefit from trading crypto? Did you cash out before the fall of the crypto market?
    I did not cash out. I did benefit as far as I got there at the right time. I was only six months in before the crash happened. When BitConnect shut down, I had already got back $28,000 out of my $30,000, so I only lost $2,000. My biggest loss after that was when I put money in an online cloud miner called HashFlare. I did that because the cloud miners were not that high of a risk, and the returns were almost 1% a day, so it only took you 100 days to break even.
Do you own any crypto right now?
    I currently don't. The amount of crypto I have right now is insignificant. It's less than $100. I'm back to traditional trading since January of last year.
Do you feel you became stronger in traditional trading?
    Definitely. Let me tell you about the best trade I had in 2018. It was ROKU. It's kind of a smart TV analogue. I was at Costco one time and saw a huge line for TVs with Roku already installed in them, so I predicted its stock will rise. Eventually, the stock rose 80% in a few months from that day.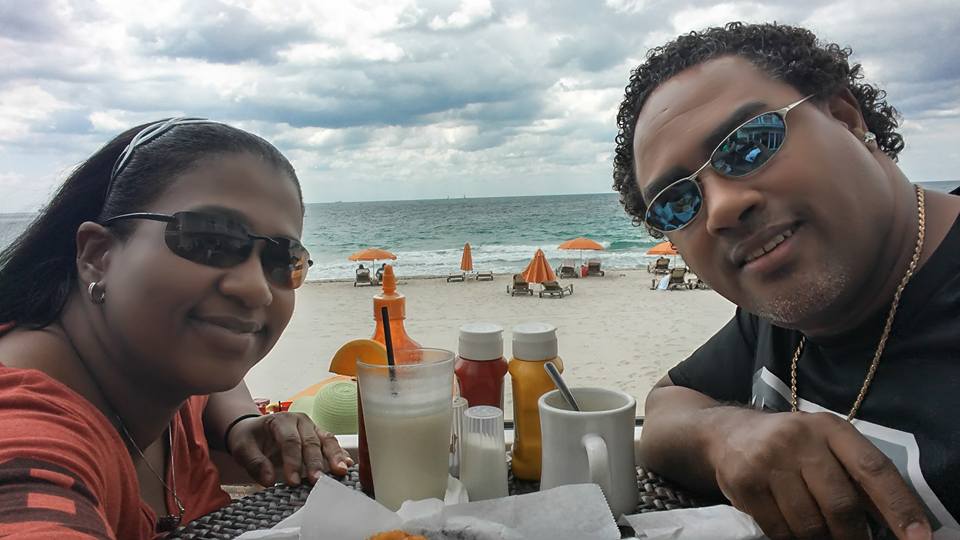 Family time
What are the tips you could give in terms of trading?
    Don't day trade unless it's a small amount of money. You should not be trying to make over $100 on a day trade. I don't think you should be in any position in day trading with more than $1000. Overall, the rule I learned is not to risk more than you make a day doing what you do in life.
Could you tell about your group on Facebook?
    I've been doing the group since I went live in 2011. What is powerful about social media is that it's a great way to find market sentiment extremely fast. On the contrary, the horrible thing about trading in social media is that there are a lot of trolls that are not trading but just like to be amongst traders, and they make it rough for the people who are serious about it.
    However, a trading troll can bring you market sentiment faster than an experienced trader can, because an experienced trader is busy with trading, not listening to what people are talking about on every social platform. Overall, I'm in love with the social media part, the newspaper part, and the trading part.
What would you say you need to do to get better in trading?
    I would say that trading is not trading anymore. You have to grow up in this business. It's about investing, account management, money management, position management. You have to know how to manage account effectively and properly, and you have to have the right platforms.
    Most significantly, you have to learn different trading platforms because all of them have their pros and cons. To me, Thinkorswim, eSignal, and Lightspeed are the best charting software. E-Trade has the best scanners, and TradeStation is an amazing platform for position management. That is important because once you learn risk management, position management is the next step.
Where to follow Andre Nastasi:
Facebook: https://www.facebook.com/GlobalMarketsCenter
Twitter: https://twitter.com/andrenastasi
The group: www.facebook.com/groups/StockMarkets2018/
Andre said there are only "trading memes" on Instagram for a trader.
Key takeaways:
If your account could go to zero and it would bother you, you are too heavy in positions;

An experienced trader is busy with trading, not listening to what people are talking about on every social platform;

You should not be trying to make over $100 on a day trade;

You have to grow up in the business of trading;

Once you learn risk management, position management is the next step.
This is part of the Trading Depth project, a series of inspiring interviews with successful traders. For more interviews with traders follow our Twitter and Facebook.
Receive updates about new articles
Follow us on social media