Crypto
Market Analysis
News & Announcements
Bitcoin ETF: SEC Decision Imminent
Written by: Owain Higham
BTC is rallying on news that a Bitcoin futures exchange-traded fund (ETF) product will likely clear the U.S. Securities and Exchange Commision (SEC).
Before investing in a fund that holds Bitcoin futures contracts, make sure you carefully weigh the potential risks and benefits.

Check out our Investor Bulletin to learn more: https://t.co/AZbrkpfn8F

— SEC Investor Ed (@SEC_Investor_Ed) October 14, 2021
The SEC's investor education office Tweeted this comment late on Thursday, which many traders and investors take as a clear signal that approval for a Bitcoin ETF is imminent. However, the applications have to pass the deadline on Monday the 18th of October to become official. If the SEC doesn't request any changes by then, the applications will become effective under federal law.
Impact on BTCUSD Order Flow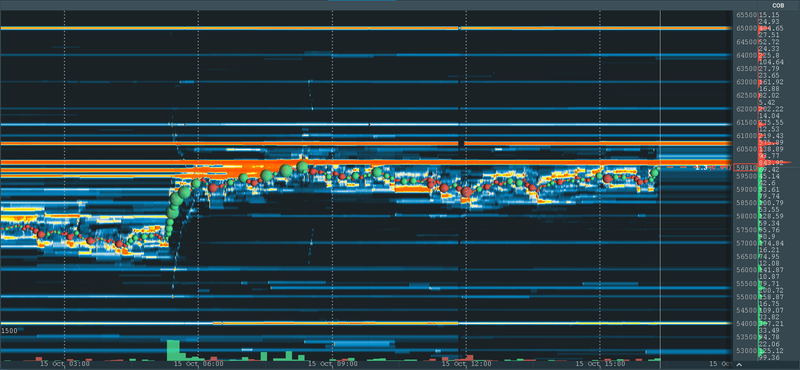 A cross-exchange view of BTCUSD using Multibook shows aggressive buyers entering the market shortly after the Tweet was published and picked up by traders, investors, and news organizations. 
The buyers met resistance in the form of offers around $59,750, and prices fell off for a few hours. The pair is currently up 4.35% on the day as of writing, however there is more resistance at the $60,000 level, with over 843 BTC of offers waiting in the order book. 
Further up, the next large offers level that could act as resistance to prices rising is at $60,700. After that, the next noteworthy level is at $65,000, just $1,000 higher than the pair's previous all time high.
Bids are layered all the way down, but the biggest level is at $54,000. However, bids there have been pulling in the past few hours.
Receive updates about new articles
Follow us on social media