What is the Multibook Customizer add-on?

Multibook Customizer is a Bookmap add-on that lets you combine up to 5 different instruments of your choice, from different exchanges or the same exchange, into a single custom synthetic instrument.

This add-on is extremely beneficial for advanced traders that want complete control over creating custom synthetic instruments. Newer traders with specific requirements or instruments in mind may also find the Multibook Customizer add-on very valuable.

Watch this video for a brief overview of the Multibook Customizer add-on.
Multibook vs Multibook Customizer

The following table outlines the main differences between Multibook Desktop, Multibook Web, and the Multibook Customizer:

Why Use Multibook Customizer?

By creating custom synthetic instruments, you'll gain access to increased amounts of data and trading activity, all based around the specific data you want to see. This can lead to increased confidence and better trading decisions, as your understanding of market conditions and trends deepens with more tailored data.

Multibook Customizer gives you complete control over which instruments to combine, allowing you to:
Develop unique strategies based on synthetic instruments
Visualize aggregated trading activity across multiple exchanges
Combine multiple order books into one
See a more complete picture of the overall market
Spot market aggressors in real-time, across different exchanges
View massive amounts of data conveniently from only one chart
Gain confidence in specific support and resistance levels
For experienced traders, this is the ideal add-on for tailoring market data to exactly what you need to see, whether it's across multiple exchanges or focusing on a specific exchange's data and comparing it to others.
How to Configure Multibook Customizer

To create a synthetic instrument with Multibook, you need to be connected to one or more exchanges, and to be subscribed to the instruments you want to combine. We recommend traders start using Multibook with these adapters: Binance, Bitstamp, Coinbase, and Huobi. These are typically the easiest and most stable.

If you go to Settings → Configure add-ons and then select Multibook, you will see the settings parameters to edit or create a Multibook instrument. You can combine anywhere from 2 to 5 instruments into one consolidated instrument.

It is important to make sure you are connected to some exchanges in these instruments to ensure everything works correctly.

To create a Multibook chart, first you must enter a name for this synthetic instrument, as no instrument can be opened in Bookmap without a designated, unique name. Next, you can choose the details of what you want to see from each instrument, including which exchanges and features to include. Let's move on to the checkboxes, and we will come back to tick size and size granularity after.
Depths: This checkbox appears next to each added instrument, and traders should check this box to see the liquidity of each instrument combined in the heatmap. You must select at least one to generate a chart, and selecting more than one will completely merge each instrument's liquidity data into one.

Trades: These toggle the trade bubbles and volume delta for each added instrument, and represent aggressive market order transactions. You can choose to see only the trades of a single instrument on an exchange, or multiple trades across exchanges. Please note, if you select more than one instrument you may see trades transacted above or below the best bid or ask. This is because prices are different across exchanges, as previously mentioned, and so trades from one exchange/instrument may not match the average best bid or ask of the combined instrument . You can also edit which trades are visible after the Multibook instrument has been created, allowing you to tweak your heatmap after seeing how the different instruments meld together.

Best Bid and Offer (BBO): If you don't select any BBO, the chart will show two lines by default. This is the virtual mid-price across an aggregate of the instruments you have chosen.

You can also select to view the BBO of each individual instrument, and modify its color. This can be done either via preset colors or using a color picker
The name of the instrument and exchange is shown when you hover your mouse over the BBO lines. You can also modify which BBOs to see after the Multibook instrument has already been created, allowing you to adjust your Multibook instrument just as you can with adjusting the visible trades.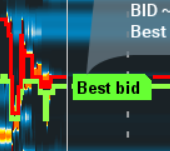 If you want to compare the BBO between several instruments in the Multibook chart, you must enable the corresponding BBO checkbox(es) of any instruments you wish to include.
Their default colors are set randomly (unfortunately this means collisions may occur), and for the best bid and best ask lines of a single instrument, colors remain the same. You can change the color of any line with a color picker that can be found by clicking on the "expand" button near the corresponding instrument name.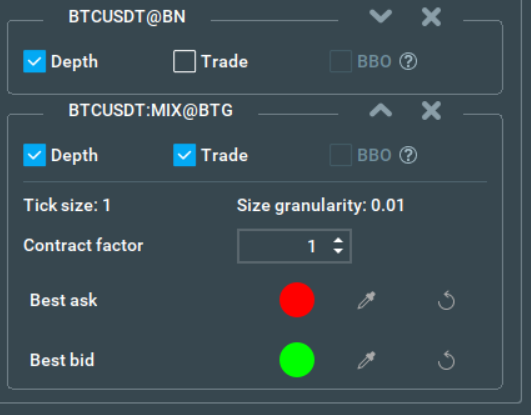 Hover over an additional BBO line to see what instrument it belongs to.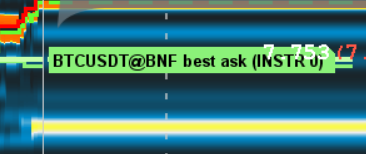 Tick Size and Size Granularity

These values have already been optimised for the default Multibook instruments, but you will need to experiment if you want to create your own synthetic instruments.

Tick size is the vertical scaling of price levels. In other words, it is the minimum price change. This will vary depending on your particular trading style and how finely you want to see changes in price.

Size granularity is the minimum size of transacted trades and liquidity in the order book you would like to see, as well as the minimum size to trade.

Notes
Users are free to combine any instruments. However, we recommend only using the current version of the add-on with cryptocurrencies.

To create a Multibook with the instrument you are interested in, you need to subscribe to it first.

If you unsubscribe from one of the instruments, you will automatically unsubscribe from all the Multibook synthetic instruments that use it. Multibook is not trading capable.

Multibook supports crypto and futures (except Dxfeed).

Reset/inherit chart settings features are not stable and can result in crashes. Please do not use these features.

The performance of Multibook with futures products may be worse than with spot. This will be fixed in future releases.
Need help? Please join our Discord Community Chat here: https://discord.gg/rR2XQpzjwp.

Multibook Customizer FAQ
How many instruments can I consolidate per Multibook chart?

You can combine anywhere from 2 to 5 instruments into a single Multibook chart.
What exchanges are supported?

All the crypto exchanges that Bookmap can connect to can be manually included in Multibook. To see the full list go to the knowledge base. In Bookmap 7.3+, the default consolidated exchanges for ETH-USD and BTC-USD are Binance, Bitstamp, Coinbase, and Huobi.
Can Multibook run with 7.1 or 7.2?

Yes. Multibook can be used with the latest Bookmap versions 7.1, 7.2, 7.3, and above. Note that automatic installation of the adapters & add-on is available in version 7.3 Alpha and above only.
Can I trade from the Multibook chart?

No, this feature has not been implemented yet.
How much does Multibook Customizer cost?

The Multibook Customizer add-on is available for Global+ subscribers. Please see our package comparison page for up to date pricing information.
How can I switch between ETH-USD and BTC-USD workspaces?

If you install Multibook with version 7.3 or higher, you can easily switch between ETH-USD and BTC-USD default workspaces. Just go to File menu → Open workspace, and select the workspace you need.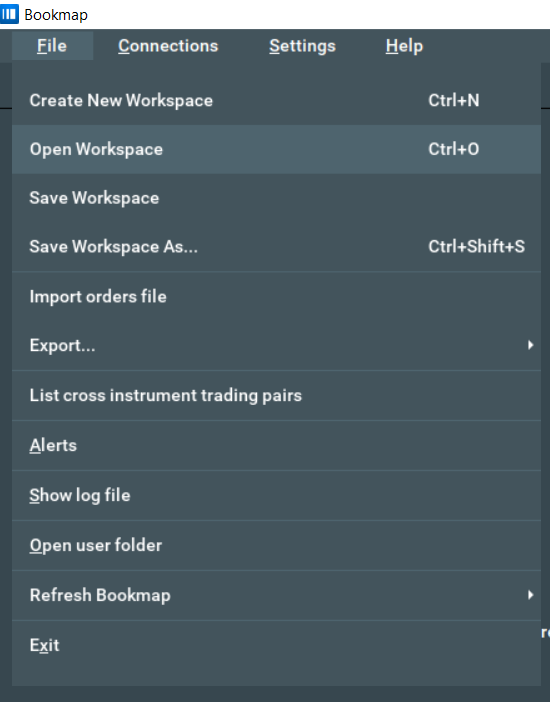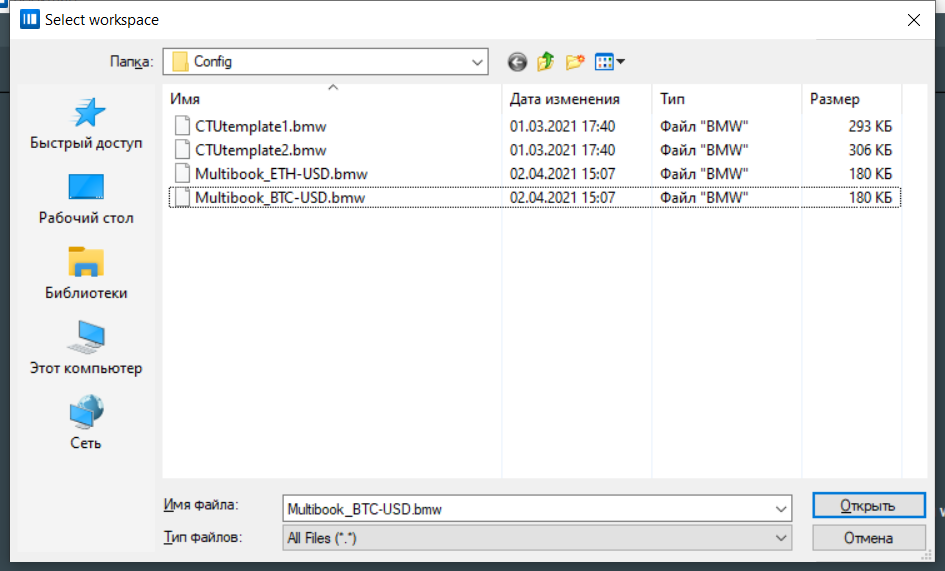 Is the add-on available for Mac?

Yes, however the latest build isn't optimized for Mac. This means you may run into performance issues. In such cases, you will have to manually allocate additional memory to Bookmap, since the slider in the application doesn't work. You can do this from the File menu on your Mac, selecting Get Info, then Memory (in versions before Mac OS 8.5, you only need to select Get Info).

How to Install Multibook Customizer
If you already have an active Global Plus subscription, move on to step 2. If you are a free (Digital), Digital Plus, or Global subscriber, first you need to upgrade to Bookmap's Global Plus package on a monthly, yearly or lifetime basis. Click here to upgrade.

Once upgraded to Global Plus, click here to add Multibook.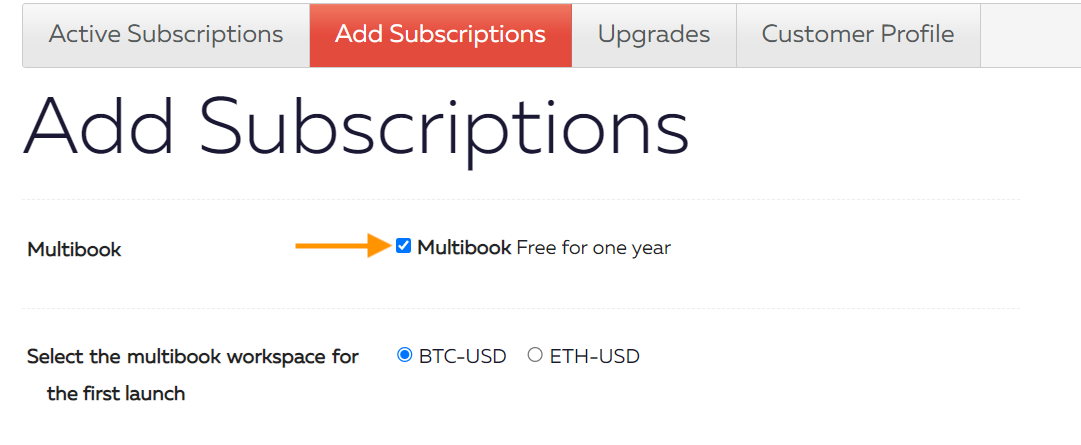 Check the box next to the Multibook and click Next at the bottom of the page. You should see the following message:
Launch Bookmap version 7.1.0 b57 or newer, and subscribe to at least two instruments (trading pairs).

Before you install Multibook, please install the crypto adapters first. Here is the guide on how to install adapters.

Download the add-on. Click here for direct download.

Click on the API plugins icon to open the API plugins configuration panel (or Settings → API plugins configuration).
In API plugins configuration, click on the "Add" button and then select the Multibook from the "Select add-on file..." dialogue window. Locate the downloaded file and click on the "Open" and then "Load".
Multibook will appear in the list of available plugins. Click on it to see the indicator's settings, and then click on the checkbox near the indicator's name to activate/deactivate the indicator for the instrument opened.