All the Bookmap News, Updates, And Announcements You Need to Know About
Subscribe to always stay in the loop.
---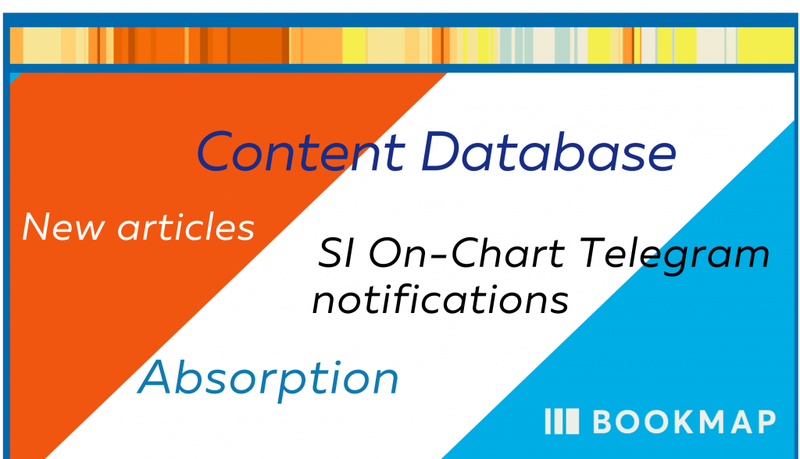 PRODUCT UPDATES
Improved Absorption Indicator
The latest Absorption Indicator update includes:
New customizable graphics
Optimized performance
Configurable background for color icons
Improved UI
For details on installation and settings as well as the download link, visit the Knowledge Base.
---
Stops & Icebergs Notifications In Telegram
Now you can create a Telegram bot to receive alerts on Stops and/or Icebergs. For more info, see the SI On-Chart Notifications Guide.
---
EDUCATION UPDATES 
New Content Database
Introducing Bookmap's new Chart Database, filled with Bookmap images and videos of order flow phenomena produced by some of the best traders in our community!
Search by user, social media platform, video or image, asset class, instrument, indicator, or order flow phenomena. This database allows you to:
View content across social media in a single place
Search by Tags, or click on Tags to view all related media
Study and learn trading techniques used by our top traders
Like and Share
---
New Articles In Bookmap Blog
Identifying True Liquidity With Bookmap
We've all heard about support and resistance from traditional technical analysis. With a simple candlestick or bar chart, areas of extreme price fluctuations can be marked off and used as reference points for trade entries and exits. But there is another layer to this form of analysis… Continue reading →
Trading Fractals: The Power of Multi-time Frame Analysis with Bookmap
Fractals are mathematical patterns that repeat and look similar at different scales. These kinds of patterns can be seen all over nature, a forest being a very common example of a fractal pattern. Within each trees' cluster of branches seems to sit a mini forest, each branch similar to the whole tree. Going even deeper… Continue reading →
Follow Bookmap on Twitter, Facebook, Telegram, and Discord to always stay in the loop.
---

Receive updates about new articles
Follow us on social media