Insights & Setups From Bookmap Academy and Pro Traders: How To Successfully Trade Tesla
In this article, we will explore some setup and strategy ideas for successfully trading TSLA (Tesla), produced by some of the best traders in our community.
Trading tech stocks such as Tesla can be very challenging as they tend to be highly volatile and can even affect other correlated assets, such as BTCUSD (as highlighted in this Insights article: Trading Breaking News in Crypto: The Tesla Bombshell).
For this reason, gaining a unique perspective from other traders may help you better navigate this challenging, yet potentially highly lucrative asset.
A Brief Intro to Insights
Insights is a page of curated trading content produced by our diverse community across social media.
On the page, you can search for content by certain tags such as asset class (Futures, Stocks, Crypto), instrument (e.g. ES or BTCUSD), indicator (e.g. Stops & Icebergs), order flow phenomena (e.g. Aggressive Sellers), etc.
We will be looking at some TSLA-related content taken from this page.
Setup #1: Fakeouts
Pro Traders: Jtrader

Image 1: Jtrader is a Bookmap partner and trades stocks live on webinars every Wednesday at 10am ET.
Other than his 'jlines', which tend to go with the trend, Jtrader and the traders he mentors also trade fake outs.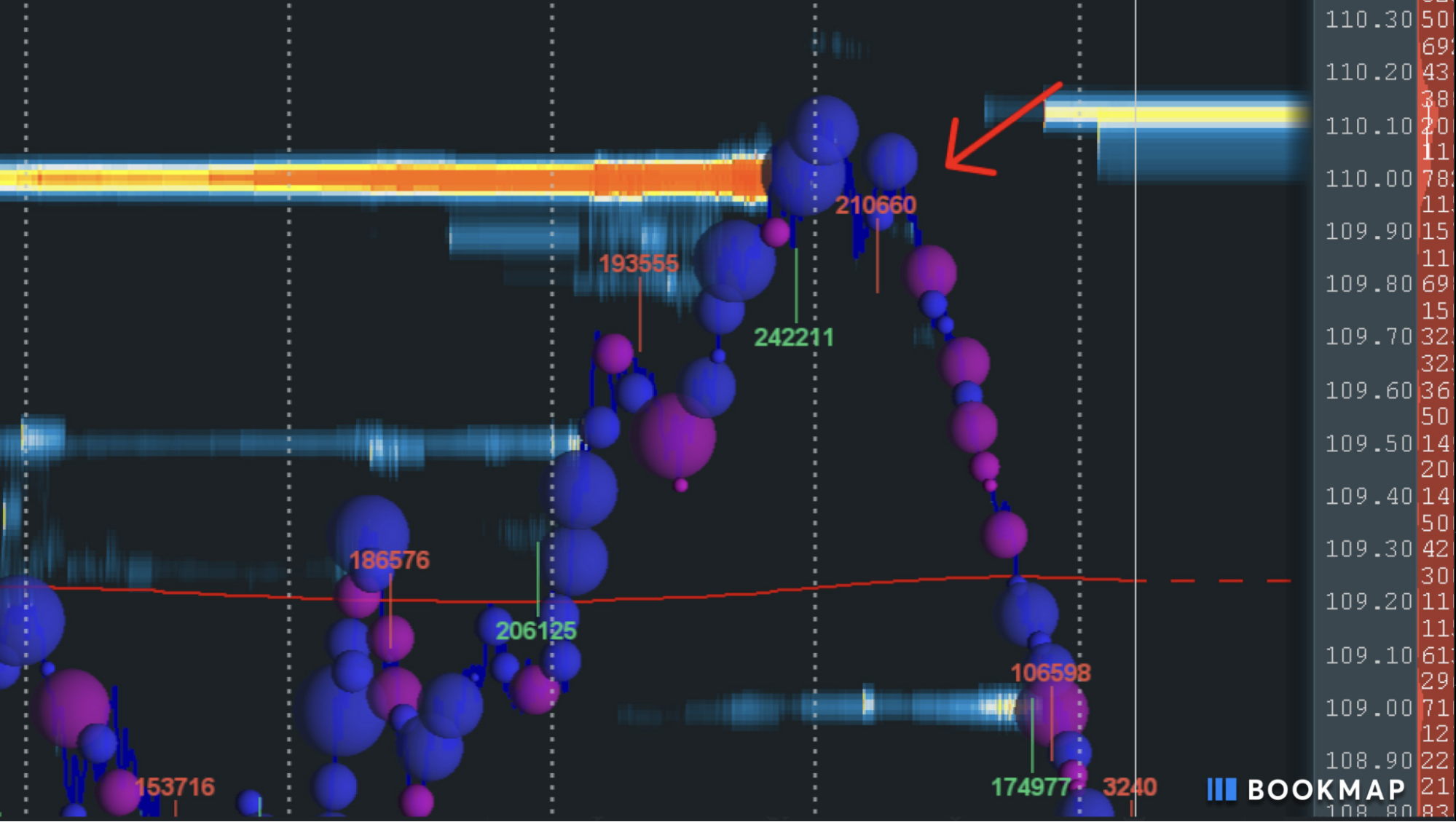 Image 2: As we can see on this chart from the 5th of Jan, 2023, aggressive buyers trade into and fully consume the large offers at 110. However, buyers are unable to follow through, and a signal to take a short is given (marked by the red arrow).
Bookmap Academy: JayLA (formerly JaySabor12)
JayLA (formerly known as JaySabor12 is one of Bookmap's newer Academy members, having been scouted in our Blue Jacket competition. The competition is run monthly, so sign up if you want to be the next JayLA!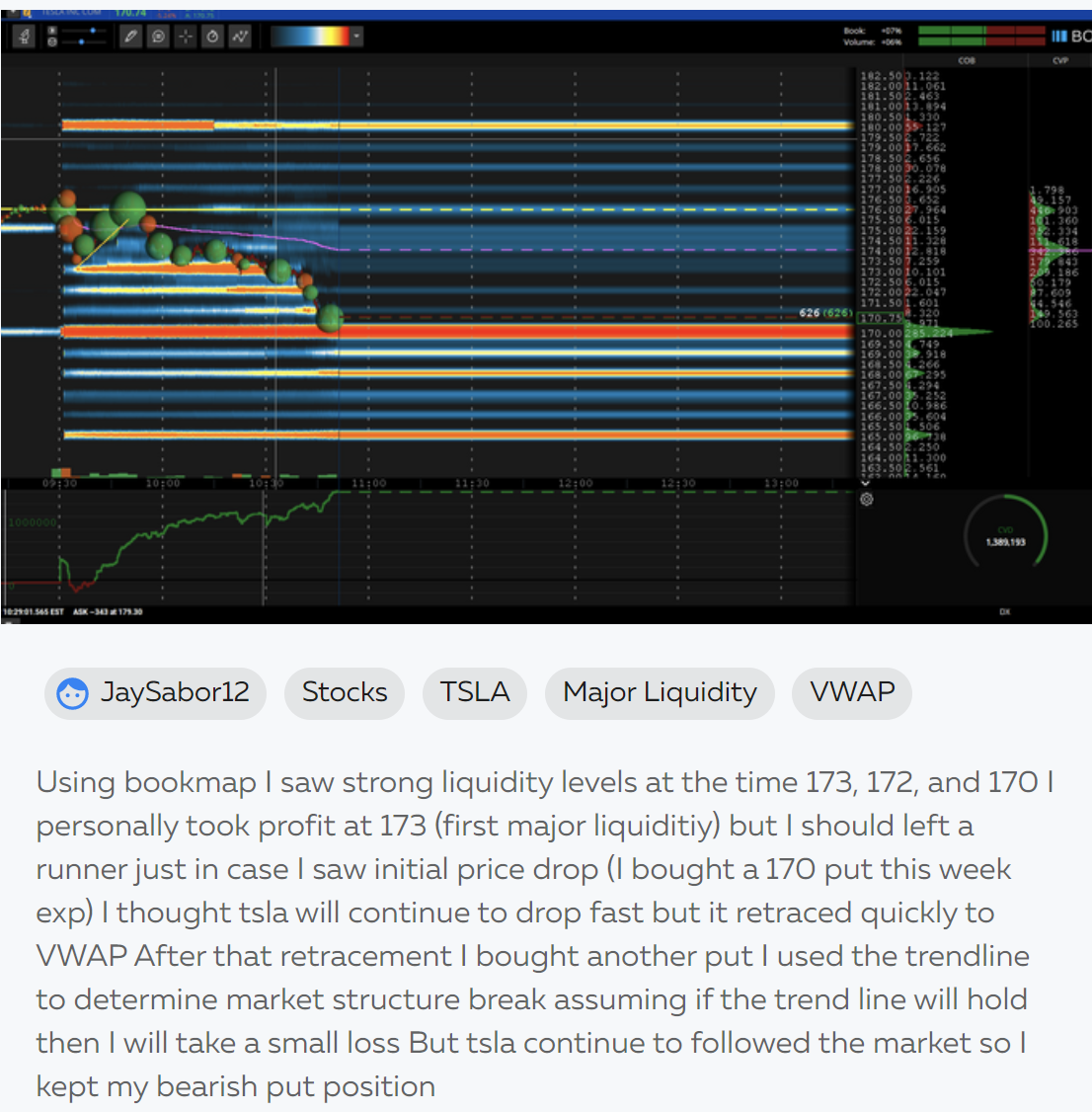 Image 3: Large liquidity levels can sometimes act as a magnet for price, and here JayLA used Bookmap to locate liquidity levels as 'take profits' on his TSLA put position.
Setup #2: Liquidity Levels
Bookmap Academy: DougP
Bookmap Academy veteran DougP is a big proponent of SpotGamma HIRO (which we will explore further later in this post), but he also uses the liquidity levels highlighted by Bookmap's heatmap as targets.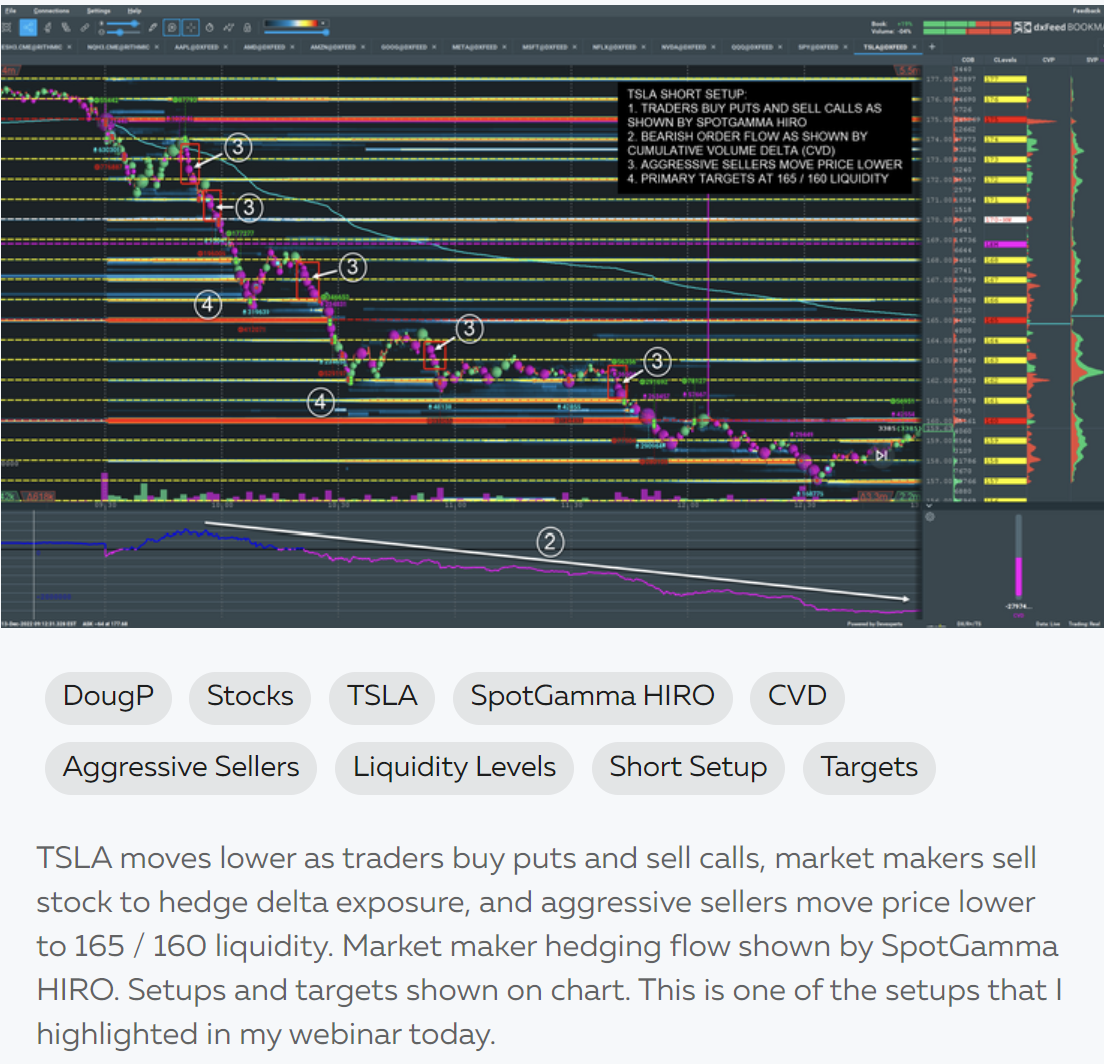 Image 4: In this example from Wednesday, December 14, 2022, TSLA moves lower as aggressive sellers and market makers hedging delta exposure move price lower. There is also the added confluence of a bearish CVD (Cumulative Volume Delta) reading.
Aiming for the major liquidity levels as primary targets, DougP has clear levels for taking profits on a successful short trade.

Image 5: DougP also has live analysis sessions on Bookmap's Discord from Monday to Friday, starting 1:30 PM (Eastern Time).
Setup #3: VWAP
Pro Trader: Jtrader
Pro Trader Jtrader (mentioned earlier in the article) also utilises the VWAP (Volume-Weighted Average Price) in his trading and analysis.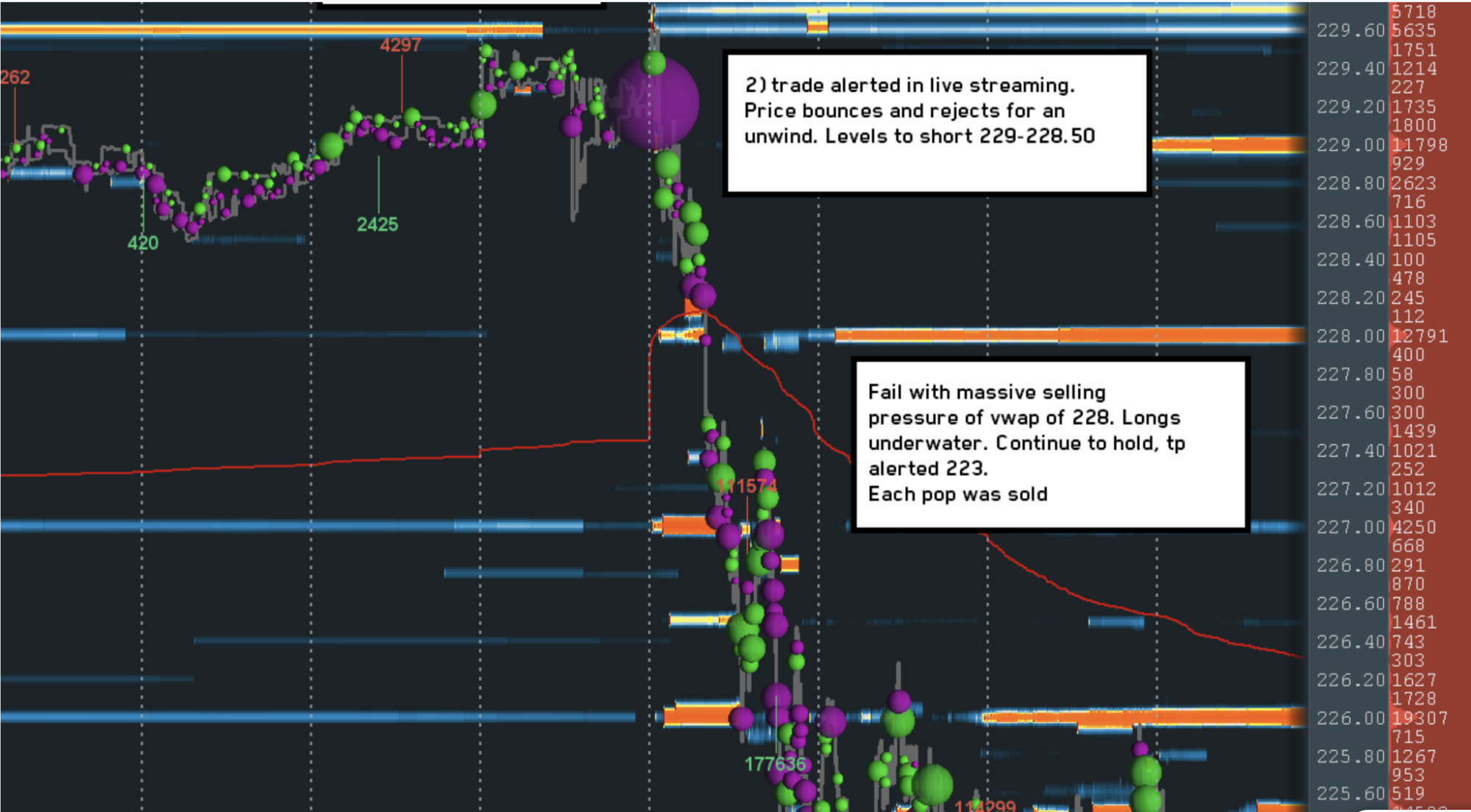 Image 6: As we can see from his chart from the 18th of October, 2022, after receiving a trade alert on his live stream based on a price bounce and rejection, the 'fail with massive selling pressure of VWAP' is confirmation of 'longs underwater'. This gives confidence in holding the trade and allows a TP (take-profit) to be found.
Setup #4: Correlations & Sentiment
Bookmap Academy: JayLA (formerly JaySabor12)
Also introduced earlier in this article, JayLA sometimes uses correlations in other related instruments to confirm sentiment.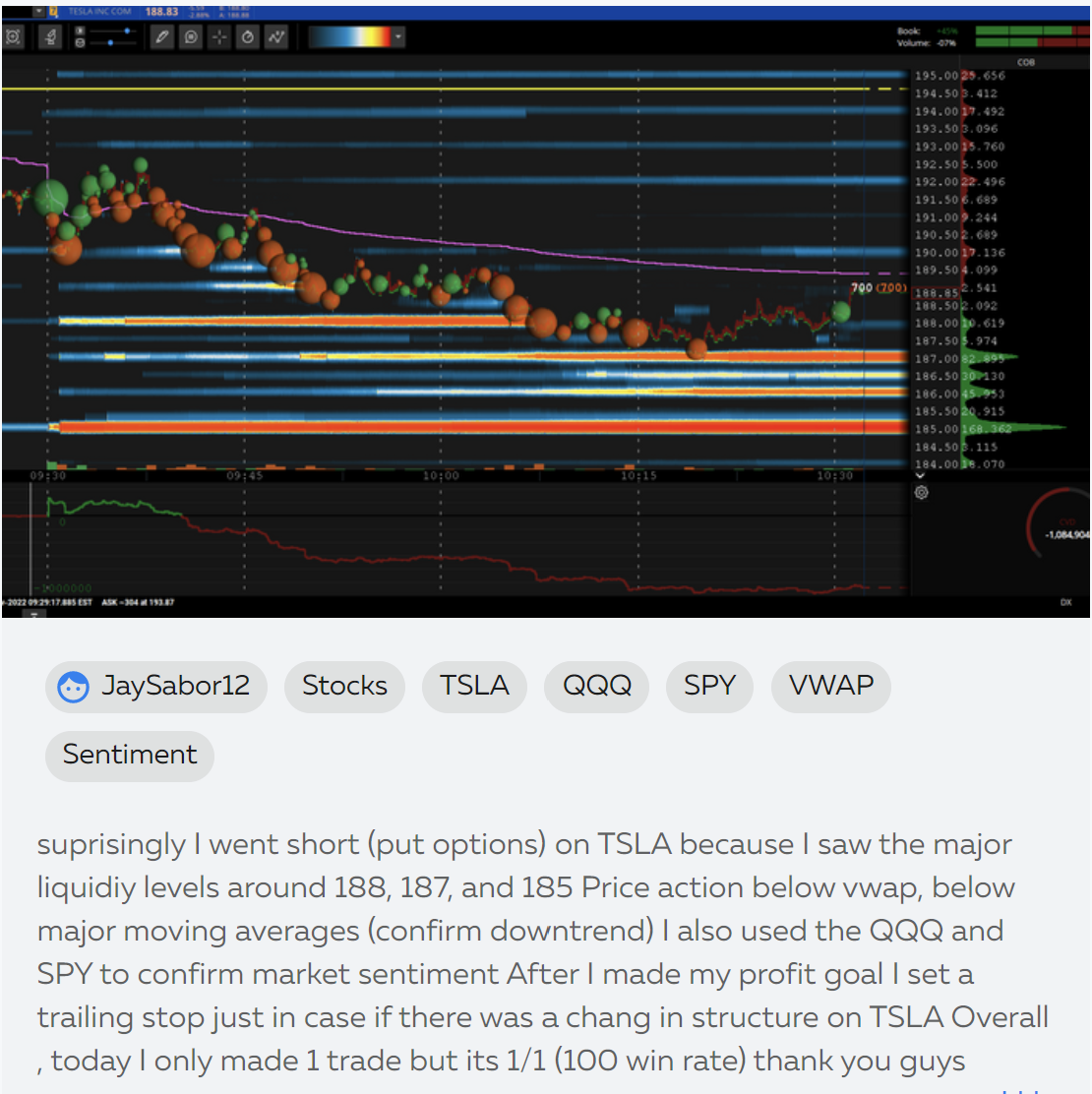 Image 7: On Wednesday, November 16, 2022, BM Academy trader JayLA (formerly JaySabor12) used put options to take a short position on TSLA based on liquidity levels, VWAP, and moving averages.
He used the related QQQ (a tech ETF) and SPY (an ETF based on the S&P 500) markets to confirm the negative market sentiment. 
Bookmap's Correlation Tracker is a great tool for tracking the correlations between various financial instruments.
Conclusion
As you can see, done right, trading Tesla can be a fruitful endavour. But it's not for the faint-hearted. We hope these setups ideas have given you some insights into trading this technology stock.
If you want to become the best trader you can be, consider partaking in our Blue Jacket content competition, the winners of which will receive 3 months of Global+ with data. Potentially an invite to Bookmap Academy Junior, not guaranteed.
Risk Disclaimer: Trading Equities and Futures involves substantial risk of loss and is not suitable for all investors. Past performance is not indicative of future results. 
Receive updates about new articles
Follow us on social media