Coinbase Derivatives Exchange
What is Coinbase Derivatives Exchange?

Launched in June 2021, Coinbase Derivatives (formerly FairX) is a U.S.-based, CFTC-registered approved derivatives exchange (as a DCM or designated contract market). It offers micro and nano futures instruments.

Their unique business model has been specifically designed for active retail traders, to provide simple, accessible, and more affordable futures trading opportunities.
Why Trade Coinbase Derivatives Instruments?

Bookmap has partnered with Tradovate to offer zero-cost trading on all Coinbase Derivatives instruments.

Pay no broker commissions, no data fees, no exchange fees, no NFA fees, and no Bookmap fees.

Markets are open 23 hours a day, 5 days a week. There are 7 instruments available that are correlated to some of the most highly traded stock index and crude oil futures.

Margin requirements are as low as $10 (on nano instruments) to $50 (on micro instruments). This creates an exciting opportunity and extremely low barrier to entry for anyone interested in trading futures.
How to Get Started
1. Register a Tradovate Account by Following Our Link

Use our dedicated link to sign-up to Tradovate. Registration takes just a few minutes and no deposit is required.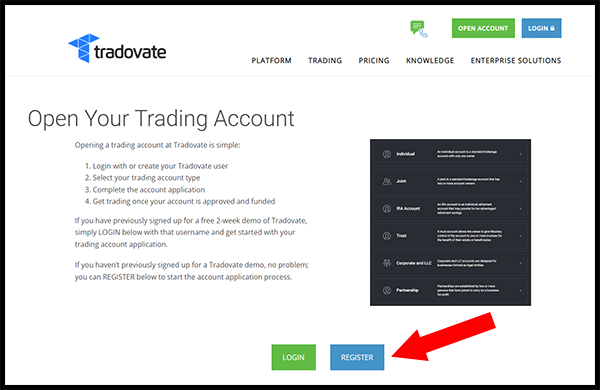 2. Install the Latest Version of Bookmap
New Bookmap Traders

If you don't already have a Bookmap account, you'll first need to register by completing our short sign-up form here.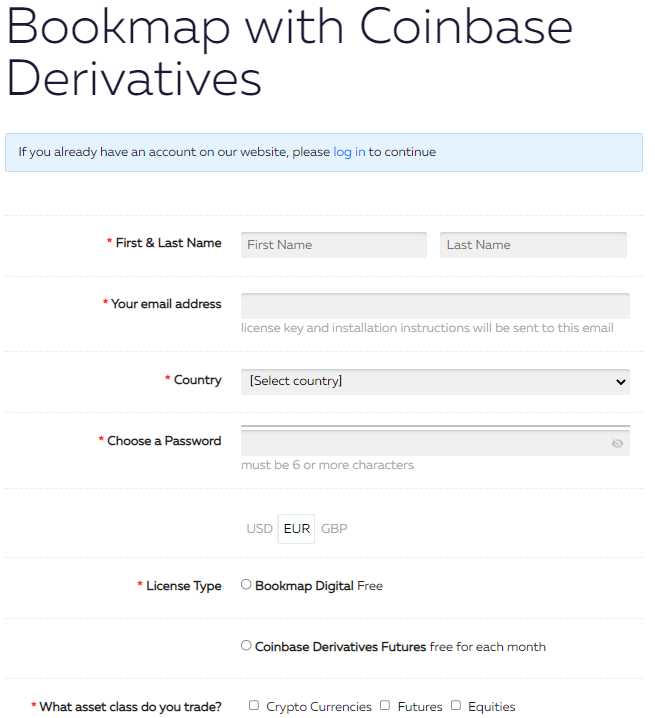 Then download and install Bookmap.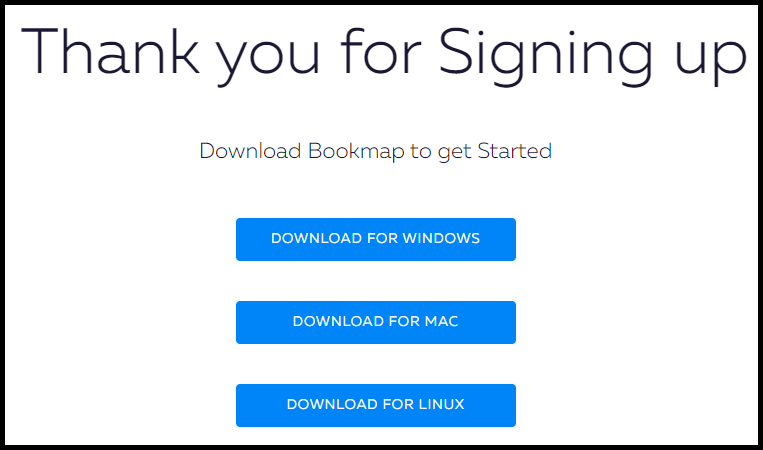 Existing Bookmap Traders

If you've already registered with Bookmap and have an existing account: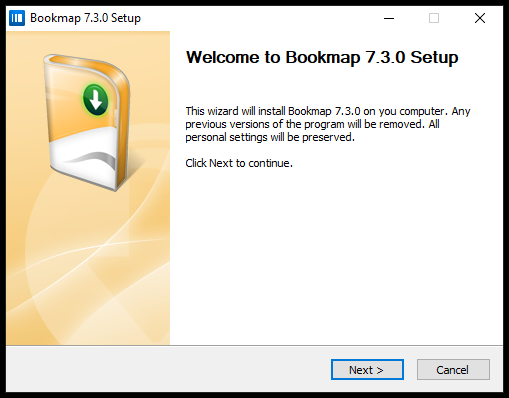 3. Connect Bookmap to Tradovate

Enable the Tradovate connection within Bookmap (if Tradovate doesn't appear in your list of connections you need to install and configure the Tradovate adapter).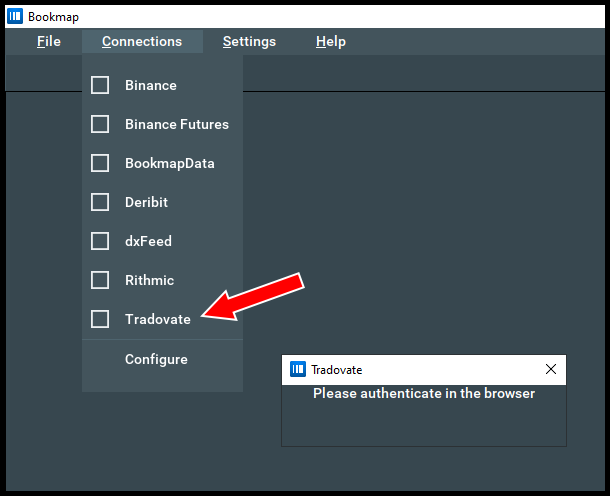 Authenticate the connection by entering your Tradovate credentials in the pop-up browser window (you can also login with your social account if preferred).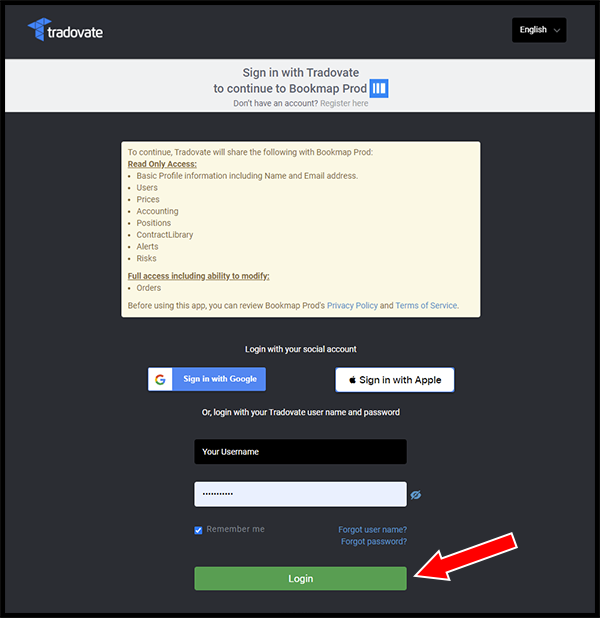 You are now ready to subscribe to Coinbase Derivatives futures instruments.
What Instruments are Available on Coinbase Derivatives Exchange?

The following seven instruments are currently available:
B5 (Nano Bloomberg US Large Cap Index Futures)
LB5 (Micro Bloomberg US Large Cap Index Futures)
TEC (Nano SuperTech Index Futures )
LTEC (Micro SuperTech Index Futures )
OIL (Micro Crude Oil Futures)
ET (Nano Ether Futures)
BIT (Nano Bitcoin Futures). Please see the dedicated page for this instrument.
For the latest instruments and product codes please check the Coinbase Derivatives Exchange website in the section "Product Codes".
Coinbase Derivatives Futures Symbols

When subscribing to Coinbase Derivatives futures instruments through Bookmap you must add the expiry month and year to the symbol name.

For example B5Z1 represents the B5 Coinbase Derivatives futures contract with the December 2021 expiration.

You can find the most recent Coinbase Derivatives contracts in the section "Historical Data" on this page. and use the following codes to subscribe to the correct symbol:
Months
January – F
February – G
March – H
April – J
May – K
June – M
July – N
August – Q
September – U
October – V
November – X
December – Z
Years
2021 – 1
2022 – 2
2023 – 3
2024 – 4
2025 – 5
2026 – 6
2027 – 7
2028 – 8
2029 – 9
Note: You can also trade regular CME futures instruments.
Which Bookmap Package is Required to Access CME/Coinbase Derivatives Instruments?

Digital+ Bookmap users will only be able to view the following instruments through the Tradovate connection:
CME Instruments

ES, YM, NQ, RTY, MES, MYM, MNQ, M2K
Coinbase Derivatives Instruments

B5, LB5, TEC, LTEC, OIL, ET, BIT

You will also be able to trade these instruments via a Tradovate account.

Global Bookmap users will have unrestricted viewing capability. You'll also be able to trade the Coinbase Derivatives instruments on Tradovate and the micro instruments on Coinbase Derivatives or CQG.

Global+ Bookmap users will have no viewing or trading restrictions using the Tradovate adapter through Bookmap.
How to Subscribe to a Coinbase Derivatives Futures Instrument

Once you have enabled the Tradovate connection you can subscribe to Coinbase Derivatives instruments by clicking on the "Add Instrument" icon, choosing the "Tradovate" platform, entering your preferred symbol, and clicking "Subscribe":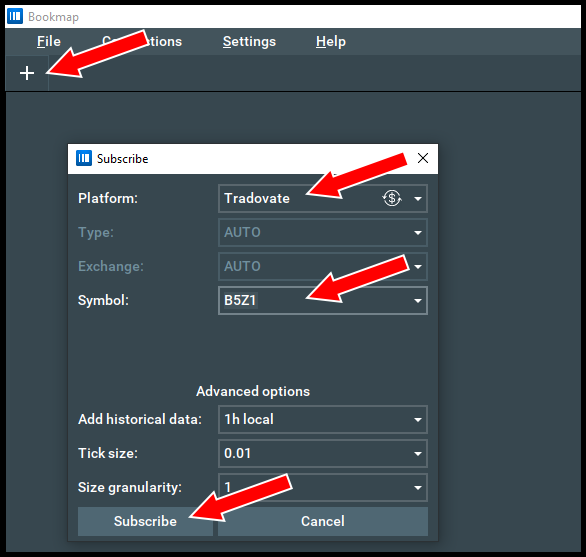 Coinbase Derivatives Frequently Asked Questions

Listed below are some answers to commonly asked questions regarding Coinbase Derivatives and Tradovate.
Tradovate doesn't appear in my list of connections

First, check that you have the Tradovate adapter installed. Click "Settings" then "Manage Connections" to open the Bookmap Plugins Manager.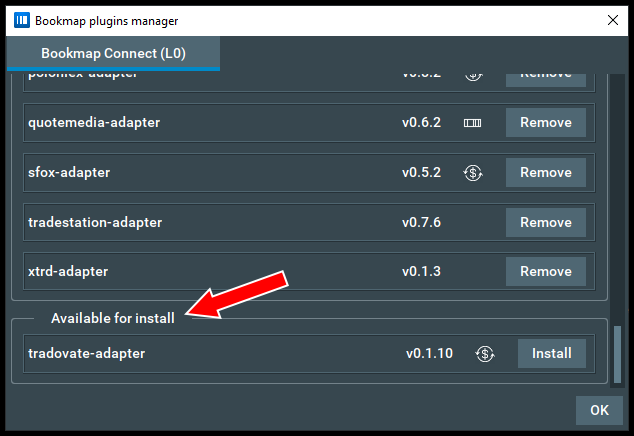 If the "tradovate-adapter" is listed as "Available for Install", proceed with the installation and restart Bookmap.
You can now add the Tradovate connection by selecting "Connections" > "Configure" and adding the new connection from the Connectivity Configuration.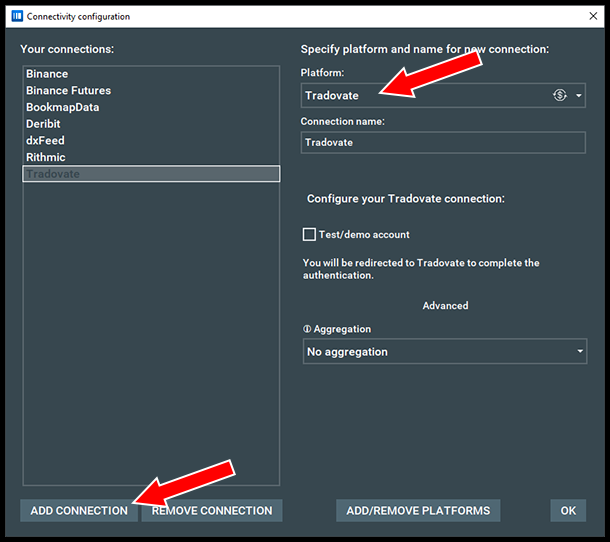 Tradovate should now appear in your list of connections.