Coinbase Derivatives - Nano Bitcoin
Tradovate / Coinbase Derivatives for Nano Bitcoin Futures

This guide is for existing Bookmap users wishing to trade nano bitcoin futures (BIT) as part of the Coinbase Derivatives / Tradovate package.
What is Coinbase Derivatives Exchange?

Coinbase Derivatives (formerly FairX) is a U.S.-based, CFTC-registered approved derivatives exchange (formally known as a DCM or designated contract market). It offers micro and nano futures instruments.

Their business model has been specifically designed for active retail traders, to provide simple, accessible, and more affordable futures trading opportunities. It has trading hours for nano bitcoin futures of 23 hours a day, 5 days a week.
What is Tradovate?

Tradovate is a technology-centered broker offering commission-free trading and cloud-based solutions to active futures traders.

The company is an NFA registered introducing broker providing brokerage services to traders of futures exchange products and is registered with the CFTC.
What are Nano Bitcoin Futures?

Introduced on 27 June 2022 by Coinbase Derivatives, nano bitcoin contract sizes are 1/100th of the size of a bitcoin and were created to broaden accessibility to crypto derivatives.

With a "BIT" product code, nano bitcoin futures give you the chance to go long or short at affordable prices while growing your digital currency portfolio.
How to Get Started
1. Install the Latest Version of Bookmap
Existing Bookmap Traders

If you've already registered with Bookmap and have an existing account: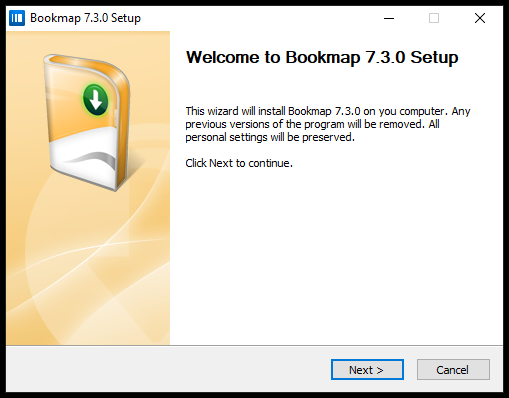 2. Connect Bookmap to Tradovate

Enable the Tradovate connection within Bookmap (if Tradovate doesn't appear in your list of connections you need to install and configure the Tradovate adapter).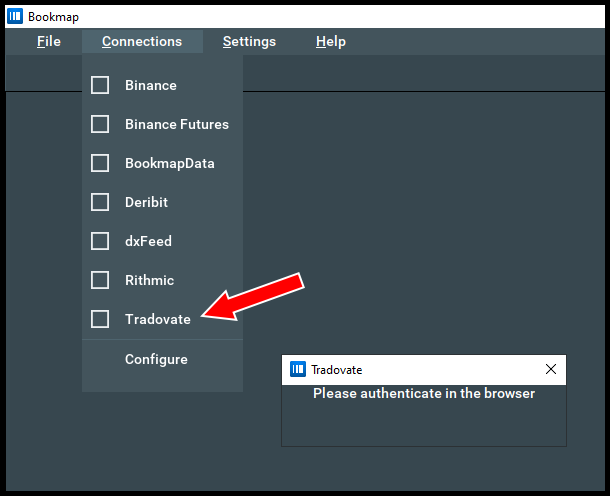 Authenticate the connection by entering your Tradovate credentials in the pop-up browser window (you can also login with your social account if preferred).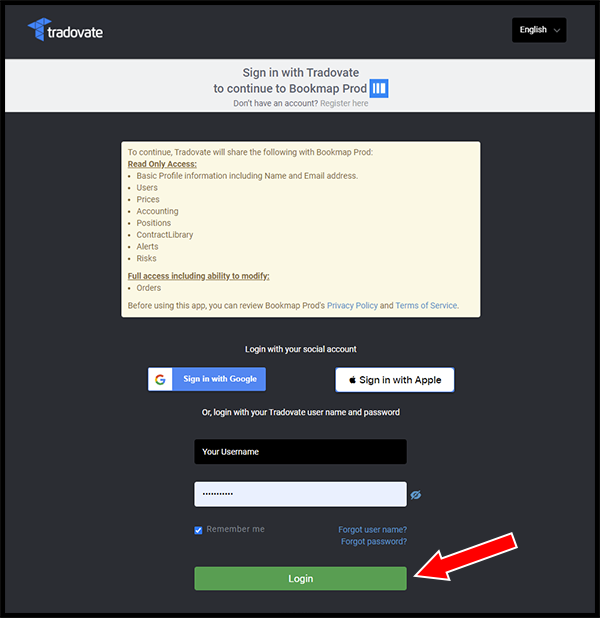 You are now ready to subscribe to nano bitcoin futures.
3. Subscribe to nano bitcoin futures

Once you have enabled the Tradovate connection you can subscribe to nano bitcoin futures by clicking on the "Add Instrument" icon, choosing the "Tradovate" platform, entering your preferred symbol, and clicking "Subscribe":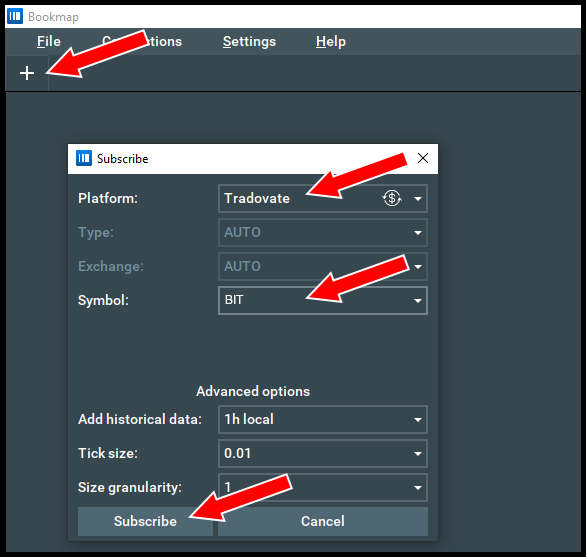 Frequently Asked Questions

Listed below are some answers to commonly asked questions regarding Coinbase Derivatives and Tradovate.
What's the difference between the Tradovate-Coinbase Derivatives Bookmap package and other Bookmap packages?

The Tradovate-Coinbase Derivatives Bookmap package is completely free. You can view Coinbase Derivatives data and trade all Coinbase Derivatives instruments through Tradovate. If you would like to trade traditional CME futures you will need to upgrade your Bookmap subscription.
Does commission-free trading only apply to Coinbase Derivatives instruments

Yes. Tradovate covers the costs for all Bookmap customers that trade Coinbase Derivatives through Tradovate.
Do I have to deposit funds to my Tradovate account to connect to Coinbase Derivatives with Bookmap?

No. You can register with a demo Tradovate account and still have full access to Coinbase Derivatives to Nano Bitcoin Futures (symbol: BIT).
How long does it take to open a Tradovate account?

Registration is quick and easy and takes just a few minutes. Click here to get started.
How long does it take to open a tradovate demo account?

Tradovate demo accounts can be created in a few seconds. You just need to select a username and password and confirm your email address. Click here to register.

NOTE - It is recommended that you use the same email address in Tradovate and in Bookmap
If I want to connect to other instruments/exchanges what should I do?

To trade all futures, stocks, and crypto instruments you will have to upgrade your Bookmap subscription to either Digital+, Global, or Global+. You'll also need to subscribe to the relevant data package.
What are the margin requirements for Coinbase Derivatives instruments?
Instrument = BIT
Min. Margin Requirement = 1/100th of Bitcoin (~$300 contract notional, i.e., 1/100th x ~$30,000)
Min. Price Increment = $5 per Bitcoin
Value of One Tick = $0.05 per contract (i.e., 1/100th x $5 = $0.05)
How can I trade Coinbase Derivatives instruments when the volume is low and the market is illiquid?

Coinbase Derivatives is a new exchange and is growing fast. With record volume levels being recorded every month, it's only a matter of time before liquidity improves and the order book becomes thicker.
Why doesn't Tradovate doesn't appear in my list of connections?

First, check that you have the Tradovate adapter installed. Click "Settings" then "Manage Connections" to open the Bookmap Plugins Manager.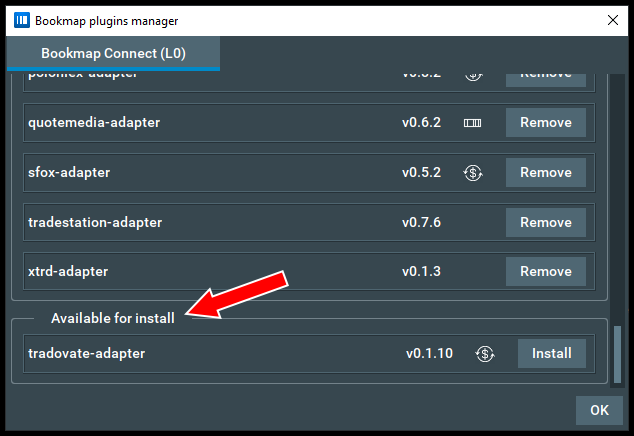 If the "tradovate-adapter" is listed as "Available for Install", proceed with the installation and restart Bookmap.
You can now add the Tradovate connection by selecting "Connections" > "Configure" and adding the new connection from the Connectivity Configuration.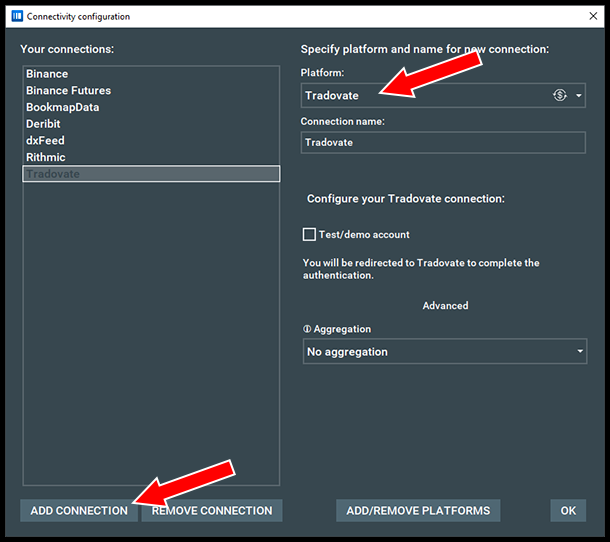 Tradovate should now appear in your list of connections.