The Bookmap main window is where you control your Bookmap active data connections and your instruments subscriptions. For more details on how to run Bookmap with your platform/infrastructure and view the instruments of your choice, please refer to Sections 2.5 and 2.7 above.
Instruments added to the main window are added as separate tabs. Each instrument can be detached from the tab display and be presented as a separate window. To add a detached chart window back to the tab display, just close the detached window. The Bookmap main window has some useful setup options and links described below.
2.8.1. File Menu

View the current log under File >> Show log file. This log might help pinpoint operational problems. You can find the log files of previous sessions in the user folder under the Logs folder.

User Folder. This folder stores the Bookmap log files, configuration files, feed files recorded during Bookmap sessions, as well as saved screenshots of your Bookmap chart and more. To access the user folder go to File >> Open user folder.

Workspace. Users can create, save, and open workspaces from within the File menu. These workspaces are fully customizable and include any desired symbol subscriptions and settings. Bookmap always opens with the last saved workspace and subscribes to all the symbols in the workspace automatically.

Cross Instrument Trading Bookmap enables traders to trade mini or micro instruments (e.g., mini DAX futures) from the chart of the primary instrument (e.g., DAX futures). To view the list of available cross instruments, click on File >> List cross-instrument trading pairs.

Data Refresh. The data refresh feature allows users to define when to reset the inflow of data and start the accumulation of data anew. To set data refresh settings, click on File >> Refresh Bookmap.

Alerts. A list of all voice alerts.

Export. Allows you to export data and orders from Bookmap to a file. You can define which data and the specific time segment to export.
2.8.2. Connections Menu

Use the Connections menu to set up the platforms and data feeds to be used in Bookmap.

Learn more about adding a connection to Bookmap here.
2.8.3. Settings Menu

This menu includes setup options for colours, time zone, chart refresh rate, rendering method, and restoring the configuration. In some connections where Bookmap is connected to your brokerage account, the Settings menu also includes an Account Info item which displays information related to your brokerage account, such as P&L, trade history, and open positions. Account Info may only be available in the 3rd run mode of Bookmap (i.e. when you are connected to your brokerage account and not using real time data with Bookmap internal simulator).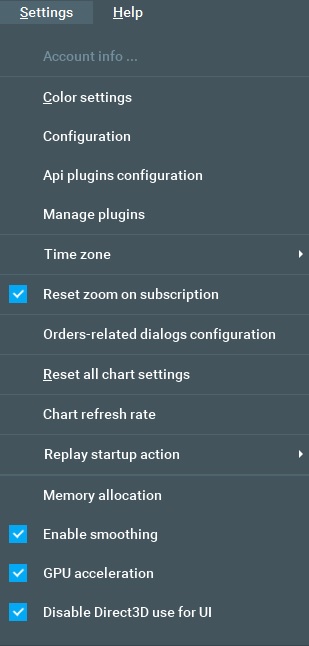 Other options within the Settings menu include:
Orders Confirmation: Defines which order types require confirmation before order submission.
Reset all chart settings.
Chart refresh rate defines the rate at which the chart refreshes.
Replay startup action defines which data file to load when starting Bookmap in Replay mode.
Load Recorded Orders.
Memory Allocation.
Enable smoothing.
GPU acceleration.
2.8.4. Help Menu

Under the Help tab, click on the Bookmap Portal to be redirected to the User Portal on the Bookmap website. If you wish to use your Bookmap copy on a different machine, click on Help >> Deactivate to deactivate your current session. Once you have deactivated one session, install Bookmap on another machine and enter your license key to start a new session.

Note: If you open Bookmap on a new machine without deactivating the license in the former device, you will be prompted to either deactivate Bookmap on that device or terminate your attempt to reuse your license.
Click on the User Guide menu item to open the User Guide for your current version.
Click on Updates to get the latest available version of Bookmap.
Click on Symbols for a list of symbol formats from different platforms which are compatible with Bookmap.