Subscribe To An Instrument
On the Bookmap main window click the + sign on the tabs panel near the top of the screen, choose the available feed from the Platforms drop-down, and enter the symbol you want to subscribe to.
Note: You can find some of the most popular symbols in the Symbol Table or via the Bookmap main menu: Help -> Symbols.
Depending on the specific instrument, the Subscription Window may include additional setup options, such as Tick size and Size granularity.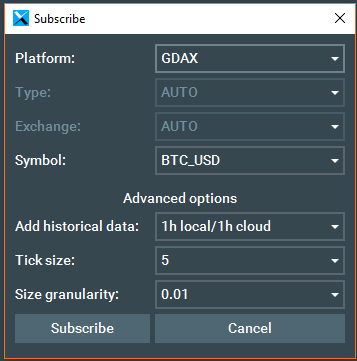 Note:
You can edit the cells and change Symbol, Exchange, etc.

When subscribing to an instrument, you can download Historical Data. The length of the available historical data depends on the particular market you select well as on your Bookmap plan.

Bookmap can also download the data you have recorded for a specific instrument, so you do not lose it in case a session is unexpectedly interrupted.
Once you have set up the subscription, click on Subscribe to add the chart for the selected instrument to the Bookmap main window.
All added connections are kept in the configuration until removed by a user, so the process of adding and activating a connection does not have to be repeated in subsequent sessions of Bookmap.