What is the Automatic Multibook configuration?

The quickest and simplest way to install Bookmap: Multibook and all crypto adapters are included when installing Bookmap 7.3 (Alpha). We do not recommend using the Alpha version for trading. If you do not want to reinstall Bookmap or prefer to use an older Bookmap version, you would need to install Multibook manually.
Note: Automatic Multibook configuration works only for Windows OS.
How can I get Multibook automatic installation?

Automatic installation and configuration of Multibook are only available on Bookmap 7.3, which is an alpha version. As an alpha version, Bookmap 7.3 is not recommended for live trading. In addition, if you want to keep your current config file (with your save workspaces), you should not use the automatic installation of Bookmap 7.3 and would probably be better off with Bookmap 7.1 or 7.2 and a manual installation and configuration of Multibook.

To get Multibook, follow these steps:
If you are already a paid subscriber, move on to step 2. If you are a free (Digital) subscriber, you would first need to upgrade to any of Bookmap's paid subscriptions (starting from Digital Plus). Click here to upgrade.

Once upgraded to any paid subscription, click here to add Multibook.

For automatic installation and configuration of Multibook, download & install 7.3 Alpha. Once again, note the caveats above regarding the use of Bookmap 7.3.
During 7.3 Alpha installation, a web window will pop up for authentication. If you're already logged in, you can ignore the window and continue with the installation. After you log in, you need to accept the Multibook demo, and that will generate a Multibook workspace and load it on Bookmap start.
Once Bookmap 7.3 is launched, choose the simulated trading option and check "Load previous workspace". Multibook will be loaded automatically.
For manual installation of Multibook, follow these instructions described earlier.
How many instruments can I consolidate per Multibook chart?

You can combine from 2 to 5 instruments into a single Multibook chart.
What exchanges are supported?

All the crypto exchanges that Bookmap can connect to can be manually included in Multibook. To see the full list go to the knowledge base. In Bookmap 7.3, the default consolidated exchanges for ETH-USD and BTC-USD are Binance, Bitstamp, Coinbase, and Huobi.
Can Multibook run with 7.1 or 7.2?

Yes. Multibook can be used with Bookmap version 7.1 or higher.

Note that automatic installation of the adapters & add-on is available in version 7.3 Alpha only.
Can I trade from the Multibook chart?

No, this feature has not been implemented yet.
What is the price of the Multibook add-on?

For a limited time only, the Multibook add-on is offered free of charge to all paid subscribers (Digital+, Global, Global+). As long as the paid subscription is active, Multibook will remain free of charge even when we start offering Multibook for purchase.

Note that after cancellation, free access to Multibook can't be retrieved even when resubscribed.
How can I switch between ETH-USD and BTC-USD workspaces?

If you install Multibook with version 7.3, you can easily switch between ETH-USD and BTC-USD default workspaces. Just go to File menu → Open workspace and select the workspace you need.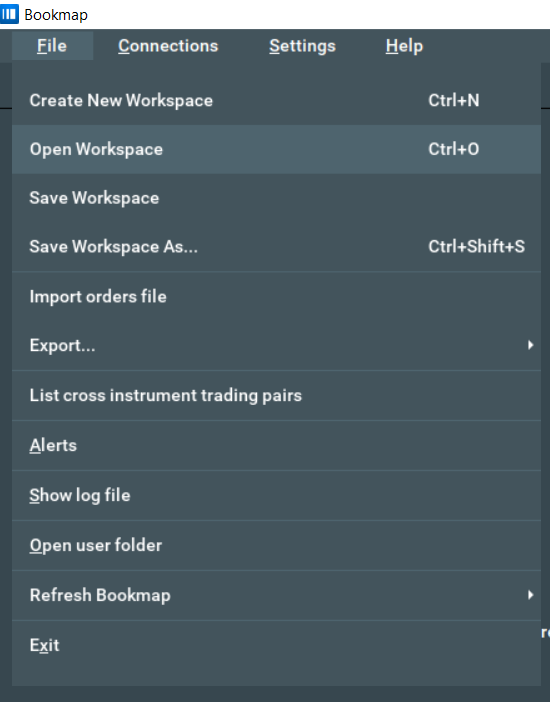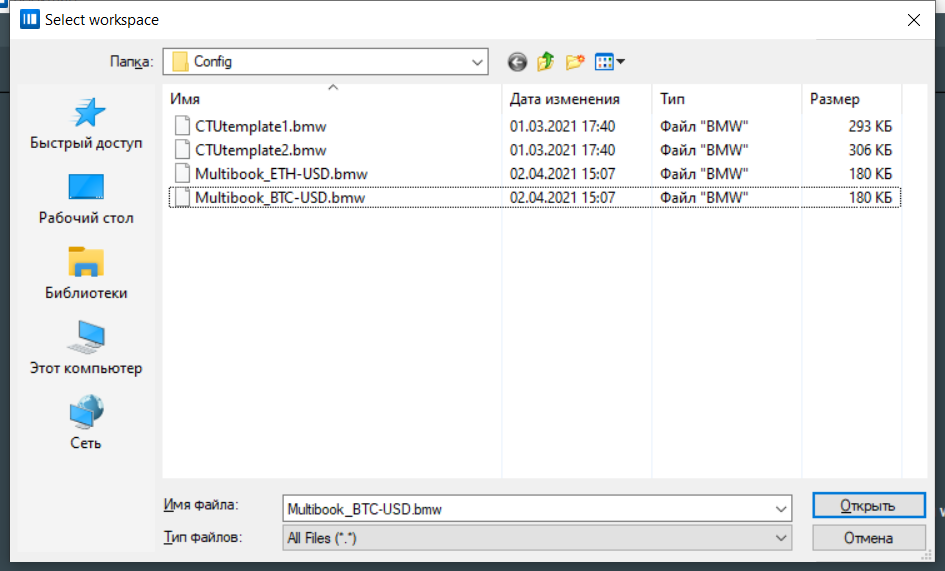 Is the add-on available for Mac?

Yes, however the latest build isn't optimized for Mac. This means you may run into performance issues. In such cases, you will have to manually allocate more memory to Bookmap since the slider in the application doesn't work. You can do this from the File menu on your Mac, selecting Get Info, then Memory (in versions before Mac OS 8.5, you only need to select Get Info).