Connect To Own Data Source
Connect To Own Data Source
Bookmap Quant Solution

Bookmap Quant allows connecting your own data. It is meant to be used mainly by proprietary HFT firms, banks, trading rooms, etc. These traders have their own data and trading systems.
Features

The Bookmap Quant solution includes all built-in features and all of Bookmap's paid add-ons. In addition, it allows you to add and visualize custom indicators and custom order queue calculations as well as connect Bookmap to clients' proprietary sources of data. Here are several use cases: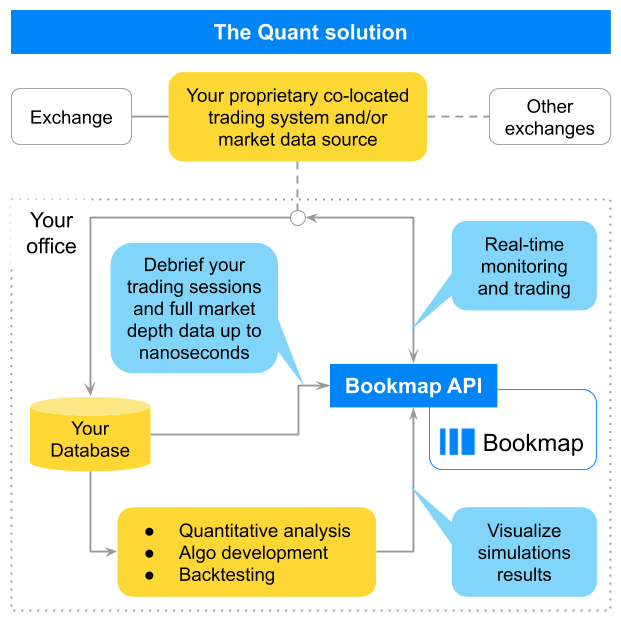 Key features of Quant solution include:
Connect your own market data and orders. Choose between several ways:

Develop an adapter using L0 API
Bookmap Recorder which creates Bookmap-readable files which enables replaying custom market/trading data in Bookmap's Replay mode. It can be embedded into simulations without affecting their performance.
Create a plain text file in Bookmap readable format

It's possible to include and draw thousands of custom signals (each may have thousands of data points) at the adapter level with all the methods above. Alternatively, some of these signals may be computed using regular L1 API
Visualization of orders' place in the queue
Tools to grab all events from a selected chart area into a separate window or export as a csv file
Offline license
Price

The base cost of the Bookmap Quant license is $499 per seat per month, paid annually. For evaluating the Quant solution, Bookmap offers a one-month trial period of up to 5 seats for $500. For more information, custom development, or special offers, please contact the Bookmap team at info@bookmap.com.
Security

To support a fully secure solution, Bookmap Quant clients can use Bookmap Offline Activation. Bookmap is capable of operating without internet access. Users can configure a firewall to allow external access to their custom adapter only.
Bookmap Recorder

One of the most frequent use cases of Bookmap Quant is debriefing of simulations and backtesting results. Unlike debriefing a trading session, there may be thousands of simulations per day. Since simulations typically run much faster than Bookmap's throughput (30–50k data events per second), and in order to avoid Bookmap being a bottleneck in the process, users can use a utility called Bookmap Recorder, BookmapRecorder.jar. Bookmap Recorder is used to convert custom data into Bookmap-readable format files, which can be opened by Bookmap in Replay mode. The throughput of Bookmap Recorder is roughly 150–200k data events per second, producing files of size ~12 bytes per data event. Users can integrate the recorder into their simulation software and then use Bookmap to replay only the relevant files. For the purpose of replaying data, Bookmap Recorder does not have any disadvantages compared to using the usage of L0 API directly.
Bookmap Connect Solution

Bookmap Connect solution is free. It enables users to connect Bookmap to unsupported yet target connections (e.g. trading platforms, data vendors, exchanges, trading systems, etc).
How to install a Bookmap Connect adapter

In Bookmap, open Settings->Manage plugins and then use them as any other connection, i.e. by adding them via Connections->Configure menu. Currently available adapters are listed in the Connectivity.
Motivation

Prior to Bookmap Connect solution, Bookmap team was responsible to decide which adapters to develop. The evaluation is complex, and individual users may have different priorities. Bookmap Connect solution solves these problems as following:
It allows traders and developers to develop adapters according to their priorities, without Bookmap being a bottleneck in the process
It helps Bookmap to grow by attracting traders who are interested in not supported yet connections to data and trading.
Requirements

Unlike Quant solution, Bookmap Connect solution is free. However it must meet the following criteria:
The target connection must be available for anyone, not just the developer of the adapter.
How it works

Bookmap Connect solution requires self-enabling the access to L0 API. Once the new adapter is ready, Bookmap team will certify it and then it can be used by other Bookmap users without the need to access L0 API. Users can import the adapter into Bookmap and select it as the desired connection.
There is a number of simple steps recommended prior to the development of an adapter.
Make sure the adapter you wish to develop meets Bookmap Connect requirements above.

Evaluate the market data quality of the desired connection. To get the most out of Bookmap, it's highly desirable to feed it with MBO or MBP full market depth data. For details, read about Market Mechanics.

Make sure the adapter will allow Bookmap to operate as standalone such as via WebSocket connection that doesn't require another trading platform to be running in parallel. While it's possible to develop an adapter to another trading platform that has an API, it would damage stability by adding dependencies, and may not be able to handle large amounts of data during high market activity. See the Performance FAQs for more details.

Visit Bookmap forum and see if anyone else is already developing an adapter to the target connection you wish to have. They will appear under Bookmap Connect Incubator forum. You may want to contribute to current development (by requesting an access from the project owner) or by testing it or simply to wait for its readiness. Alternatively, you can start a new project, even for the same target connection.

If you decide to start a new project, create a topic under the same forum, describe your project and target connection, provide some milestones (e.g. first data connectivity, then trading capability). This will be helpful for other traders who may also offer their help in development or in testing.

Visit your profile on Bookmap website and self-enable an access to L0 API (Meanwhile please send an email to support for manual enablment).