VWAP

To draw a VWAP line on the chart, click on the studies icon above the chart and check the VWAP check box. You can set the line colour and reset interval for the VWAP line.
To set a reset interval, just click Add below the reset section and enter the first reset time and the desired reset interval, if any.

NOTE: VWAP automatically resets at the Session start time. The Session start time can be configured by the user by clicking the Session start time button and entering the desired time to be designated as the start of the session.

Reset can also be done by right-clicking on the VWAP line and selecting Reset here.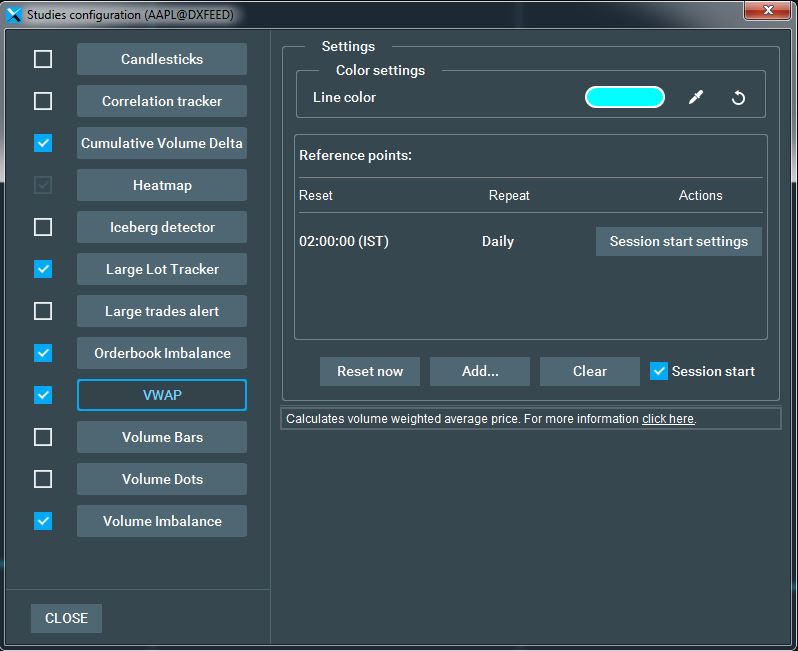 POC

The point of control (POC) is the price level that had the largest size of a measured activity during the sampled period.
For example, if the measured activity is traded volume, POC will be the price level at which the largest aggregate volume size was traded during the sampled period.

Bookmap supports POC indication for the Volume, Trade Counter, and Quote Counter columns.
The POC line is drawn on the chart and is session based (i.e., it cannot be activated when the column is based on the visible chart range).

To draw the POC line, right-click on any of the three supported columns (in session-based mode) and select Configure column.
On the column configuration window, check the Show POC in Chart check box.